US close: Dow Jones rebounds from China 'fake news' on bond buying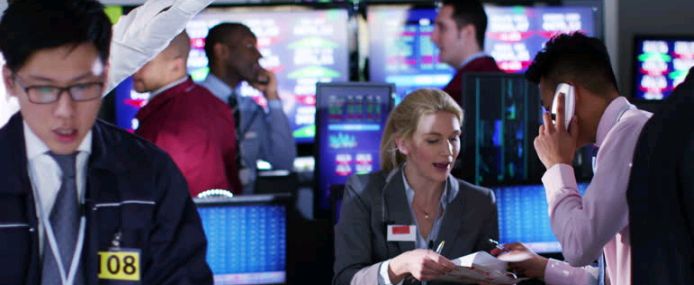 Like the weeble toy of old, the Dow Jones wobbles but does not fall down for long, as Wall Street bounced back from the prior session's losses to record another new high on Thursday ahead of bank earning season the next day and as the dollar took a bruising.
The Dow Jones Industrial Average finished on the up at its highpoint of the day, rising more than 205 points of 0.8% at 25,574.73, while the Nasdaq also notched up a record close with a 0.8% gain to 7,211.78. The S&P 500 was 0.7% firmer at 2,767.566 by the closing bell.
Stocks had slipped the previous day following a report that China might be looking to slow down or halt purchases of US Treasuries. But Beijing's foreign exchange regulator dismissed the report the next day, with a spokesperson for the State Administration of Foreign Exchange saying the "news may quote the wrong source of information, or it may be fakes news".
US government bond yields, following recent sharp gains, pulled back after a robust demand in an auction for 30-year bonds on Thursday.
But the dollar took a beating against the euro after the minutes of the latest meeting of European Central Bank's rate-setters indicated they might harden the guidance for their policy settings. This led some economists to judge that Mario Draghi and co could end their asset purchases by around September and either raise rates fourth quarter, some said, or at least in the first half of 2019, according to others.
Investors were also digesting the latest data from the Labor Department, which showed the number of Americans filing for unemployment benefits unexpectedly rose last week. US initial jobless claims were up 11,000 from the previous week's unrevised level to 261,000. Economists had been expecting a drop to 245,000.
Meanwhile, the four-week moving average came in at 250,750, up 9,000 from the previous week's unrevised average.
Pantheon Macroeconomics said: "This looks like the curse of the holiday seasonals, again. We had expected a clear reversal of the recent increase in claims but it has been delayed. Unadjusted claims this week are 2.3% lower than in the same week last year, but the headline adjusted print is 18K higher. That's not sustainable; we expect claims to drop sharply next week.
"We see nothing in the business surveys to support the idea that the underlying trend in claims is turning higher. The problem is simply that seasonally adjusting weekly data immediately before, during, and after the holidays is very difficult. The dust will settle in due course, likely showing that the trend in claims is a bit below 240K."
Meanwhile, the US producer price index fell 0.1% in December compared to a 0.3% increase the month before and expectations for a 0.2% rise. This was the first drop in the PPI since August 2016.
For the year, PPI was up 2.6% compared to expectations of 3.0% and following a 3.1% gain in November.
Pantheon said the PPI was held down by a hefty 0.6% month-on-month drop in the trade services component, which measures margins for wholesalers and retailers, and a 0.4% dip in transportation/warehousing.
In corporate news, online storage company Dropbox filed for an initial public offer at around $10bn, making it one of the largest tech debuts in recent years. Dropbox has reported annual sales above $1bn and that it is cash flow positive.
Among listed companies, Boston Scientific fell despite saying it has received FDA approval for a spinal cord simulator system that offers non-opioid treatment, but Delta Airlines flew higher after its fourth-quarter profit and sales exceeded analysts' expectations.
Elsewhere, DST Systems rallied after the company agreed to be bought by SS&C Technologies in a deal valued at $5.4bn.
Friday will see investors focus squarely on the corporate calendar, as earnings season kicks off with releases from JPMorgan Chase, BlackRock and Wells Fargo.
Oanda analyst Craig Erlam said: "Earnings season should provide a more positive story for markets, with investors optimistic ahead of the fourth quarter results following some very encouraging results last time around. The question now is whether companies can live up to expectations and whether the benefits of tax reform for companies has been accurately priced in."
Economic data will also be watched on Friday as retail sales and inflation figures for December are due.


Dow Jones - Risers
Chevron Corp. (CVX) $132.57 3.70%
Boeing Co. (BA) $328.07 3.03%
General Electric Co. (GE) $19.02 2.48%
Intel Corp. (INTC) $43.41 2.14%
Caterpillar Inc. (CAT) $169.19 1.66%
JP Morgan Chase & Co. (JPM) $110.84 1.64%
Exxon Mobil Corp. (XOM) $86.91 0.99%
Walt Disney Co. (DIS) $110.99 0.96%
Home Depot Inc. (HD) $194.67 0.82%
Verizon Communications Inc. (VZ) $52.12 0.79%
Dow Jones - Fallers
Procter & Gamble Co. (PG) $90.15 -0.99%
Coca-Cola Co. (KO) $46.04 -0.41%
Dowdupont Inc. (DWDP) $75.22 -0.16%
McDonald's Corp. (MCD) $173.39 -0.09%
United Technologies Corp. (UTX) $134.98 0.06%
Nike Inc. (NKE) $64.29 0.12%
Travelers Company Inc. (TRV) $132.33 0.17%
American Express Co. (AXP) $100.72 0.21%
International Business Machines Corp. (IBM) $164.20 0.23%
Pfizer Inc. (PFE) $36.56 0.25%
S&P 500 - Risers
Pitney Bowes Inc. (PBI) $13.36 16.28%
First Solar Inc. (FSLR) $76.27 9.52%
Delta Airlines Inc. (DAL) $58.52 8.03%
Kohls Corp. (KSS) $61.12 7.19%
Macy's Inc. (M) $26.30 6.52%
Interpublic Group of Companies Inc. (IPG) $21.45 5.66%
Viacom Inc. Class B (VIAB) $30.81 5.66%
CenturyLink Inc. (CTL) $17.47 5.62%
L Brands Inc (LB) $50.01 5.55%
Anadarko Petroleum Corp. (APC) $58.50 5.37%
S&P 500 - Fallers
Hormel Foods Corp. (HRL) $34.35 -5.63%
American Tower Corp (Reit) (AMT) $134.95 -4.31%
Kellogg Co. (K) $65.98 -4.07%
Crown Castle International (CCI) $103.69 -3.71%
Kimberly-Clark Corp. (KMB) $112.70 -3.51%
Assurant Inc. (AIZ) $95.79 -3.35%
Southwestern Energy Co. (SWN) $5.52 -3.33%
Campbell Soup Co. (CPB) $45.76 -3.26%
Hershey Foods Corp. (HSY) $110.09 -3.24%
CMS Energy Corp. (CMS) $44.39 -2.89%