Market buzz: Pound unimpressed by labour data, warning over Italian 'Varoufakis'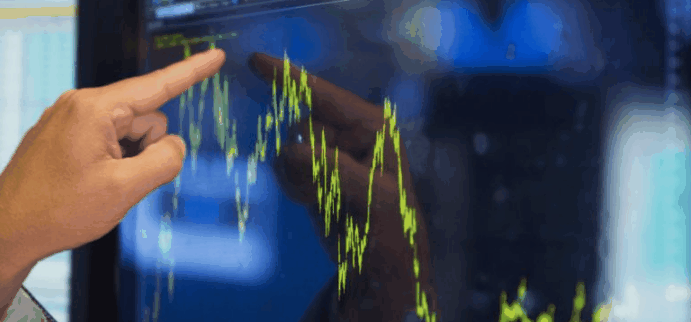 1635: Close Taylor Wimpey provided the biggest boost to the Footsie on Tuesday after unveiling plans to hike its dividend payout.
Nevertheless, by sectors it was Oil & Gas and Oilfield Services names that fared best, as analysts continued to rush to mark-up their short-term forecasts for the price of Brent.
Target price upgrades out of HSBC for Royal Dutch Shell and BP also helped, as did supportive comments out of Barclays.
On the economic front, it was all about employment, with ONS reporting a 197,000 increase for over the latest three-month stretch, the best such run since 2015.
Wage growth on the other hand slowed from a 3.5% clip six months ago to 2.5% in quarterly and annualised terms.
Summing it all up, Barclays Research's Fabrice Montagne said: "Core wages strengthened further, without spinning out of control, while discretionary pay faced serious negative base effects.
"Public sector wages continue to play catch up with the private sector following the removal of pay caps. Meanwhile, strong job creation in March, with the fastest 3m/3m pace in over two years has sent productivity measures into the doldrums."
However, one City-based analyst did call attention to the rise in the latest claimant count figures.
Acting as a backdrop, US Treasury note yields raced higher thanks to positive data releases in the States.
FTSE 100 up 12 basis points at 7,722.98.
1602: Heads up: BoE's Broadbent has given an interview to the Telegraph which is due to be published later on Tuesday.
1601: The yield on the benchmark 10-year US Treasury note is five basis points higher to 3.05%, having hit an intra-day high of 3.07%.
Meanwhile, that on the benchmark two-year note is up by two basis points at 2.56%.
1418: The US dollar is now up by 1.78% versus the Turkish lira at 4.4448, just a shade beneath its 52-week highs. Ditto on the Argentine peso.
1330: US retail sales volumes grew by 0.3% month-on-month in April, which was just shy of analysts' forecasts (consensus: 0.4%). But the 'miss' was more than offset by upwards revisions to figures for the prior month and the so-called 'control' measure of retail sales was ahead by 0.4%, as expected.
"Overall, these numbers are consistent with our view that total real consumption rose by a solid 0.3% April, getting the second quarter off to a strong start," said Ian Shepherdson, chief economist at Pantheon Macroeconomics.
"We look for Q2 consumption to revert to trend, at about 2-1/2%, after the 1.1% rise in Q1, when spending corrected from the 4.0% hurricane-boosted Q4 jump."
1311: A small cap round up:
Shares in mobile phone outfit The People's Operator are down 41% after the charity-fundraising company said subscriber levels would not meet forecasts and it needed a new financial plan. It added that it was unlikely that more cash could be raised through an exercise of warrants and would need more funding in the second half of 2018.
Sprue Aegis is down 26% after it withdrew its dividend after profits were hit by the taking of an exceptional charge for a settlement over a cancelled distribution agreement of £3.8m.
Renewable fuels company Velocys has tumbled after detecting a leak at its Oklahoma City plant, believed to have originated inside one of the plant's two Fischer-Tropsch reactors.
Going the other way, Webis led the AIM risers, soaring more than 60% as investor attention turned to the smaller beneficiaries from the Supreme Court's decision to overturn the federal ban on online sports betting. Webis owns watchandwager.com and has various licences and live racing at its racetrack operation at Cal Expo in California. Directors earlier this year said they were "actively developing a strategy for sports betting and how to best utilise our US licensed assets, in conjunction with a consultant in California".
Likewise, gambling software maker GAN said it would be ready to launch operations in the US after Supreme Court decision. GAN confirmed it was preparing to start work in both New Jersey and Pennsylvania for its clients in the second half of the financial year.
1231: Remember Yanis Varoufakis? That's what Berenberg economist Holger Schmieding is asking as he takes a look at Italy's potential new populist government.
He says the "nightmare scenario has drawn closer" as negotiations progress between Italy's 5Stars and Lega radical anti-establishment parties.
"That markets are taking this in their stride for now makes some sense. Striving for power, the radicals have backed away from the toxic idea of questioning euro membership. Italy's institutions and EU rules provide some safeguards against bad policy choices and a largely favourable economic backdrop at home and abroad supports sentiment. Still, markets may be a bit too complacent about the tail risk of a conflict between Rome and Brussels and the long-term costs of potential reform reversals," Schmieding says.
"Populists in power can do serious damage. The last time radical parties from the left and right formed a coalition in a Eurozone member, the country – Greece – plunged into a renewed crisis right away that forced the radicals to get real some six months later. Remember Yanis Varoufakis? Having become finance minister in Athens in late January 2015 for a coalition of ultra-left Syriza and right-wing Anel, he turned against Greece's official creditors and eventually worked semi-secretly on a plan to leave the euro."
1222: London stocks are edging higher as sterling remains subdued after the latest round of UK jobs data, with the FTSE 100 up 0.2% to 7,726.71.
Behind Vodafone, there are a few miners among the main fallers. Copper prices are down to $6,874 per tonne versus $6,951/t yesterday.
Also Randgold Resources and Glencore are among the group of mining companies complaining they had not been given an opportunity to tackle what they regard as major flaws in Congo's new mining laws. As broker SP Angel noted, the new mining code strips away a stability clause protecting existing investments from changes to the fiscal and customs regime for 10 years, introduces a 50% windfall profits tax and gives powers to the mines minister to raise royalties on minerals considered "strategic".
1152: The pound has shrugged off the labour market data, but is also likely to be dragged down by reports that the the Downing Street failed to make any progress during key Brexit meetings last night. Theresa May's hopes of breaking the Brexit deadlock in her Cabinet "have stalled", says the Telegraph, with no solutions seen to the problems with May's favoured customs union nor the 'maximum facilitation' option.
1135: Vodafone shares were down as much as 5% earlier and are still down more than 3% at just over 200p, with Ken Odeluga of City Index blaming poor communication.
Investors are well acquainted with the group's next CEO, Nick Read, as he has been CFO since 2014 and joined as UK FD in 2001. "If anyone was being groomed as successor to Vittorio Colao, who will step down on 1st October, it was Read. Hence the news of the transition isn't an outright surprise, though the timing appears to be, because investors were mostly in the dark," Odeluga said.
He added: "Succession planning turns out to have been quite adroit, but the group's recent commentary has been bereft of signals. As such, once the surprise passes, stock selling is likely to fade as possible advantages from CEO designate Read—whom large investors have dubbed a safe pair of hands—come to the fore. Chiefly, these include that he has been the architect of a number of Vodafone's complex financing schemes over the years, including the multi-part methodology for purchase of Liberty Media's eastern European assets announced last week.
"Furthermore, considering Vodafone's relative laggard status among European rivals in terms of long-term returns, it would indeed be remarkable if Nick Read managed to do much worse. Over five years, Vodafone's total reinvested returns were fair at 37.3%. But Deutsche Telekom's, for instance, were 77% whilst France's Orange generated 124%."
1115: The second print of eurozone economic growth confirmed the slowing in the first quarter, with real GDP growth up 0.4% quarter-on-quarter in Q1, slowing from a 0.7% jump in Q4, in line with the initial estimate.
Eurozone industrial production increased 0.5% month-to-month in March, below the consensus of 0.7%. Compared to last year, the rate rose to 3.0% from a downwardly-revised 2.6% in February.
"We think that the slowdown in euro-zone GDP growth in Q1 largely reflected temporary effects," says Capital Economics. "So we remain optimistic that the economy will perform better over the rest of the year."
Earlier, Germany confirmed its GDP slowed in Q1 after being hit by weak trade, expanding 0.3% in the first three months of this year, down from the 0.6% in the final quarter of 2017 and below the 0.4% economists had expected.
Germany's ZEW investor expectations index was unchanged at -8.2 in May, in line with the consensus.
1110: Alongside the employment report, the ONS earlier revealed UK productivity disappointingly relapsed in the first quarter of 2018 after a pick-up in the second half of 2017, with output per hour dropping 0.5% quarter-on-quarter after gains of 0.7% and 1.0% in preceding quarters.
Reaction from Howard Archer of the EY Item Club: "While some of the relapse in productivity can be attributed to the sharp slowdown in growth that was partly caused by the recent severe weather, the rebound in hours worked in Q1 2018 after a dip in the second half of 2017 is significant. It suggests that the increase in productivity in the latter months of 2017 overstated the underlying improvement."
1045: A story in The Times worth noting is that officials have begun contacting City brokers to gauge interest in a potential sale of some of the government's £22bn stake in Royal Bank of Scotland, now that the overhang from the US DoJ has been removed.
UK Government Investments last week began calling investment banks last week about a potential sale of some its 71% holding, the report said.
Budget documents in November showed that Chancellor Philip Hammond is preparing to sell £15bn worth of shares in coming four years, with plans to offload £3bn shares in the bank before the end of the current fiscal year.
In August 2015 the government sold just over £1bn from selling at a price of 330p, though shares have risen 13% since the end of March but still sit below 294p.
1015: The ONS labour market figures will place more pressure on the MPC to hike interest rates soon, says Capital Economics, based on optimism that sustained rises in real pay are in prospect, with employment up by "a whopping" 197,000, well above the consensus expectations of a 130,000 rise and the biggest quarterly rise since the end of 2015.
"Admittedly, the headline (three-month average) measure of weekly earnings slowed from 2.8% to 2.6%. However, this largely reflected volatility in bonus payments. The headline rate excluding bonuses, which the MPC pays most attention to, edged up a little further from 2.8% to 2.9%," says economist Ruth Gregory.
"What's more, the weakness in productivity growth means that unit labour costs – the better indicator of inflation pressures in the labour market – has ticked up further, rising at an annual rate of around 2% in Q1. Of course, the labour market tends to lag behind the rest of the economy, so the weakness in Q1 GDP growth could yet feed through into the jobs figures in the coming months. However, provided the economy bounces back from the weather-related weakness in Q1 as we expect, then an August hike still seems more likely than not."
1003: Economist David Owen at Jefferies says the labour market report was "consistent" with the BoE view that the weak first-quarter print of 0.1% growth will be revised up to potentially 0.3%.
But while he says that bonus payments were "particularly poor" and on a monthly basis there was "no evidence" of wages jumping higher, "this still all can be seen as fitting the narrative of the BoE raising rates on Aug 2nd", which he said was especially likely if Q1 GDP was revised up at its second print on 25 May and final reading on 29 June.
0938: The ONS unemployment and earnings report is in, showing average pay up 2.6% in March compared to a year before, as expected. Excluding bonuses, average earning rose 2.9%, the fastest pace since August 2015.
The UK ILO unemployment rate remained at 4.2%, with 1.42m unemployed people seeking and available to work in the three months to March, down 46,000 from the fourth quarter of last year and 116,000 fewer than for a year earlier.
0821: Vodafone shares are down almost 4% after it announced the departure of CEO Vittorio Colao. UBS said Vodafone's Q4 results were ahead of expectations, with organic service revenue growth better than the 1.1% growth foreseen, but guidance for 2019 looked a little light.
Full year EBITDA was 0.7% ahead of consensus, driven by a €90m one-off benefit in Germany due a legal settlement over carriage fees. Guidance for 2019 EBITDA looks "marginally light" versus consensus.
Richard Hunter at broker Interactive Investor says it's "game on for Vodafone, as its ability to react to a challenging environment whilst positioning itself for the future begins to reap rewards".
"As ever, there are pockets of caution within the numbers – net debt remains at a significant level, revenues actually dropped 2.2% and the very nature of the business is prone to disruption and fierce competition. The impact of European price wars and the reduction in data roaming charges have been drags on the share price, even though these concerns seem to have been somewhat overstated. The change of chief executive seems also to have had an unsettling effect in early trade."
0814: EasyJet shares are up 3% after it swung to a rare winter profit off the back of record passenger numbers and double-digit rise in revenues per seat as the budget airline looks capitalise on the collapse of rivals last year, with the integration of Barlin-Tegel operations seemingly going to plan.
"It's all going in the right direction for EasyJet," says analyst Neil Wilson at Markets.com, "and it remains the case that the company is well placed to benefit from further disruption in European short haul. With rising oil prices potentially pushing some into difficulty this year, further consolidation is anticipated."
0803: A round-up of Asia data, thanks to Pantheon Macroeconomics:
China retail sales growth slowed sharply to 9.4% y/y in April, from 10.1% in March, below the consensus, 10.0%.
China industrial production growth rebounded to 7.0% in April, from 6.0% in March, above the consensus, 6.4%.
Chinese growth of fixed asset investment ex rural slowed to 7.0% YTD y/y in April, from 7.5% in March, below the consensus, 7.4%.
Japan's tertiary industry index fell 0.3% m/m in March, after an upwardly revised increase of 0.1% in February, below the consensus for a 0.2% decline. Net revisions were +0.1pp.
0741: Alongside a solid set of annual results, Vodafone has revealed that chief executive Vittorio Colao will step down in October after ten years in charge, to be replaced by chief financial officer Nick Read.