Market buzz: Ocado surge 'inflicts pain' on shorts, Footsie hits record close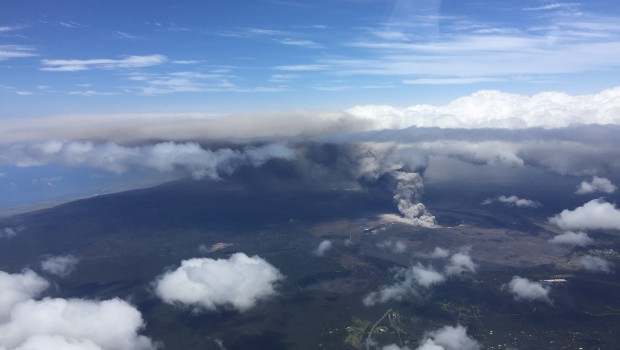 1704: Not often we have volcano news, but reports from Hawaii say the Kilauea volcano has erupted from its summit, sending a dusty plume of ash about 30,000 feet into the sky.
1636: The FTSE 100 closed at 7,779.49, a new record close, beating the closing high of 7,778.64 from 12 January but not surpassing the intraday record from that day, of 7,792.56.
1631: Asda, the UK arm of WalMart that is to be merged with Sainsbury's if competition regulators allow it, grew sales 3.4% and seasonally adjusted like-for-like sales 1.0% in the first quarter. Gross profit was down but net operating income was up.
ShoreCap's Clive Black says he thinks the CMA will permit a 'Big Two' duopoly, even though he struggles to see how a Big Two can be in the shoppers' interest - "duopolies rarely work; this is the nation's food not gambling market".
"In this respect we struggle with the vagueness of the claim to the galleries that the merged entity will cut everyday prices by 10%, what exactly that means, and that it will be a good outcome for the UK economy. Ahead of effectively colluding, Asda and Sainsbury, still have to compete whilst the CMA grapples with the idea of being the cause of why stores may close, the rest of the trade work out what's what, the supply chain grapples with the £350m+ of synergies it is going to provide Mr Coupe, and folks work out who is going to lose their job.
"Ahead of these shenanigans we believe Tesco and Morrison can remain focused, whilst we see considerable execution risk for Sainsbury, where its £142m of FY2018/9 Argos synergies have disappeared, and Asda."
1621: Front month Brent crude oil futures are moving higher again, rising 0.962% to reach $80.05 a barrel after Total CEO earlier said the oil gaint may stop development of phase 11 of Iran's South Pars field if it cannot obtain a specific waiver from US sanctions for that project.
1450: FTSE 100 now is nearing record territory and trading at 7,771.19.
1425: Spokesperson for Eurostat says Italian bonds held by the European Central Bank cannot be excluded when calculating the country's debt burden.
1415: Speaking on Bloomberg TV, Morgan Stanley's Jim Caron expresses positive - albeit cautious - view on Italy.
In the background, the yield on the benchmark 10-year Italian government bond is 2bp higher to 2.14%, down from their session high of 2.19%.
1348: Global markets are, for now, in a relative state of calm, says TD Securities as it takes a look at the currency markets, as investors absorb the recent tightening of global financial conditions.
The dollar index is losing some steam ahead of the 94 level, TD analysts note, "which we think offers a good level to start scaling back into shorts", with the next leg of the move against G10 currencies hinging on the 10-year Treasuries rate, which has "paused a bit" around 3.1%.
"The question from here is whether good or bad drivers are nudging the 10y. Equities have held their own, despite the recent surge, which suggests that perhaps the rise in rates reflect better US growth prospects. It also coincides with the 50% y/y rise in oil, offering an offset to that theory. But the focus rests on whether the US curve continues to steepen that signals capital flow movements in the EZ and Japan."
Europe is focused on politics of Italy and Brexit, but TD notes that the euro-dollar is now trading at discount to its "High Frequency Fair Value" model. "We like fading extremes in the 1.35 to 1.40 range in GBPUSD while the negative GDP print does little to derail our upbeat JPY view. NAFTA headlines are turning less constructive for CAD, leaving us to buy USDCAD dips."
1331: Philly Fed index rockets from 23.2 for April to 34.4 in May (consensus: 21.7).
Nonetheless, Pantheon Macroeconomics's Ian Shepherdson added: "We're sticking to our view that the underlying trend in the manufacturing surveys has levelled-off, but we aren't yet looking for a clear downtrend and April's ISM was on the soft side."
1330: Initial weekly US jobless claims increase by 11,000 to 222,000 (consensus: 215,000).
1320: Among small cap stocks, posh mixers maker Fevertree is down as numbers were pretty good but not effervescent. Analysts at Shore Capital do not expect the market to upgrade expectations following the statement, themselves forecasting sales of £208m, pre-tax profit of £64.9m and earnings per share of 45.6p.]
Mothercare is topping most of its small cap peers as the beleaguered retailer confirmed the closure of 50 stores, announced a refinancing package and said it was re-hiring chief executive Mark Newton-Jones, who stepped down last month.
Financial services firm WH Ireland is down 12% after giving investors cause for concern with reduced transactions and higher costs leading the group to warn of an increased losses.
Water Intelligence is 3% higher as full year revenues and profits leap more than 45% in a trading year seen as a "jumping-off point" by directors, while Genel Energy is similarly higher as it boasted of a "landmark 2017" ahead of its annual general meeting and said that momentum seen during its had carried on into 2018.
Foxtons, the rather divisive estate agent, is higher despite reporting a drop in first-quarter revenue as it cautioned that the London property market remains "very challenging".
1257: Ex Cambridge Analytica CEO Alexander Nix has accepted a formal summons by parliament's Digital, Culture, Media and Sport committee but former Vote Leave campaign director Dominic Cummings has refused.
Nix will appear in a public session of the committee on 6 June but Cummings, who had also been issued with formal summons as the committee said they wanted to see him next Tuesday", 22 May, but he has refused to appear on that date. Prior to the summons being issued, Cummings had been sent several invitations to appear.
On his blog, Cummings had said he "would be happy to but explained that I could not do those dates and also explained legal issues re the Electoral Commission's 3rd inquiry which means that lawyers of multiple parties have told me to keep my trap shut until they've finished, which is unlikely for months to come...I also made clear I was happy to give evidence once this snag was out of the way".
1242: The latest UK newspaper circulation figures are out, with some big year-on-year falls for the dailies: Telegraph down 19% to 377k, Mirror down 17% to 567k, Mail down 11% to 1.29m and Express down 10% to 346k. The Sun stays in top spot with 1.5m, down 4%, while The Times is down 3% to 434k, Financial Times down 7% to 183k and Guardian down 8% to 142k. This is just paper versions, mind.
1223: Talking of oil, Brent reaching the $80 mark for the first time since 2014 is one of the reasons why the FTSE 100 is on the march higher despite the usual Thursday weight from ex-divs.
A barrel of Brent is off the $80 mark now but still up 0.71% at $79.84. On the other side of the Atlantic, the West Texas barrel also rose close to 1% but trades at $72.15.
This complicated matters for policymakers, says Michael Hewson, market analyst at CMC Markets, via Twitter: "As oil prices push through $80 a barrel - up 53% since September. Summer about to start, yet we're expected to believe that inflation will remain subdued, and consumer spending won't be affected?"
But for the Footsie, its good news for new, helped by the pound easing a little after Theresa May denied a report that the UK could stay in the customs union.
The UK benchmark is up 0.24% to 7,754.22, as the pound relinquishes some of its earlier gains, trading flat versus the dollar at 1.3485 as the PM dismissed a Telegraph report suggesting that the UK was planning on telling Brussels that it was prepared to stay in the European customs union beyond 2021.
Elsewhere in the London midday market report, broker note action includes Restaurant Group was cut to 'sell' at Peel Hunt, Vodafone was downgraded to 'neutral' at Citi, Mondi cut to 'neutral' at Goldman Sachs, National Express knocked down to 'neutral' at JPMorgan, Premier Oil upgraded to 'overweight' at Barclays and Gem Diamonds was lifted to 'buy' at Canaccord.
1153: Greenpeace is not impressed with Clark's fracking statement, to say the least.
"After seven years of fracking doing less than nothing to help our economy, the government's still going all out for shale, and still trampling over democracy to prop up this collapsing industry," says Rebecca Newsome, Greenpeace's head of politics. "Communities and their local councils across the UK have said no in every way they can, but the government have turned a deaf ear to everyone who doesn't own fossil fuel company. In their commitment to extract more gas than we can afford to burn, they are trying to remove planning control from everyone who understands their local area and make exploratory drilling as easy as building a garden wall or conservatory."
But, to be blunt, most investors probably won't care unless it's their own local water supply that might be in danger.
1152: A strong statement this morning on fracking from Greg Clark, Secretary of State for Business, Energy and Industrial Strategy, in conjunction with his colleagues in charge of local government as recent decisions on shale exploration planning applications "remain disappointingly slow", so announcing a range of measures "to facilitate timely decisions", in England only mind.
Clark today launches a new £1.6m "shale support fund" for use over the next two years "to build capacity and capability in local authorities dealing with shale applications", along with the creation of a new "planning brokerage service for shale applications to provide guidance to developers and local authorities on the planning process to help facilitate timely decision making".
1003: Prince Harry and Megan Markle's wedding on Saturday is expected might cost £32m but researchers at the Centre for Retail Research forecast the positive #vibes could boost UK retail by £120m.
"The marriage of Prince Harry and Meghan Markle will have constitutional, emotional, cultural, religious and behavioural implications for the UK."
0959: The FTSE 350 is outdoing its larger sibling this morning, with Ocado's surge and a good rise from Just Group.
Burberry is leading the FTSE 100 for the second day as the likes of UBS up their target prices, followed by Experian and British Land after updates from both today.

Bottom of the blue chip list are Royal Mail, down 5% as outgoing CEO Moya Greene warned letter volumes may be hit by the new GDPR laws, and 3i Group, down 2% after its annual update, while bottom of the mid-caps is Hill & Smith, down 10%.
0950: Also taking a look at Ocado's shorts, so to speak, is Artjom Hatsaturjants, research analyst at Accendo Markets. He notes that even though Ocado remains the 13th most shorted UK stock, according to FCA disclosure rules, this is an improvement over its position in July 2016, when it was the most shorted stock with 21.37% of shares out on loan and 16% in November 2017, before the first deal came through.
"The question now is how long the sceptics are planning to hold out. Whenever they give up their stance (when the next deal comes?), don't forget they are going to have to buy to cover their short positions, potentially pushing Ocado stock even higher."
0949: Ocado's rise is inflicting "serious financial pain" on those who have bet against it, says Laith Khalaf, senior analyst at broker Hargreaves Lansdown.
The company, known in the UK as an online supermarket, is primarily a technology and logistics firm with the potential to licence out its services to grocers around the world, with this morning's fourth international deal being "flushed out" since Amazon announced a takeover of Whole Foods last summer. "The threat of a big disruptor entering the sector puts pressure on food retailers to be on top of their game when it comes to online deliveries, and that's where Ocado comes into its own."
Says Khalaf: "As one of the most shorted stocks in the UK stock market, this deal will be a poke in the eye for the hedge funds who have bet against Ocado because of its eye-watering valuation. However its share price is looking forward to future earnings based on licensing out its online delivery technology, rather than the revenues it's currently making from food retail. The short sellers were hoping Ocado wouldn't deliver on its international expansion plans, that position now looks like a badly busted flush."
He notes that the biggest short positions in Ocado were GMT Capital Corp with a 1.89% net short position, Kairos Investment Management with 1.51%, Marshall Wace with 1%, Parvus Asset Management with 0.86%, Hunt Lane Capital with 0.72%, BlackRock with 0.60% and UBS with 0.59%.
0904: London stocks are little changed in early trade, with the FTSE 100 flat at 7,731.83, with the pound up 0.1% versus the euro at 1.1437 and 0.2% firmer against the dollar at 1.3510.
The Thursday London market report has sterling is in focus following a report in the Telegraph suggesting that the UK is set to tell Brussels it is prepared to stay in the customs union beyond 2021.
Bookmakers are under the cosh as the government confirmed it will cut betting machine stakes to £2. In their responses so far William Hill said it will hit profits by up to £70m, Paddy Power saw a £35m-£46m impact for gaming revenues, and Ladbrokes owner GVC seeing a £160m hit to group EBITDA.
0857: After Ocado announced it is negotiating an agreement with Kroger for exclusive coverage of the US market with an initial 20 distribution centres, sending its shares rocketing up almost 50%, Barclays analysts say the talks appear to be very well-developed, emphasised by the fact that Kroger is buying a 5% stake in Ocado.
"Although the economic details of the transaction are as sketchy as in the earlier deals done, we think this is just about as positive a deal as could have been expected to have been announced by Ocado. The company now has an extremely credible partner in the largest grocery market in the world."
With losses still forecast for the coming years, the analysts conclude, "Ocado will remain a challenging valuation exercise but this agreement is an unmitigated positive in our eyes."