Netanyahu asks Brussels to follow in Trump's steps, EU says no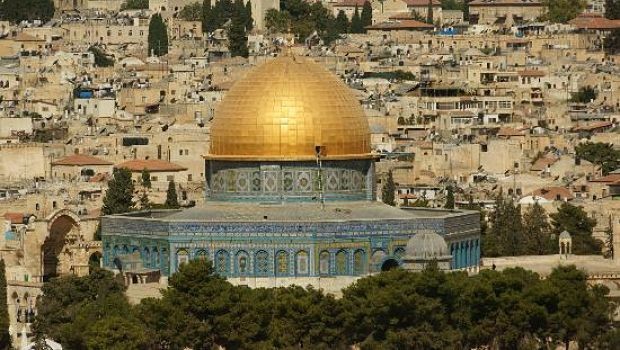 Leaders of both Israel and Palestine reached out for international support after Trump's recognition of Jerusalem as the Israeli capital.
During a visit to Brussels to discuss the issue of the bitterly-contested millennia-old city, Israeli leader Benjamin Netanyahu said the US President's stance had "put facts squarely on the table" and asked for Europe's recognition of Jerusalem as the capital of his country too
"I believe that all, or most, European countries will move their embassies to Jerusalem, recognise Jerusalem as Israel's capital and engage robustly with us for security, prosperity and peace," Netanyahu said.
But EU foreign policy chief, Federica Mogherini reminded Netanyahu of the EU's stance.
"We believe that the only realistic solution to the conflict between Israel and Palestine is based on two states with Jerusalem as the capital of both."
The presidents of Turkey and France, Tayyip Erdoğan and Emmanuel Macron, also called on the US to change its mind and thus restore calm to the region.
Erdogan was the more vocal of the two by far, labeling Israel an "invader" and "terror" state, although he found a ready response from his opposite number in Israel.
Netanyahu hit back, saying: "I'm not used to receiving lectures about morality from a leader who bombs Kurdish villages in his native Turkey, who jails journalists, helps Iran go around international sanctions and who helps terrorists, including in Gaza, kill innocent people."
Macron was more diplomatic, but also received an angry retort.
"I asked Prime Minister Netanyahu to make some courageous gestures towards the Palestinians to get out of the current impasse," said the French president.
"I hear (from Europe) voices of condemnation over President Trump's historic announcement, but I have not heard any condemnation for the rocket firing against Israel that has come (after the announcement) and the awful incitement against us," Netanyahu said.
Trump's statement from the week before had triggered violent protests across the occupied territories and in Lebanon at the weekend. Palestinians were outraged by the announcement with leading figures from their government also calling for international support against the backdrop of an emergency meeting of the Arab League.
Thus, Arab leaders called on the world to recognize the State of Palestine with East Jerusalem as its capital.
On a related note, Palestinian president, Mahmoud Abbas was expected to reject an invitation to meet Donald Trump and was being urged by his people not to meet US Vice-president Mike Pence during his visit to Israel and Palestine in a few weeks' time.