Digital Look Sharecast | 17 Mar, 2017
15:57
Small cap news round-up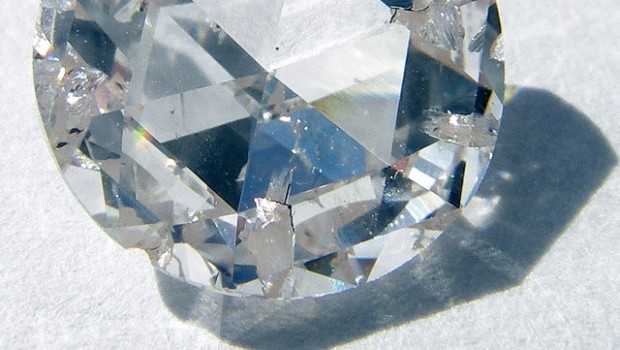 Shares rose in Stellar Diamonds on Friday after the miner announced that a church minister had discovered a 709 carat diamond in Sierra Leone, which it claims is the 13th largest ever found.
The diamond was found in the Konu district, which had been ravaged by civil war in the 1990s, by a pastor who supplemented his low income by mining for minerals.
-
AIM-listed investor MP Evans Group has completed the sale of its 36.84% stake in the PT Agro Muko palm oil plantation in Indonesia to Belgian Sipef Group, an agro-industrial firm, for $100m. Following the sale, the company will pay a special dividend of 10p per share.
The sale is part of the company's strategy to sell its minority-held Indonesian estates which it does not manage in order to buy or develop its own, directly managed new projects.
-
Frontier IP has raised gross proceeds of £3m through the placing of 7.5m ordinary shares at 40p each.
The company, which specialises in the commercialisation of intellectual property, said the net proceeds will be used to accelerate its growth and develop and expand in areas of key activity in the UK and overseas.
-
Shares in Rose Petroleum are up almost 4% after after recovering some of the substantial IVA (value added tax) owed to it by Mexican tax authorities.
It had already received the first tranches of outstanding funds, totalling MX$1.4m. A further total of about MX$4.2m was expected to be received by the end of March.
-
Adgorithms, the creator of artificial intelligence marketing platform 'Albert', announced a significant new customer win on Friday.
The AIM-traded firm said following the successful implementation of the company's "land and expand" growth strategy, it secured a 12 month rolling contract with one of the world's largest nutrition, health and wellness companies, which remained unnamed.
-
Billing, charging and customer relationship management software solutions provider Cerillion announced that it won a major new contract with an initial value of €2.4m with a wholesale telecoms operator in Europe.
The AIM-traded firm said the contract, secured after a competitive tender process, was for the supply of the company's enterprise CRM and billing solution and the ongoing provision of a managed service to operate it.
-
CyanConnode, a maker of narrowband radio mesh networks, is planning to raise about £3.2m in order to cover costs for growth and the integration of its technology with its partners.
The company will place 230.44m shares of 0.01p each, an 18% discount on the Thursday's closing price, and there will be a subscription of 1.67bn shares, also for 0.01p each by way of an accelerated bookbuild.
-
Shares in Ortac Resources are up almost a third, albeit off a low base, after it confirmed subsidiary ORTAC s.r.o has been re-issued with an underground mining permit for the Sturec Gold Project in Slovakia.
ORTAC s.r.o is the project developer, and the permit was re-issued by the District Mining Bureau in Banska Bystrica.
-
Shares in Horizonte Minerals are up almost 2% after it booked a marginally wider full-year pre-tax loss and confirmed achieving several milestones at the Araguaia Nickel Project in Brazil.
"These (milestones) include the delivery of a Pre-Feasibility Study, the receipt of our Preliminary Environmental Licence, and raising the (£9m) funds to deliver a Feasibility Study in 2017," the company said in a statement.
-
AIM-listed Equatorial Palm Oil's tax and duty free allowance has been extended for a further five years by the government of Liberia following slower production development at its sites in the country.
The palm oil producer's agreement with the Liberian government extends the concessions reached in 2008 for its subsidiaries in the country for the development of two existing oil palm estates at Palm Bay and Butaw.
-
Shares in AIM-listed Global Ports rose more than 1% on appointing Mikhail Loganov as CEO and swinging to a full-year pre-tax profit of $109.9m amid a sluggish Russian container market.
The company's loss for 2015 was $30.3m. Revenue was lower at $331.5m, from $405.7m.
-
Range Resources released its unaudited half-yearly report for the six months ending 31 December on Friday, with revenues increasing by 38% to $3.8m, which the board said was mainly due to a higher realised oil price of $42 per barrel.
The AIM-traded company said its operating expenses improved by 9% to $40 per barrel, and it retained a "healthy" unrestricted cash position of $20.6m, up from $13m at the start of the period.
-
Specialist bank Private & Commercial Finance Group (PCF) is aiming to raise £10m in order to maintain the level of capital required by regulators.
The proceeds will allow the bank to maintain the level of regulatory capital and liquidity it is required to hold as agreed with the Prudential Regulation Authority (PRA) and the Financial Conduct Authority (FCA) when it received authorisation last December.
-
Following the conclusion of due diligence, Spectra Systems' new chief financial officer Brian McLain is able to carry out his duties.
AIM-listed Spectra Systems, a supplier of authentication technology for banknotes and tax stamps, appointed McLain on 23 January but he was subject to due diligence enquiries by certain Spectra customers and standard regulatory AIM background checks.
-
International assistance business CPP Group announced the acquisition of Blink Innovation on Friday, for an initial consideration of €1m and an earn-out based on future products developed by Blink.
The AIM-traded firm said the initial sum would be paid on completion, with a total maximum earn-out based on up to 20% of defined profits generated up to a maximum of €20m in profits over the next five years.
-
Oilex announced on Friday that Jonathan Salomon's term as managing director of the company had been extended by a further one year with immediate effect.
The AIM-traded firm said Salomon has over 30 years of experience in the oil and gas exploration and production business in both conventional and unconventional projects, and brought specific Indian business and oil and gas expertise.
-
Specialist provider of rapid response deep cleaning and emergency decontamination services, React Group, announced its final results for the year to 30 September on Friday - its first full year since listing on AIM in mid-2015 via a reverse takeover.
The AIM-traded firm said turnover for the period was £2.4m - compared to £700,000 for the shorter reporting period from 24 June to 30 September 2015 - with a cost of sales of £1.4m, up from £350,000 in the short 2015 period.
-
Out-of-hospital service provider Totally has won a £90,000, six-month contract with NHS Blackburn's Darwen Clinical Commissioning Group (CCG).
From 1 April the company's subsidiary About Health, which has been under contract to the NHS since 2009, will provide dermatology services to Darwen CCG.