FTSE 250 movers: RPS continues to tumble, miners higher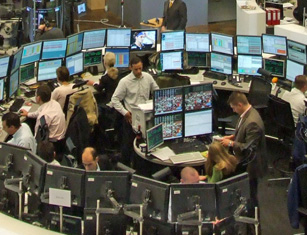 Shares in RPS Group continued Thursday's losses, when the industrial consultancy outfit said the continuing volatility in the oil and gas sector meant its energy business had a slower-than-expected start to the year.
Stockmarket newcomer Virgin Money was climbing after it increased its share of the mortgage market to 3.6% in the first quarter.
Insurer Esure was in demand after Barclays Capital lifted its ratings on the stock to 'overweight' .
Mining stocks were trading higher as weak Chinese data gave metal prices a lift. Vedanta Resources, BlackRock World Mining Trust and Polymetal International were all making gains.
Al Noor Hospital Group dipped after analysts at Investec cut their price target on the stock from 1,170 to 1,030 on Thursday.
Laundry services group Berendsen continued to decline after first quarter sales, released on Thursday, fell 5% due to strong currency headwinds and troubles in the UK with a hotel linen contract. Berendsen said its UK flat linen division suffered from contract issue from the group's hotel division.
Risers
Vedanta Resources (VED) 659.00p +4.85%
IP Group (IPO) 205.70p +4.42%
esure Group (ESUR) 227.60p +4.31%
Evraz (EVR) 195.40p +3.00%
BlackRock World Mining Trust (BRWM) 323.90p +2.50%
Essentra (ESNT) 983.00p +2.29%
Centamin (DI) (CEY) 64.85p +2.13%
Alent (ALNT) 367.20p +1.94%
Bodycote (BOY) 701.00p +1.89%
Acacia Mining (ACA) 294.00p +1.77%
Fallers
RPS Group (RPS) 204.80p -3.85%
AO World (AO.) 179.80p -3.59%
Allied Minds (ALM) 635.00p -2.76%
Greggs (GRG) 1,160.00p -2.44%
Serco Group (SRP) 130.50p -2.32%
Supergroup (SGP) 1,008.00p -2.14%
AL Noor Hospitals Group (ANH) 879.50p -2.06%
Berendsen (BRSN) 1,020.00p -1.73%
Countrywide (CWD) 516.00p -1.71%
Greencore Group (GNC) 348.70p -1.69%