Sunday newspaper round-up: Budget, bank warnings, Marks & Spencer, Sky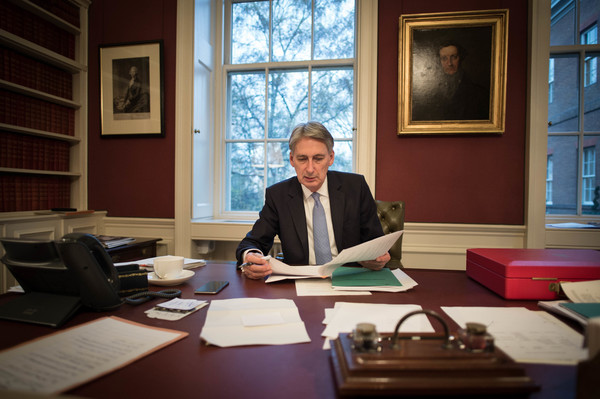 Philip Hammond wrote that he will use this week's budget to build up a £60bn Brexit war chest to boost Britain's "resilience" to economic turbulence as the UK withdraws from the European Union. The chancellor warned that it would be "reckless" to turn on the spending taps before Brexit in 2019, but will announce a £1.3bn cash injection for councils to deal with the social care crisis and another £500m for 'T-Levels' technical training, both funded by cuts elsewhere. - Sunday Times
Philip Hammond has sent a warning to Britain's European partners that Britain will "fight back" and not "slink off like a wounded animal" if it does not get the Brexit deal it wants. In combative language ahead of triggering the article 50 negotiations on terms of withdrawal, the chancellor said Britain would "do whatever we need to do" to be competitive in the event of leaving the EU without a trade agreement. - Observer
Britain's biggest business groups have issued a last ditch plea to the Chancellor to move away from "sticking plaster" solutions to fix the business rates system and reform the "unfair and outdated" regime. Philip Hammond will stress this week that securing the economy and repairing the public finances remains his top priority, as he focuses on stability and setting out the Government's direction of travel on issues such as self-employment ahead of his main fiscal event this autumn. - Sunday Telegraph
The Office for Budget Responsibility (OBR) will push up its growth forecast for this year, largely on the back of the stronger economy at the end of 2017. In November it predicted 1.4% growth for this year, at a time when the consensus forecast was 1.2%. Now the consensus has risen to 1.6%, implying an OBR forecast of close to 2%. - Sunday Times
The City, which lobbied predominantly for the UK to remain part of the European Union and has suffered repeated setbacks since the June referendum, is now pinning its hopes on persuading UK and European politicians to form a new supranational body that could arbitrate any financial disputes between post-Brexit Britain and the EU. Senior City figures are locked in talks about how to make "super equivalence" work in a bid to ensure financial institutions can retain stable cross-border access to European markets following Brexit. - Sunday Telegraph
Britain's biggest banks are assessing more than 35,000 staff who could face jail if they are found to have ripped off customers. The Financial Conduct Authority has asked banks to identify workers who could pose a serious risk to customers or the companies they work for, under rules that come into force on Tuesday. - Sunday Times
Banks are booking hundreds of millions of pounds in income from zero per cent balance transfer credit cards – years before they get it. The income boosts paper profits instantly, and can be used to meet required capital levels and justify payment of dividends - but while the practice is required by accounting standards some fear it may be stoking a credit bubble. - Mail on Sunday
Ministers were on Saturday night confident that 4,500 manufacturing jobs and pensions were safe ahead of a deal to sell Vauxhall to a French firm. The board of PSA Group, which makes Peugeot and Citroen, is understood to have agreed the purchase of the Vauxhall and Opel marques from General Motors and the firms are expected to make an announcement on Monday. - Sunday Telegraph
The UK's privacy watchdog is launching an inquiry into how voters' personal data is being captured and exploited in political campaigns, cited as a key factor in both the Brexit and Trump victories last year. The intervention by the Information Commissioner's Office (ICO) follows revelations in last week's Observer that a technology company part-owned by a US billionaire played a key role in the campaign to persuade Britons to vote to leave the European Union. - Observer
Two of the UK's largest asset managers Standard Life and Aberdeen Asset Management announced on Saturday the possibilitty of a shock merger that would create an £11bn company with more than £650bn of assets under management. Under terms of the mooted all-share merger, shareholders of Edinburgh-headquartered Standard Life would own 66.7% and Aberdeen's 33.3% of the combined group, though there would be an equal number of seats on the board for the two sides.
Archie Norman has been approached to be the next boss of Marks & Spencer in a move that was last night predicted to create 'the perfect match'. M&S is understood to be aiming to appoint the former ITV chairman to replace retiring chairman Robert Swannell as early as the annual shareholder meeting in July. - Mail on Sunday
BT Group is close to appointing its new chairman, with City veteran Jan du Plessis said to be the frontrunner for the role. Du Plessis, 63, a charismatic South African, has been chairman of the mining giant Rio Tinto since 2009 — overseeing a recent investigation into allegations of corruption at its operations in the tiny west African state of Equatorial Guinea, and formerly chairman of SAB Miller when it was bought by AB Inbev.
Britain's commitment to tackling high-end money laundering through the City of London is under serious scrutiny after it emerged that regulators appear to have waved through an $800m bank transfer to a convicted criminal as the proceeds from one of the most corrupt deals in the history of the oil industry. A joint investigation by the Observer and journalists from Finance Uncovered, a non-profit organisation based in London, has discovered that prosecutors in Milan believe two payments of $400m each were wired through JP Morgan in London as the spoils of a huge deal to develop a Nigerian oilfield involving Shell, its joint venture partner the Italian oil giant Eni, and the government in Abuja. - Observer
James Murdoch will oppose any attempt by regulators to force him to spin off Sky News as a condition of clearing his proposed £11.7 billion merger of 21st Century Fox and Sky, say sources close to the deal. Culture Secretary Karen Bradley said on Friday she is 'minded' to order an investigation by media regulator Ofcom because of concerns about competition and broadcasting standards. - Mail on Sunday
A top 10 investor in Premier Foods has called for the biggest shareholder in the maker of Mr Kipling cakes to make an offer for the company, or clear the way for a rival bid. The investor, which asked not to be named, said the Japanese noodle giant Nissin Foods' 19.7% holding in Premier was a "blocking stake", preventing a sale of the struggling food giant. - Sunday Times
Britain's leading supermini, the Volkswagen Polo, is among the worst polluters on the road, according to newly revealed test data. VW, disgraced in the 2015 Dieselgate scandal, pledged then to slash emissions but researchers found that the latest diesel-engined version of the Polo emitted as much toxic nitrogen dioxide (NO2) as a fully laden lorry. - Sunday Times
Sir Philip Green's Arcadia Group has struck a deal to pay tens of millions of pounds into its pension fund to help plug a near £200 million deficit. The news may help fend off a fresh barrage of attacks on the billionaire over Arcadia, just days after he settled a long-running dispute over the BHS pensions black hole. MPs had been thought to be preparing a fresh broadside at Green. - Mail on Sunday
Deutsche Bank is set to raise €8bn (£6.5bn) in fresh capital in a bid to bolster its finances after a torrid year. Germany's largest lender — and one of the biggest employers in the City — is also considering listing a small stake in its asset management arm. A previous plan to sell its German high street lender, Postbank, may now be scrapped.
Shocked customers of a major energy company have received an apology after malfunctioning smart meters said they would be charged up to £33,000 for one day's power. SSE, one of the "big six", said it had launched an urgent investigation into the errant devices, one of which told a customer they had exceeded their daily budget by nearly 3m%. - Observer
BAE Systems is facing a shareholder revolt over a plan to award its new chief executive a pay packet worth more than £7.5m. Charles Woodburn, the incoming boss of Britain's biggest defence company, could be paid almost eight times his salary in bonuses and share options. - Sunday Times
How does the boss of German grocery chain Aldi plan to cope with Brexit? Simple: buy British. In fact, Matthew Barnes, chief of Aldi UK, hopes to cast off the German tag altogether. Aldi UK, he claims, is the most British supermarket on the high street. - Mail on Sunday
Spire Healthcare is gearing up to take on arch hospital rivals HCA and Bupa on their home turf in London with a new medical facility in the heart of the capital. Garry Watts, Spire's executive chairman, said he was "60pc" sure that the private hospital group would announce a London property deal this year following years of speculation. - Sunday Telegraph
More than 200 wealthy foreigners are choosing to pay £218,200 a year in tax rather than declare which of London's £20m-plus mega-mansions they own. The government introduced a special annual tax on homes owned via "non-natural persons" such as offshore companies in 2013, to crack down on "dirty money" used to secretly buy up luxury homes. - Observer
City grandees in charge of reviews into diversity in British business have hatched a plan that would force companies to reveal ethnic and gender figures every year. The four heavyweights will ask FTSE companies to reveal data on women in senior posts and black and minority ethnic (BME) staff to the Financial Reporting Council, rather than separately to their reviews. The data will then appear in the companies' annual reports each year. - Sunday Times
Sales handled by Foxtons fell by a quarter in 2016 because of higher stamp duty on top homes and a Brexit slowdown, the estate agent will report this week. The London-based agent is set to reveal that profits slumped to £25 million from £43 million last year. - Mail On Sunday
A shakeup at Sainsbury's will cut the pay of thousands of workers and leave hundreds more out of work. The supermarket chain is axing the night shift at 140 branches, which will affect the working hours of 4,000 employees. - Mail