Sunday newspaper round-up: Budget balancing, Unilever, RBS, BT, Sainsbury's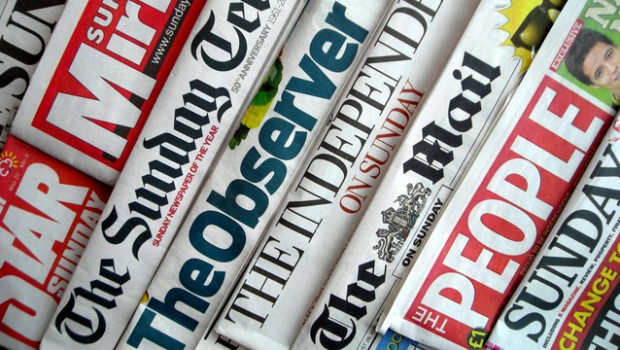 Philip Hammond is set to get a boost from a bigger budget surplus at the start of 2017, giving the chancellor more leeway to cut taxes or increase spending in next month's budget. Hammond is under pressure to use his March budget to provide support to companies hit by sharp rises in business rates, as well as hand extra funding to the NHS, but after recent moves in government bond markets raised the Treasury's borrowing costs he will be likely to think twice about any big giveaways, the Sunday Times said.
Kraft Heinz's attempts to take over Unilever could be blocked by Dutch laws that allow the London- and Rotterdam-listed consumer goods company to block a bid that threatens jobs, jeopardises the country's national interests, or could have a detrimental impact on the environment. Because Unilever is covered by laws in both the UK and Netherlands, said the Sunday Telegraph, it will force Heinz must overcome Dutch rules that call for takeover bids to be judged on a range of tests, rather than just price.
Although Prime Minister Theresa May has asked business secretary Greg Clark to look into the deal, demanding meetings with both companies, the US giant is poised take its proposal directly to Unilever's shareholder. The Sunday Times said Kraft was meeting some of its biggest investors over the next few days to test their interest in its $50-a-share offer, even though it has been rejected by the board.
Before the end of spring, Virgin Mobile founder Tom Alexander is looking to launch a technology-led company to challenge the UK's big six energy suppliers, with backing from oil giant BP. The Sunday Telegraph said the still-unnamed venture, currently known as "Project Blue Marble", has secured licences under different project names to keep it under wraps before a planned launch this spring, while as part of a strategic investment deal BP will secure its wholesale electricity and gas.
Donald Trump's protectionist trade plans could derail China's economic growth over the coming decade to such an extent that he could prevent the world's second-largest economy from joining the elite club of high-income nations, said the Sunday Telegroah, citing analysis from Morgan Stanley. With only Poland and South Korea having broken out of the middle-income group in the last 30 years, there was perceived to be a major risk, though not necessarily the most likely scenario.
Royal Bank of Scotland's plan to ditch a sale of 300 branches could be rubber stamped by the European Commission 'within weeks', paving the way for the Government to sell-off the huge taxpayer stake in the group, the Mail on Sunday reported. RBS announced late on Friday that the Treasury has discussed the deal with the European Commission, with RBS saying it had taken a £750m provision in its 2016 accounts for the proposed remedies.
It was fears that RBS's problems could hurt the UK in Brexit negotiations that forced such dramatic intervention by the Treasury, the Sunday Times reported. As the contract binding RBS to its state aid pledges was signed by the Treasury, and rather than risk the bank's difficulties being used as leverage to undermine British interests in the Brexit negotiations, officials pushed for the alternative solution.
Sainsbury's chief executive Mike Coupe has criticised UK business rates as archaic and called for "fundamental reforms" as the government's controversial shake-up will reduce bills for online retailer Amazon while many of its high street rivals would face sharply higher bills, the Mail on Sunday reported. With Sainsbury's claiming it will pay an extra £17m in rates, Coupe said there was "an advantage for those without bricks and mortar operations", while MPs have agreed it is scandalous that independent traders were being punished while online retails get a rates cut.
With UK retailers needing to find an estimated extra £2.25bn over the next five years, Morrisons chairman Andy Higginson told the Sunday Telegraph he believed business rates were "a medieval tax" that have past their sell-by date. However, the tax burden for Tesco, Asda, Morrisons and Sainsbury's superstores will fall from £1.51bn this year to £1.47bn, according to analysis by rates specialists CVS that calculates the largest superstores will enjoy a £39.9m reduction in their rates bills per year.
Government ministers are pushing for Ofcom to agree a compromise deal with BT over the future independence of its Openreach internet infrastructure arm before the regulator applies to the European Union to force through tougher regulations. The Sunday Telegraph said it was understood that Whitehall's growing frustration has been made clear in meetings with the BT, investors and the regulator over the failure to agree a new structure for what is the national internet network.
Cuadrilla Resources has spoken to the Home Office to try and prevent anti-fracking protesters from using "harassment and intimidation" to force local sub-contractors to retreat from work on its Lancashire drilling site. The shale trailblazer began construction work at the Preston New Road site last month, the Sunday Telegraph reported, but already three local supply chain firms have backed away from the project due to disruption from activists.
Aviva has threatened to terminate contracts with suppliers that fail to promote women to senior roles. The insurer's human resources boss has issued the warning to more than a dozen subcontractors — thought to include recruitment firms, catering suppliers and specialist providers of insurance services, and told the Sunday Times the company was "willing to consider ending our ongoing relationship" if suppliers do not share its values.
The UK car industry could be hit by an output crisis as BMW's Mini and Rolls-Royce plants are facing potential strike action by union Unite due to row over pensions, coming alongside concern about Vauxhall jobs in the UK as General Motors continued talks about selling its European business to Peugeot. Unite, said the Sunday Telegraph, has raised the prospect of "serious industrial action" over BMW's proposal to change to carworkers' pensions from final-salary schemes to less generous defined-contribution plans.
The Co-Op's efforts to sell its banking arm face a big problem in finding a buyer that shares its ethical credentials, which may lead to the buyer being forced to abandon the brand name, the Observer said. Calculating it needs £550m a cash injection and sceptical that a takeover is possible, analysts at JP Morgan think bondholders may eventually have to pay up to cover the shortfall, though other analysts foresee the current accounts and mortgage book being sold off separately.
The Treasury is poised to launch an independent inquiry into the Co-operative Bank nearly four years after it almost collapsed. The investigation will examine regulation of the bank and, the Mail on Sunday said, could cause embarrassment at the FCA as the regulator's new chief executive Andrew Bailey played a key role in regulating the Co-op Bank in 2011.
Technology giants including Google and Uber could help to run the new HS2 train service under radical plans being explored by Whitehall in an effort to ensure the rail line is not overtaken by new technology by the time it opens in 2026. The Sunday Times revealed that ministers hope to tempt the cash-rich companies to buy stakes in new super-consortiums that would bid for the right to run trains when the department launches a new franchise in 2019.
The Sunday Telegraph wondered whether Britain's privately managed prisons, which are operated by the likes of the UK's G4S and Serco and France's Sodexo, may soon be coming to "the end", after footage emerged showing one of the country's biggest jails had descended into chaos, with failing alarms, prisoners calling the shots and widespread drug problems. Uncovered by an undercover BBC reporter, the prison's struggles follow the riot at HMP Birmingham at the end of last year.
The world's biggest independent cruise port operator Istanbul-based Global Ports Holding, is drawing up plans for a £700m float in London before the summer, the Sunday Times said.
Microsoft founder Bill Gates suggested that machines and robots that take human jobs should still have to pay taxes. The suggestion will fuel an increasingly intense debate about how government and industry should prepare for the rise of mass automation, the Sunday Times reported, citing a Quartz interview.
Demand for organic food is at its highest for more than a decade, according to major retailers. The industry, said the Observer, was hit hard by the economic downturn but now seems to be returning to rude health as more shoppers say organic food is worth paying the premium for.