Monday newspaper round-up: Brexit, mobile auction, Thomas Cook, pay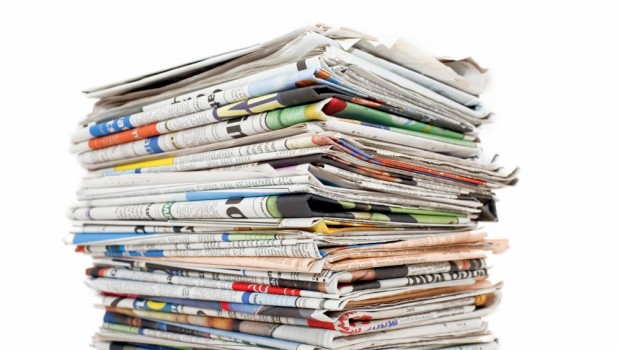 Britain could be subject to rulings by the European Court of Justice for years after the UK leaves the European Union, it has emerged. This week the Government will publish its blueprint for how Britain will treat rulings by the European Court of Justice, the EU's highest court, in civil court cases after Brexit. - Telegraph
Britain could retain access to the single market without answering to the EU's court under plans put forward by one of Europe's leading judges. The compromise over one of the most intractable disputes of the Brexit process is being brokered by Carl Baudenbacher, president of the court of the European Free Trade Association. - The Times
The British government's hopes of opening discussions on a future trade relationship this autumn will definitely be dashed by the European Union due to the slow progress of Brexit negotiations, one of 27 prime ministers who will make the decision has said. Miro Cerar, the prime minister of Slovenia, revealed in an interview that it had proved too difficult to close the differences between the two sides in the opening rounds of talks, with the UK producing some unrealistic proposals. - Guardian
Pressure was mounting on telecoms regulators last night to organise a quick auction of rights to the airwaves, as fears grew that a court clash between mobile operators will delay investments in better networks. Mark Evans, chief executive of O2, backed a call by rival EE for Ofcom to press ahead with a big money sale of radio spectrum that could be used to bolster coverage immediately.
The UK's biggest broadband providers are attempting to block plans for a compensation scheme for people who suffer broadband and phone service problems, Citizens Advice has warned. BT, Virgin Media and Sky have shunned Ofcom plans for a mandatory compensation scheme and instead proposed their own, which would be voluntary. - Telegraph
Holidaymakers could face chaos after hundreds of pilots with Thomas Cook Airlines voted to strike over pay. The airline operates a fleet of up to 40 planes during peak summer months and flights between Europe and North America, north Africa and the Caribbean could be affected by industrial action.
The government is preparing to water down plans to curb excessive executive pay, amid fears of gridlock in Parliament and claims that current legislation is "working well". The Prime Minister planned to give shareholders more powers to challenge boards as part of what she said was an attempt to restore trust in business. - Telegraph
A sizeable majority of the British public believes that the UK's departure from the European Union should be followed by "a transition period", according to an Opinium/Observer poll. While almost half (49%) of those asked still believe that there should not be a second referendum once the terms of departure are clear, enthusiasm for Brexit appears to have dipped slightly, while trust in the Conservatives to lead negotiations has dropped from 39% in June to 33% in August. - Guardian/Reuters
One of Europe's largest energy funds has secured a £150m refinancing of a Lincolnshire biomass power plant, in what it claims is a major vote of confidence in Britain's renewable energy industry. Glennmont Partners, formerly BNP Paribas Clean Energy Partners, said the institution-only refinancing of Sleaford Biomass Plant is the largest of its kind in the sector to date. - Telegraph
DMGT, the publisher of the Daily Mail, is considering a sale of its Metro free newspaper as print advertising sales decline and commuters increasingly read their news on smartphones. The family controlled company has appointed bankers to explore options for the title, which is not considered a core part of its consumer business. - Telegraph
The Financial Times has reported a small profit for its first year under Japanese ownership, following its debt-fuelled £844m takeover by the publisher Nikkei. Accounts for The Financial Times Limited, the main operating company, which excludes some overseas businesses, reveal a pre-tax profit of £6.2m for 2016 on revenue of £310.7m. - Telegraph
Pork products sold at a leading supermarket may have infected British shoppers with a virus that can cause liver failure and death, it has emerged. Researchers at Public Health England (PHE) probed the shopping habits of those infected with hepatitis E and found the consumption of ham and sausages from one store, identified only as "supermarket X", was a recurring feature. - Guardian/Press Association
One of the world's leading technology investors is poised to buy a stake in Transferwise in a deal expected to value the British online currency exchange business at more than £1 billion only seven years after it was created. IVP, a venture capital firm based in Silicon Valley which has backed Snapchat, Twitter and Netflix, is understood to be in advanced talks to invest tens of millions of pounds in Transferwise. - The Times
Uncertainty surrounds a mining company that opted to fall into the hands of administrators rather than accept a takeover offer from one of its minority shareholders, in what is thought to be a UK first. Aim-listed Asa Resource, which owns nickel, diamond and copper assets across sub-Saharan Africa, appointed administrators at Duff & Phelps on July 30 after running out of cash. - Telegraph
Two out of three bosses at the UK's biggest companies have not been trained in how to deal with a cyberattack, the government has warned, despite growing awareness at board level of the havoc that can be wreaked on organisations by hackers. A study by the Department for Digital, Culture, Media and Sport and accountancy firms found that many large organisations were unprepared for the kind of attack that caused significant disruption to global companies including WPP, FedEx and Reckitt Benckiser in June and July. - The Times
More than 100 robotics and artificial intelligence leaders including billionaire Elon Musk are urging the United Nations to take action against the dangers of autonomous weapons, known as "killer robots." "Lethal autonomous weapons threaten to become the third revolution in warfare," warned the letter signed by 116 tech luminaries, including Musk, the chief of Tesla, and Mustafa Suleyman, cofounder of Google's DeepMind. - Telegraph/AFP
Famed for its sunshine and high temperatures, Qatar might seem the ideal place to install solar panels, but as it looks to branch out into renewable energy, it has found that it is too hot for the panels to work properly. Summer temperatures that can reach 50C, combined with the build-up of dust, can reduce the efficiency of a photovoltaic panel by more than half. - The Times
Hundreds of staff at Smith & Williamson could be in line for a share of £355 million as it continues merger talks with Rathbone Brothers. Over the weekend the companies confirmed that they were in "exclusive discussions" about a £2 billion tie-up. The all-share deal on the table is said to value Smith & Williamson, which is mostly owned by its staff, at more than £500 million. - The Times