Monday newspaper round-up: Banking regulations, investing boost, Bovis, water deals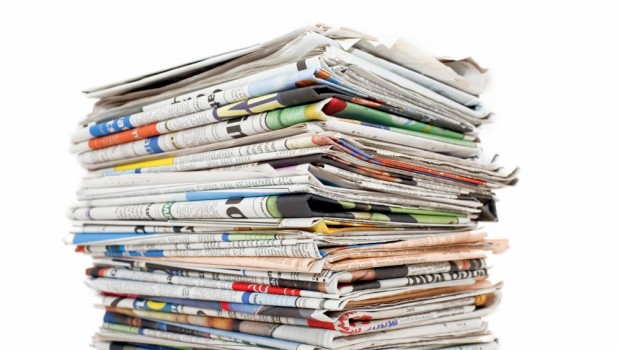 Ministers from the world's leading economies have agreed to review banking regulations in a move that could start to unpick reforms made since the financial crisis. The decision was taken at the G20 meeting of finance ministers and central bank governors in Baden-Baden, Germany, over the weekend. - The Times
Surging share prices are making households wealthier, boosting confidence and offsetting some of the squeeze from rising inflation and sluggish wage growth. Britons' net financial wealth has jumped by 12.5pc in the past year according to economists at the EY Item Club - rising four times more quickly than wages. - Telegraph
An oil company has drilled a well in the green belt without permission and ignored repeated warnings that it would need consent, a council has said. Angus Energy continued to drill at Brockham, Surrey, in January despite the county council writing to the company twice to say that it required planning approval. - The Times
Embattled Barclays executives facing criminal charges over a fundraising deal have made a last-ditch plea for leniency. Eight former bosses have been investigated by the Serious Fraud Office, which is examining a rescue by Middle Eastern investors who pumped £7bn into the bank in 2008 as it teetered on the brink of collapse. - Mail
Theresa May will face demands from the leaders of the UK's devolved governments to radically rethink her approach to the union as she begins a four-nation tour before beginning Britain's exit from the EU. Downing Street said the visits, which will begin on Monday in Swansea with the Welsh first minister, Carwyn Jones, would ensure the government was "engaging and listening to people from right across the nation" before triggering article 50. - Guardian
One of Bovis Homes' largest shareholders has urged the housebuilder to reopen merger talks with its rival Redrow. Royal London Asset Management has said it would prefer a deal with Redrow rather than the one being pursued with Galliford Try, a construction group. Galliford's all-share offer valued Bovis at 886p a share while Redrow's cash-and-shares approach was at 814p a share. - The Times
A major crackdown on cartels is being launched by competition authorities after a rise in illegal business practices such as price fixing. The Competition and Markets Authority (CMA) has launched its first ever public campaign in a bid to clamp down on activity which distorts competition within industries and often leads to consumers paying more than they might have done in a completely open market. - Telegraph
High Streets are enjoying somewhat of a renaissance as rising numbers of consumers are choosing to dine out, drink at bars and generally enjoy the diverse range of restaurants and leisure activities on offer as they do their shopping. Footfall across the country's high streets increased by 0.1pc year-on-year in February, compared with a 0.8pc annual decline in January and a 2.9pc slump in February last year, according to the data from the British Retail Consortium's (BRC) monthly Springboard monitor.
Google executives are bracing for a two-pronged inquisition from the advertising industry and the government over the company's plans to stop ads being placed next to extremist material. A slew of big-name companies, advertising firms and government departments have either pulled their adverts from Google and its YouTube video site or are considering whether to do so, with media giant Sky, telecoms group Vodafone and a trio of banks adding their names to a growing list over the weekend.- Guardian
Billions of pounds' worth of water contracts will be awarded to utilities in the coming weeks ahead of the opening of the business supply market. The first major framework contract is expected to be awarded by Crown Commercial Services on behalf of the UK's public sector which is understood to be worth between £800m to £900m. - Telegraph
Theresa May backs plans for an overhaul of workers' rights to reflect 21st-century employment practices, according to the chair of Downing Street's review into modern work. Matthew Taylor, a former adviser to Tony Blair who was appointed by the prime minister to lead the review into the gig economy, said he would be recommending changes to the rights of self-employed workers when his review was published in June. - Guardian
Doorstep energy salesmen are approaching thousands of households every day as the industry revives the controversial practice that led to a mis-selling scandal seven years ago. The Times has learnt that at least a dozen small energy companies, about a quarter of all household suppliers, are using the tactic either directly or via third-party brokers.
A key figure behind BT's entry into televised sport has set up a broadcaster in America. Marc Watson, now executive chairman of Eleven Sports, said that the cost of rights in the UK prevented new entrants. Since BT went into the market five years ago, the annual cost of live Premier League rights has gone up from £591 million to £1.71 billion. - The Times
The housebuilder Crest Nicholson is facing an embarrassing investor backlash over generous share awards for its top executives as the Government weighs radical reforms to rein in excessive pay. Institutional Shareholder Services (ISS), the influential investor advisory group, has recommended that shareholders vote down the builder's remuneration plans over concerns that its profit targets are becoming increasingly too easy to meet. - Telegraph
Four executives at Melrose Industries are set to receive bonuses worth about £35 million each in one of the biggest City paydays in recent years as the specialist engineering group prepares to announce the results of a five-year incentive scheme. Melrose's chief executive, chairman, deputy chairman and chief financial officer are in line for the all-share bonuses as part of a windfall for senior managers at the company. - The Times
Bankers will soon be able to switch their trading desks for military exercises without leaving London's main financial district as the British Army sets up training units for reservists in Canary Wharf. Barclays has said that it will sponsor the project, which will let army reserve soldiers do some basic training yards from their offices where top staff can earn multimillion-pound bonuses. - The Times