Traders predict Tories will extend majority to 90 seats, polls indicate 100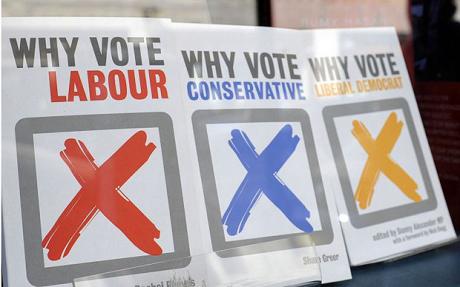 After Prime Minister Theresa May announced plans for a snap general election on 8 June, financial and betting markets both pointed towards a much increased majority for the Conservative party.
A newly created market for traders to spread-bet on numbers of general election seats each party could win predicted the Tories would tot up 370 seats, according to IG Group, the broker which offered the market to its clients.
That would give May's party a gain of 40 seats on its current House of Commons representation.
With the market forecasting Labour will lose 52 seats to fall to 177 after the election, it would serve up a swing to a 90-seat majority for the Conservative party.
According to an average of five opinion poll published in April, the Tories have support of almost 43% versus slightly more than 25% for Labour - a lead of more than 17 percentage points.
Professor John Curtice of Strathclyde University on Tuesday calculated the right-leaning party could win a 100-seat majority, with 375 seats to Labour's 189, based on current polling.
The 2015 election delivered a 12-seat majority with a vote share of 36.9% for the Conservatives, 30.4% Labour, 12.6% Ukip and 7.9% Liberal Democrat.
IG's market on Wednesday was calculating the anti-Brexit stance of the Liberal Democrats would win them 34 seats, a gain of 25, with the Scottish National Party losing 4 seats to fall to 50 seats and Ukip on 1 seat.
Matt Brief, IG's head of dealing, said: "This seven week campaign is set to be unlike any other previous election. There are big question marks over the turnout, which way Leave and Remain voters will cast their ballots, and what happens to the UKIP vote of 12.6% in 2015."
Bookmaker Betfair said around £0.75m had changed hands on its betting exchange in the 24 hours since May's statement outside 10 Downing Street, with 88% of volume traded on Conservatives winning majority and 26% of all bets placed on the Lib Dems to win most seats.
After a sizeable jump on Tuesday, the pound held onto its gains on Wednesday, hovering at just over $1.284 just after noon, and closing in on €1.198.
The prospect of the Conservative party gaining a stronger majority was seen as generally currency-positive among currency investors, since it is felt likely to reduce the prospect of political wrangling, said Michael Hewson at CMC Markets, who added there was "no reason we can't head higher in the coming weeks".
"The market still remains in a negative mind-set for sterling with short positions still elevated. While there is likely to be a few twists and turns over the course of the next few weeks, the US dollar side of the story suggests that we could see further US dollar weakness, pushing the pound back through the 1.3000 level in the longer term."
Betfair said the Conservatives were trading with a 93% chance of winning the most seats.
At Ladbrokes there was plenty of money moving on the next Labour leader, with London MP Kier Starmer, the Shadow Brexit secretary, pulling clear of former front runner Clive Lewis to become clear favourite to replace Jeremy Corbyn at the helm of the workers' party, at 5/1.