May promises billions to make post-Brexit Britain a tech destination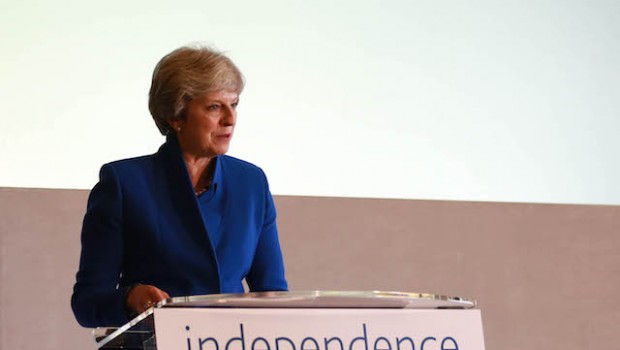 Theresa May was doing her best to show off Britain as a tech investment hub ready for a post-Brexit world on Wednesday, as she hosted a raft of companies for a roundtable as part of London Tech Week.
Number 10 said the event was organised to showcase Britain as "the best place in the world" to run a tech company.
The Prime Minister made a number of commitments in a bid to see tech companies benefit from government funding, and greater access to talent and data under new plans.
Those announcements included a new £2.5bn British Patient Capital programme, which was expected to attract a further £5bn in private investment, to support UK companies with high growth potential to access the long-term investment they needed to grow and "go global".
May was also launching a new start-up visa for entrepreneurs from spring 2019, replacing a visa route which was exclusively for graduates, and opening it to business founders. That would include accelerators playing a role in the endorsement of candidates.
Roger Taylor, founder of Dr Foster, was announced as chair of the Centre for Data Ethics and Innovation, alongside a consultation on the role of the centre, which Number 10 said was "a key part of plans" for a new National Data Strategy.
The government, said May in a speech as part of London Tech Week, would open up "key parts" of the Ordnance Survey's geospatial data to small businesses for free, to boost competition in the digital economy, as well as launch two new 'Tech Hubs' in Brazil and South Africa, to build innovative partnerships and develop skills, capability and business networks in those markets.
"The measures we are announcing today will allow innovative British start-ups to invest in their future – and in the UK – by hiring more skilled people, expanding their business and exporting their expertise across the world," the Prime Minister said.
"It's a great time to be in tech in the UK, and our modern Industrial Strategy will drive continued investment, ensuring the nation flourishes in the industries of the future and creating more high-paying jobs."
At the same time, a number of companies announced investment in the UK on Wednesday, including Salesforce, which was investing £1.9bn in the UK over the next five years, including the opening of a second UK data centre in 2019. UAE-based Mubadala confirmed the launch of a £300m European investment fund based in the UK, and NTT Data, the Japanese system integration company, was set to invest £41m to open a new office and 'Innovation Centre', creating up to 200 jobs over the next three years.
"The UK is already a world-leading destination for tech investment with one tech start-up opening every 50 minutes," added International Trade Secretary Liam Fox.
"Our tech sector, with our strong legal system, skilled workforce and low taxation economy combine with our world class universities to make us the most attractive home for investment in Europe."