May faces cabinet meeting with hopes for Brexit breakthrough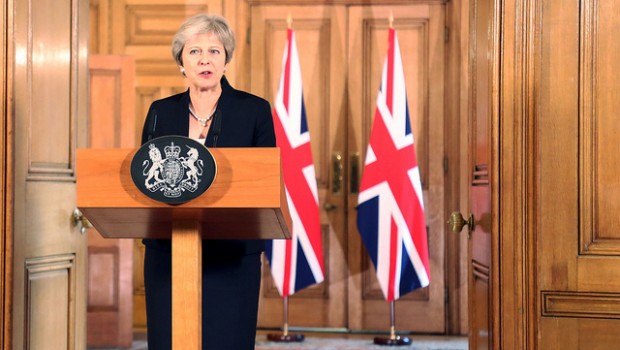 The UK Prime Minister Theresa May faces her cabinet on Tuesday to discuss Brexit negotiations and try to reach an agreement over the terms of the backstop option to ensure a soft border in Ireland.
The PM could give her cabinet an ultimatum to back a draft deal, Bloomberg sources claimed at the weekend, although it is unlikely that the European Union and the UK have an agreement in place already. If May can persuade Attorney General Geoffrey Cox to back her plan, other senior ministers could get behind the deal.
According to Theresa May's spokesman, the PM told minsiters on Tuesday that a withdrawal agreement was 95% complete but that there were still a number of difficult issues remaining. These issues include ensuring that the backstop proposal is not permanent and cannot bind Britain against its will.
He also said that the discussion on the Irish border was constructive.
Brexiter Steve Baker said on Twitter over the weekend: "The Cabinet must not be bounced - again! - into part-informed support for an untenable policy. On the back benches, there will be no escaping the need to read and understand any proposal in microscopic detail."
A cabinet minister told the Sun: "We must have control of the backstop. If Theresa doesn't stare down the EU and win a mechanism that does this, the whole argument is immaterial as there is zero chance of passing the Commons. She just doesn't have the numbers."
The PM's spokesman said on Monday that although progress was being made in negotiations with the EU, an imminent breakthrough in talks was unlikely.
The comments came after May's phone call with Irish Taoiseach Leo Varadkar, where both leaders discussed the remaining issues and agreed that a temporary backstop was the best option for the border with Northern Ireland but the Republic would not grant the UK the possibility to end the backstop unilaterally.
It is understood that May offered to add a "review mechanism" to the backstop to which Varadkar said it would have to allow both sides to agree to end the backstop at the same time, or else it "isn't worth the paper it's written on".
"In order to ensure that the backstop, if ever needed, would be temporary, the prime minister said that there would need to be a mechanism through which the backstop could be brought to an end," May's spokesman said.