Wetherspoon chairman attacks fellow bosses for Brexit 'misinformation'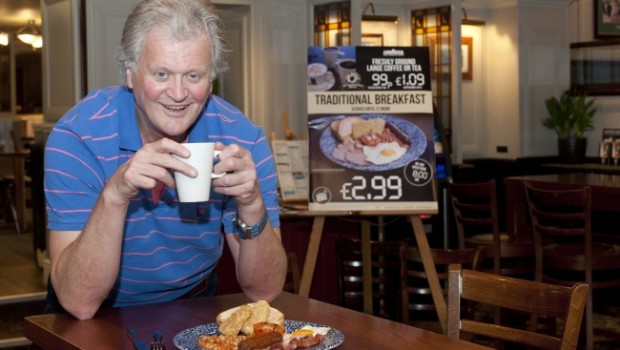 JD Wetherspoon's chairman has accused bosses of other companies of spreading misinformation about the impact of Brexit as the pub chain reported higher first-quarter sales.
Tim Martin, who founded the company in 1979 and still keeps his hand firmly on the pump, said Wetherspoon is ready to leave the EU today and that most other companies should be in the same position. He did so as his company reported sales at established pubs up 6.1% in the 13 weeks to 29 October.
Martin accused the chairmen of Sainsbury's and Whitbread of incorrect and misleading statements about Brexit's likely effect on the economy.
He said Sainsbury's chairman, David Tyler, was wrong to say food prices would rise if there was no deal with the EU.
If Britain leaves the EU with no deal in March 2019 it could scrap EU tariffs on food from the EU and outside the EU, Martin argued.
Contrary to "misinformation from directors and trade organisations" the result would be slightly lower prices for meals and drinks, he said.
"There is no cliff-edge. Wetherspoon, for example, is ready now to leave the EU, since almost no preparation is required - as is almost certainly the case for Sainsbury's and Whitbread, and the vast majority of companies."
Martin, who founded the pub chain in 1979, has been a fierce critic of the EU and campaigned for Brexit during the referendum campaign. He said Wetherspoon's sales were slightly higher than expected in the first quarter but that costs such as labour, utility bills and labour were rising.
He said: "Although it is only a short period, the company has had a positive start to the year. We will provide updates as we progress through the current financial year, but we currently anticipate a trading outcome for the current financial year in line with our expectations."