Tesco tumbles despite restoring interim dividend, beating profit forecasts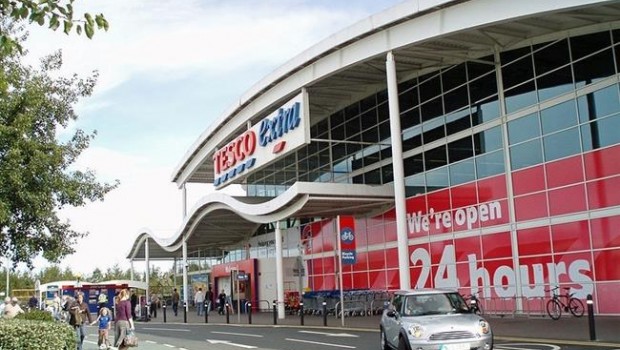 Tesco reinstated its dividend after a three-year hiatus with a 1p half-year payout as sales from Britain's biggest grocer rose more than City forecasts and profits soared.
Revenue in the 26 weeks to 26 August of £28.3bn was 3.7% higher than the same period last year and ahead of the consensus estimate of £27.6bn.
Shares in the supermarket group fell 3% by the early afternoon as analysts and investors dug deeper, finding disappointment in UK like-for-like sales slowing in the second quarter to 2.1% from 2.3% in the first, which was behind some analyst expectations, while transactions were up just 0.4% in the second quarter and 0.3% for volumes.
First-half adjusted operating profit before exceptional items of £759m was up 27.3% and also beat the £703m consensus, while statutory profit before tax rose almost eightfold to £562m.
Earnings per share of 5.21p were back to respectability after the breakeven 0.42p a year ago, while some of £1.1bn of retail operating cashflow enabled a 25% reduction in net debt to £3.3bn and the return of the dividend since it was cut in the wake of the 2014 accounting scandal.
The pension deficit was also halved to £2.4bn from £5.5bn in February, and the half triennial pension review was concluded with annual contributions increasing by £15m to £285m from April 2018.
Chief executive Dave Lewis, who is in line for a big cash bonus due to the return of the dividend, said it was a period of strong progress for sales, profits and cash generation, while net debt levels are less than half what they were when he started the turnaround three years ago.
"All of this is possible because of the focus we have placed on serving shoppers a little better every day. Our offer is more competitive and more customers are shopping at Tesco."
Working "hard" with suppliers to minimise prices as the country's largest food retailer, Tesco has kept overall sales inflation around 1% lower than that of the rest of the market.
"Today's announcement that we are resuming our dividend reflects our confidence that we can build on our strong performance to date and in doing so, create long-term, sustainable value for all of our stakeholders."
Looking forward, he said Tesco remained "firmly on track" to reduce costs by £1.5bn, generate £9bn of retail cash from operations and improve operating margins to between 3.5% and 4.0% by 2019/20, with margins improving to 2.7% from 2.2% last year.
Capital expenditure in the current year is now expected to be £1.1bn and is expected to remain between £1.1bn and £1.4bn per year in coming years.
Provisional findings from the Competition and Markets Authority on the proposed takeover of Booker are expected to be made public by the end of this month, ahead of a final report by the end of this year.
Tesco has been back in the news for the wrong reasons in recent weeks as the trial of three former directors began in London on Friday on charges that the supermarket giant's 'generals' had pressured staff members into massaging profits, leading to 2014's accounting scandal and then in 2015 one of the largest losses in UK corporate history.
In recent days, Tesco has not been the favourite of many City analysts either, with Credit Suisse warning that it remains most at risk of the big four UK supermarkets from the continuing rise of discounters Aldi and Lidl, while Berenberg said that Tesco investment case hung on margin recovery in the UK business that looks challenging given the structural and competitive pressures in the market.
Shares in Tesco rose above 193p, close to a six-month high on Wednesday morning but after midday were down more than 3% at 184.3p.
Analyst Mike van Dulken at Accendo Markets said the return of dividends has been long awaited as evidence of management faith in the turnaround and recovery, but "does nothing to hide what is worryingly pedestrian UK Q2 growth" in transactions and volumes, while LFL sales slowing from "what may now prove a brief 2.3% peak in Q1".
He said this was "concerning" when discounters like Aldi and Lidl continued to take market share every month, openly competing on price, and said while the results offered lots of positives, there was "work still to do".
Analyst Clive Black at Shore Capital said he expected to upgrade his profit and earnings forecasts for the 2018 financial year.
"As such this is welcome news for Tesco's shareholders and the whole sector to our minds, noting still high levels of what we deem to be misplaced shorting," he said, seeing the recommencement of dividend payments as "a sign that the group has left the medical ward and so confidence in future prospects".
On store inflation, Neil Wilson at ETX Capital noted with interest how Tesco was flexing its muscles with suppliers, something for the CMA to consider if the Booker deal goes through.
"This is giving Tesco an edge over the other big players in terms of coping with discounters. At the same time it's making big strides in reducing its own operating costs and combined this is what's delivering for the firm," he said, pointing to cost savings having nearly reached £500m and slashed net debt.
The stock rose 1.5% to fresh six month highs but the Booker deal is still a weight. Shares are pretty well flat since the January announcement in spite of the growth and suggest investors are less than impressed with the cost of the deal. The 24% premium paid for Booker scrubs the lion's share of value from the deal. The big risk is that Tesco will take its eye off the ball and its turnaround will suffer for precious little by way of value."
John Ibbotson, director of the consultancy Retail Vision, said the timing of Tesco's surging return to form couldn't have been more striking.
"As the trial begins of three former senior executives accused of cooking the books during Tesco's bad old days, this barnstorming result shows how far the turnaround has come.
"After seven consecutive improvements in like-for-like sales, Tesco has finally reinstated the shareholder dividend in the clearest sign yet that the rot has been stopped."
He said the secret of Lewis's success has been to work with fewer suppliers and then use the formidable buying power of the country's largest grocer to drive down prices.
"The combination of cheaper supplier costs and a gradual reduction of Tesco's own operating costs have allowed the brand to increase profits in the face of a weakening market and intense competition. It's back to basics stuff – sticking religiously to delivering a strong food proposition, keeping prices low and improving customer service – but it works."