Standard Chartered grows underlying FY profits, fourth quarter mixed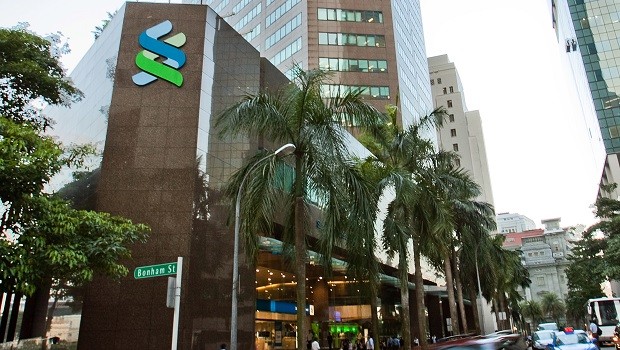 Standard Chartered saw operating income fall in 2016 and continued to hold back on paying a dividend, but the Asia-focused bank reported better underlying profits and ended the year with income stable, lower costs and a much improved balance sheet.
Fourth quarter numbers were somewhat mixed, with adjusted revenues up 2% quarter-on-quarter and 8% year-on-year, which was 1% better than consensus, but costs were much higher than expected.
Revenue growth was driven mostly by Corporate and Institutional Banking increasing an annual 14%, while commercial and private banking were weaker and retail banking was flat.
StanChart reported what was the second consecutive post-tax loss of $478m, though compared well with the $2.4bn the previous year.
At the pre-tax level StanChart bounced back to a pre-tax profit of $409m from the prior $1.5bn loss and, excluding one-offs, announced an underlying profit before tax of $1.1bn, though this was below consensus expectations of $1.42bn.
Although the top line shrank, with underlying operating income down 10% to $13.8bn, the bottom line was helped by much reduced impairments of $2.4bn compared to the prior $4bn.
Statutory earnings per share remained negative but much improved at 14.5 cents from 91.9 cent loss last time, while underlying EPS revered to a positive 3.4 cents from the negative 6.6 cents.
The Common Equity Tier 1 ratio was up 100 basis points to 13.6%, mainly due to reduced risk-weighted assets, though an advances-to-deposits ratio of 67.6% down from 72.8% a year before reflects a high level of funding from customer deposits.
The cost of bad loans remained at an elevated level at $2.4bn, though this was flat year-on year.
Chief executive Bill Winters, amid his major restructuring plan and following the $5.1bn fund raising in his first year in charge, characterised the performance as showing good progress, highlighting the clean-up of the balance sheet and fortifying of the capital position.
"We are attacking our cost base, reinvesting significantly to strengthen our competitive advantages and continuing to enhance our financial crime controls.
"Our financial returns are not yet where they need to be and do not reflect the Group's earnings potential. Having worked hard to secure our foundations we are now focused on realising that potential."
StanChart shares fell almost 5% initially before coming off to be down 3% to 729.5p by lunchtime on Friday, still their lowest in around six weeks.
Analysts at RBC Capital Markets said the fourth quarter result was mixed, with better CET1 and adjusted revenues increased 2% quarter-on-quarter and 8% year-on-year, beating consensus by 1%, but that than expected but with much higher costs, while also expressing worry about increased low-credit-grade accounts.
"Longer term we are concerned by the rising trend in CG12 accounts given consensus expects a decline in 2017 impairments of -20% versus 2016."
RBC noted that operating expenses excluding regulatory costs and bank levies increased 7% YoY and 32% QoQ, reflecting investment spend in the retail bank and meaning total costs missed consensus by 11%.
Analyst Nicholas Hyett at Hargreaves Lansdown wondered if it was "worth the journey" for investors.
"Standard Chartered is making some progress, with costs falling and the group's 'bad bank' being rapidly wound down," he said.
"The problem is the smaller core business that the bank is aiming for isn't performing all that well. Income is down, with product mix hitting margins. Bad loans may not be as high as last year, but they remain significant. That's the challenge for Standard Chartered. Investors can see where the other UK banks are heading, and at least get a little enthusiastic about the destination. Standard Chartered has yet to convince us its worth making the journey."