St Modwen and Vinci complete Nine Elms sale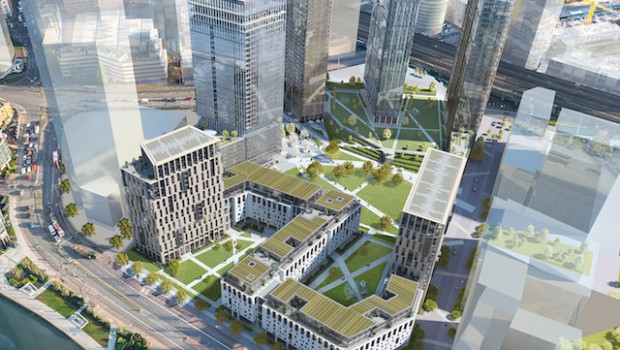 St Modwen Properties has completed the £470m sale of its interest in the 10-acre Nine Elms Square site in London to a subsidiary of Chinese giant Dalian Wanda, which has transferred ownership to an unnamed third party.
Vinci St Modwen, the 50/50 joint venture between the FTSE 250 property developer and the UK arm of French construction giant Vinci, confirmed the completion of the deal, having announced the exchange of contracts in June.
Completion followed demolition of the former New Covent Garden flower market on one part of the Battersea site ahead of the construction of a 500,000sq ft new purpose-built market, to be funded by the two companies.
St Modwen will use £70m of its share of the proceeds to fund its share of this construction and use the remainder to reduce debt and fund ongoing development activity.
A spokesperson for Dalian confirmed that the Hong Kong-based subsidiary of Dalian which acquired the property has since transferred its 100% ownership to a third party but "do not have further information on the third party at this point".
Although Chinese investors spent £3.96bn on London commercial property in the first six months of 2017, mostly from Hong Kong, companies in the People's Republic are facing tighter capital controls from Beijing that has seen outbound property investment by mainland Chinese firms shrink 82% from a year ago and fall another 15%, weighing on prices in the UK, US and Australia over the medium term.
Still, Hong Kong conglomerate Lee Kum Kee bought the 34-storey Walkie Talkie skyscraper for £1.28bn last month, so it seems the province remains outwardly focused.