Smurfit Kappa hikes dividend 20% as Americas offset Europe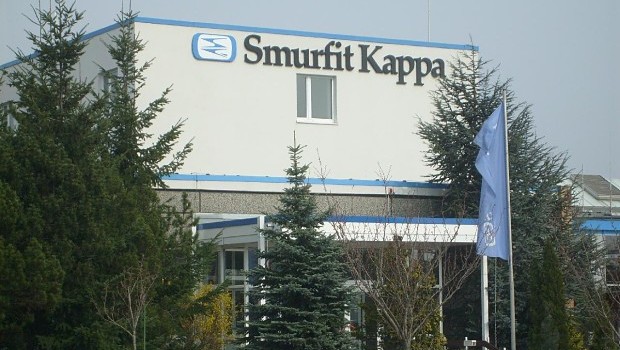 Following its recent admission to the FTSE 100 index, packaging company Smurfit Kappa hiked its full year dividend 20% as it reported earnings grew despite headwinds from higher raw material costs and adverse currency effects.
For calendar 2016, the Dublin-headquartered company made record earnings before interest, tax depreciation and amortisation of €1.23bn, up 5% from the previous year, and the EBITDA margin increased to 15.1% from 14.6% due to volume growth across markets, resilient box pricing and investment in high return projects.
Revenue nudged up 1% to €8.15bn, with the higher revenue from the Americas partly offsetting the lower revenue in Europe predominantly due to negative currency impacts.
Due to the positive results, Smurfit hiked its final dividend by 20% to 57.6 cents per share.
Basic earnings per share rose 10% year-on-year to 189.4 cents and adjusting for exceptional items, pre-exceptional basic earnings per share fell 4% to 189.4 cents year-on-year.
In Europe, EBITDA rose 3% to €928m, largely due to the the resilience of the price of boxes along with the benefits of the company's 'Quick Win' programme for a high return investment and a 1% increase in corrugated volumes with boxes up over 2%.
For the Americas, EBITDA climbed 11% to €339m, driven by the impact of recent acquisitions along with strong underlying EBITDA growth, up 15% for the year. Volumes grew 20% with growth of 18% in the fourth quarter.
The company said that the integration of Brazilian, Central American and US acquisitions is progressing well despite some of input cost pressures in Brazil.
Smurfit had a free cash flow of €303m down from €388m in 2015 due to costs associated with general working capital, retirement benefits, tax and cash interest and some one-off inflows from 2015.
Chief executive Tony Smurfit said: "These strong results against most performance metrics were delivered despite the significant headwinds experienced by the group in higher raw material input costs and adverse currency impacts.
"In 2016 we have invested approximately €500m in our business, building a platform to deliver continued performance and growth. Effective capital spend will enhance operating efficiency, optimise our asset base and continuously improve our market positioning across Europe and the Americas enabling us to deliver added value to our customers. In 2017 we will continue to realise the benefits of our average annual capital spend of more than €450m over the last three years.
"We are excited about the significant number of internal opportunities that exist within SKG which will continue to drive business improvement as we deliver 15% return on capital employed (ROCE) through the cycle. The group is also well positioned to make acquisitions that deliver long term value."
Helal Miah, investment research analyst at The Share Centre, said that Smurfit Kappa "highlighted its strengths in the investment it has put into its platform, capital and operational efficiency, optimisation of its asset base, its innovation infrastructure and leading sustainable business practice. Subsequently this has given the company the confidence to take advantage of potential acquisition opportunities should they arise, as well as deliver long-term value for investors.
"Interested investors should also note that the company recognised it had experienced a good start to 2017 with the expectation that recent paper price increases should translate with the customary time lag into higher box prices ahead".
Miah added that Smurfit Kappa's overall business model is relatively defensive and the trend of online shopping offers growth opportunities to the sector, so The Share Centre recommends the company as a 'buy' for investors looking for a balanced return and willing to accept a medium level of risk.