Sainsbury's shines as customers demand fast-track paddling pools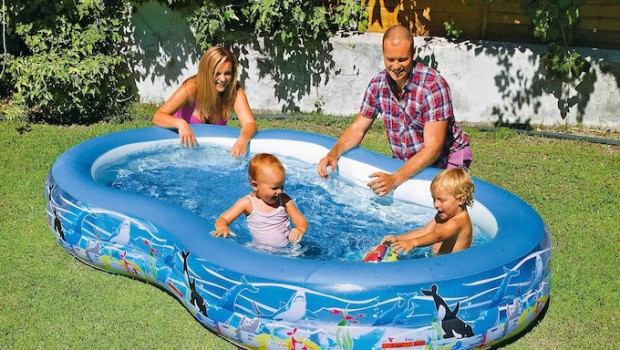 Sainsbury's delivered a super start to its financial year as grocery sales growth accelerated and general merchandise, including Argos, outperformed the market.
Like-for-like retail sales excluding fuel grew 2.3% across the group in the 16 weeks to 1 July, a sizeable improvement from the decline seen in the same period a year ago and the lifeless growth in the fourth quarter of last year.
The quarterly update, which will be the last reporting event before interim results on 8 November, is the first following the Argos acquisition where the retailer is not releasing separate data for Sainsbury supermarkets and Argos stores.
With grocery sales up 3%, general merchandise improving 1% and clothing growing 7.2%, total sales grew 2.7%.
The core Sainsbury's supermarkets enjoyed transaction growth of 1.9%, online grocery sales grew close to 8%, convenience stores delivered growth of around 10% and Sainsbury Bank increased its active customer base by 6%.
"We have seen strong food sales where we have invested in product innovation, such as our new Summer eating ranges," said chief executive Mike Coupe, who felt it was a strong overall performance.
"Our produce category, where we know quality matters most to customers, performed particularly well, outperforming the market with volume growth of over 1%."
He said the outperformance of general merchandise and clothing was helped by a "stellar performance" from fast track delivery, up 36%, and collection, up 64%, during the quarter, particularly during the period of warm weather when customers wanted to buy and receive products like paddling pools and fans on the same day.
"Argos customers are increasingly choosing to shop with us online, consistent with our objective of being a leading digital retailer," he said.
There were 36 Argos Digital stores opened within larger Sainsbury's supermarkets, bringing the total to 75, of which 17 replaced an existing Argos store, taking the total number of replacement stores to 20. Plans are to open 135 more of these store-within-a-store Argos Digitals by the end of 2017/18, which will take the total to 175. Three 'mini' Habitat stores were also opened to take the total to 11.
Some analysts have concerns about Sainsbury's profit margins, with Goldman Sachs' preview cautioning that the market is "materially underestimating the margin investment required" across the group, with the grocer losing market share and price competitiveness, plus with wages below those of its peers.
Touching on this, the company said it was working with suppliers to offer "market-leading value" and has improved its price position versus competitors in the quarter, while also noting that it was on track to achieve £145m of cost savings this year as part of a three-year target of £500m. There are also £160m of EBITDA synergies from the Argos acquisition expected by March 2019.
Said Coupe: "The market is competitive and we continue to manage cost price pressures closely. Our strategy is delivering and we are well placed to navigate the external environment."
REACTION
Shares in Sainsbury's, having fallen more than 8% in June, rose 1% in early trading on Tuesday to 251.4p.
Broker Shore Capital said in aggregate the update was broadly in-line with its expectations and "broadly encouraging".
Analyst Neil Wilson at ETX Capital said the LFL growth was ahead of expectations, with the supermarkets pulling a bit more weight but Argos still doing the heavy lifting.
He noted that data from Kantar has shown Sainsbury's market share in steady decline. "Sainsbury's thrived when Tesco was struggling but now faces dual challenge of discounters on one hand and Tesco and Morrisons turning things around. The concern is that the acquisition is taking management's eye of the ball a little when it comes to delivering on the core supermarket offering at a time of intense competition."
Wilson added: "The grocery transaction growth suggests the LFL sales figure is improving but there is caution about margins with Sainsbury's noting it has 'improved its price position' as inflation is rising. Retail underlying operating margin declined by 32 basis points to 2.42% last year. Rising inflation and a battle for market share are not likely to make that improve."
John Ibbotson at retail consultancy Retail Vision said the first quarter was "little short of a Lazarus moment" as the grocer was no longer leaning precariously on the Argos crutch, with the core business back on its feet and growing food sales at a healthy clip.
"With the Argos brand continuing to fire on all cylinders, Mike Coupe's acquisition gamble is looking more inspired by the day. But this has been no lucky break – the CEO's turnaround plan was painstakingly drafted and diligently executed. And this strong return to form is a vindication of the strategy and a testament to his vision and courage," Ibbotson said.
But he added that Coupe has no time to rest on his laurels: "Food price inflation has slashed margins, and with consumer prices rising at close to 3% a year and the consumption boom waning, retailers have to fight harder for every sale. Yet for now the integrated model is delivering in spades. Argos is no longer a 'get out of jail' card for the struggling Sainsbury's brand, but an equal partner in a truly impressive double act."