Rolls-Royce to invest £150m in UK aerospace facilities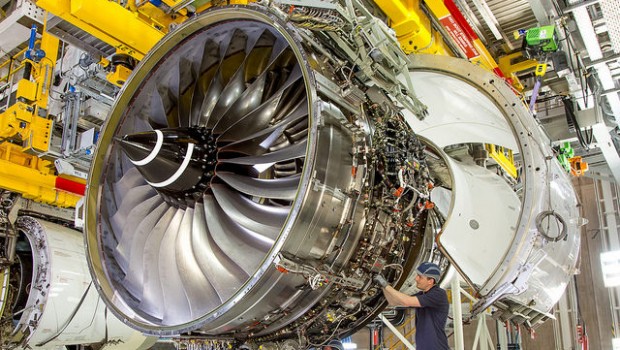 Aerospace and defence group Rolls-Royce will sustain more than 7,000 jobs across the East Midlands as it invests £150m in new and existing civil aerospace in the UK to support the planned doubling of engine production and deliver on its civil aerospace order book.
The investment will provide a new facility for the testing of large civil aero engines in Derby, which is the home of its civil aerospace division. The new test bed will be capable of testing a range of engines including the Trent XWB, which powers the Airbus A350 XWB.
The company will also invest in its large engine Maintenance Repair & Overhaul facility in Derby, and its manufacturing facilities in Derby and Hucknall, Nottinghamshire. It has committed to retaining the Precision Machining Facility in Derby, which it previously announced would be closed.
Eric Schulz, president of Civil Aerospace, said: "This investment comes at a time of unprecedented growth in Rolls-Royce. We are doubling the production of new engines at the same time as introducing three new engines to the market. With this investment, we are creating the capacity and flexibility to deliver on our goals, while committing to sustain employment in the UK and I would like to thank the unions for their support in delivering this important package of investment."
Business Secretary Greg Clark said: "This announcement underpins the critical role the UK plays within the global aerospace sector. The UK and Rolls-Royce are known throughout the world as pioneers of advanced engineering technology. I welcome the confidence the company is showing in the UK. This is just the type of investment our modern Industrial Strategy is looking to attract. These new facilities are good news for Rolls-Royce, its UK suppliers and our economy."
Meanwhile, the Unite Union, which had been campaigning for a new large engine test bed to be built in the UK, said the investment was a "massive vote of confidence in a world leading workforce".
Unite general secretary Len McCluskey said: "It is a good day for British manufacturing that must not be undone by a botched Brexit.
"The government must now play its part by pursuing a 'jobs first' Brexit and securing tariff-free access to the single market and customs union. A failure to do so, risks future investment and decent high quality manufacturing jobs."
At 1045 BST, the shares were down 0.7% to 903.50p.