Provident Financial stems losses from home credit business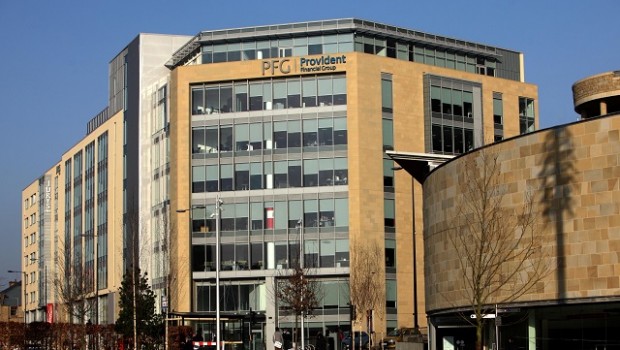 Provident Financial has begun to staunch the blood flow at its doorstep lending business after two profit warnings earlier this year, though analysts were divided as to whether the non-standard lender is out of the woods yet.
For the full year the sub-prime lender still expects to make losses of £80-120m before exceptional costs from its CCD home credit business but said recent management changes "have prevented any further deterioration in performance".
Collections in September recovered to 65% from the 57% in August, but are still well below the 90% that the business used to deliver.
Consumer credit sales were roughly £6m per week lower than the prior year compared with £9m lower during August, leaving home credit receivables at the end of September at £316.3m, down 33% from this June and 35% on last September.
The huge summer slump in the business, which had arisen after then-chief executive Peter Crook replaced 4,500 self-employed agents with 2,500 full-time 'customer experience managers' on a fairly prescriptive work plan, has been arrested after Crook departed and Manjit Wolstenholme stepped in to become executive chairman and brought back former management to lead the home credit business.
A recovery plan has been put in place to "re-establish relationships with customers, stabilise the operation of the business and improve collections performance," the company said in its trading statement on Friday, with collections teams moving away from the new "overly prescriptive routing and scheduling" of doorstep visits and restoring more of the old freedom of local management to prioritise customer needs.
The structure of UK divisions has been altered with increasing numbers of regional managers and assistant area managers, plus recruitment of 300 of the old self-employed agents as part-time CEMs.
Hitting its £80-120m loss for CCD still requires "continuous improvement in customer service, collections and sales performance as the business trades through the seasonal peak in the weeks leading up to Christmas".
There was no update on a replacement CEO, apart from to say the search is underway, nor was there anything new to say on the Financial Conduct Authority's investigation into Vanquis Bank's Repayment Option Plan product.
Otherwise, Vanquis has delivered further good growth through the third quarter of the year, with new account bookings 5% higher, year-on-year customer growth of 13% and receivables growth of 14%.
Satsuma, the short-term loan business, continued to make good progress but is now expected to make a small full year loss versus a profit previously due to receiving lower referrals from the home credit business. However, customer numbers rose to 71,000 from 66,000 at June and 49,000 last September, while receivables increased to £32m from £25m over the quarter.
Moneybarn, the motor finance arm, enjoyed a good flow of new business volumes, with customer numbers up to 49,000 from 46,000 in June and 39,000 a year ago, while receivables ended September at £362m from £344m over the quarter and from £286m a year ago.
Cash stood at £74m, while resources and funding capacity amounted to £236m, following repayment of £120m of retail bonds on the maturity date of 4 October 2017.
The next major repayment date is off in October 2019, when a £250m corporate bond matures, with a smaller £15m term loan due to be repaid in January 2018 and a £20m private placement that falls due next March.
Number crunchers made good progress with Provident's IFRS 9 implementation project ahead of expected implementation from 1 January 2018.
The new accounting standard will have the impact of bringing forward impairments and so will depress receivables and net asset value on day one, which Provident explained would have meant reported receivables at the end of 2016 would have been approximately 6%-8% lower under IFRS 9 and the group's reported net assets at the same date, after taking account of the deferred tax impact of the receivables adjustment, would be approximately 15%-17% lower.
Said Wolstenholme: "Since the last update, we have moved quickly to appoint new leadership in home credit who have a deep understanding of the business and recognise the importance of the relationship between our front-line staff and our customers.
"A recovery plan has been developed and a number of actions have already been implemented to restructure the field organisation in order to provide the foundation for delivering the necessary improvement in customer service and financial performance."
REACTION & ANALYSIS
Provident Financial shares leapt 9% in early trading to 863p, having stood above 3,200p in May.
Analyst Gary Greenwood at Shore Capital said he expected to only make small adjustments to his full year forecast for adjusted PBT of £128.7m, including a loss of £98m for the consumer credit division that is the mid-point of management guidance, adjusted diluted EPS of 61.1p, no full year dividend and TNAVPS of 418p.
He sees EPS rising to 103.5p in 2018 and 155.2p in 2019.
But Neil Wilson at ETX Capital said the recovery plan "looks short of ideas".
"The fix in the troubled home credit business pointedly retains the employed operating model. Self-employed agents are still out, customer experience managers are in. This is meant to let Provident own and manage the entire customer journey but it's the source of the problems as agents have left - notably to rivals such as Morses Club, which has enjoyed a territory build boom off the back of the Provvy's woes.
"Instead there are more resources for managers and customer service, but this fails to really move things back to where they were. Getting the customer service and management structure right, as well as sorting the tech glitches, will help it to recover some lost ground, but it's hard to see it ever getting back to where it was. The employment of 300 part-time collection managers - largely from the old agent base - is an admission that the new model is flawed.
"Progress so far is in line with the recovery plan - which simply means there has been no further deterioration in trading thus far and we have no further profits warning."
Summing up, he said Provident has plotted a route but "is not out the woods by any stretch".
This sylvan escape looks to involve a "long rocky road ahead", said Laith Khalaf at Hargreaves Lansdown, pointing out the reasons to remain cautious: "Companies in recovery can go one of two ways, and the rewards, or losses, are usually high. Provident still doesn't have a CEO, and the financial watchdog is investigating sales of its Repayment Option Plan to Vanquis Bank customers, a product which looks a lot like PPI."
Furthermore, he noted that the group's credit rating is "teetering on the edge" of being downgraded to junk, a step down which would limit the availability of creditors, and push up the price of borrowing.