Ocado swings to loss as new robotic warehouse opens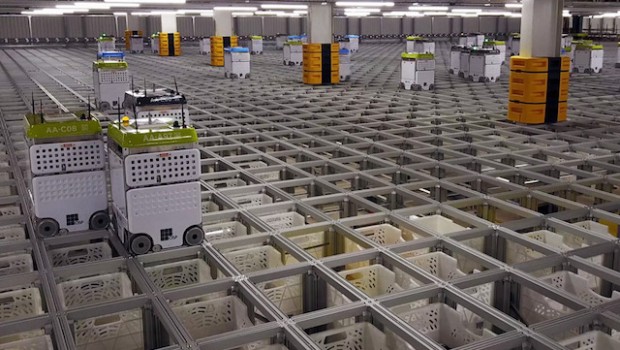 Ocado reported a lower operating profit than expected for the first half of the year as the online grocery specialist's costs mounted from the opening of its vast new robotic warehouse in south London.
Recently promoted to the FTSE 100 index, the group warned on Tuesday that full year pre-tax losses would be higher than City analysts were currently estimating due to additional management incentive charges from its surging share price in recent months.
For half-year to 3 June, Ocado grew revenue from its own grocery retail activities 11.7% to £736.6m, which compared to an expected range of 10-15%.
Sales from its Solutions business, which provides online grocery technology and services to other retailers and has recently agreed major contracts in the US, Canada, France and Scandinavia, increased 16.8% to £63.3m, made up of fees from Morrisons in the UK and upfront and design fees relating to existing and new international partnerships. Total revenue grew 12.1% to £799.9m.
Earnings before interest, tax, depreciation and amortisation from the Retail business grew 0.7% to £45.5m, reflecting a doubling of throughput at the company's third warehouse, or 'customer fulfilment centre', at Andover as new robots were added. Fixed costs were higher while extra investment was made in engineering to improve long-term reliability, with the second half expected to see higher fixed costs from the opening of the fourth CFC, at Erith in south-east London, which has already demonstrated pleasing speed of throughput.
The Solutions business delivered a first-half loss of £2m compared to a positive £0.4m a year before and with a £4.2m charge to EBITDA from an increase in the share-based incentives for senior management, which is expected to growth to a £9m charge in the second half, total EBITDA fell 14% to £38.9m.
At the bottom line, Ocado swung to an £9m loss before tax from a £17.7m profit a year ago, with a loss per share of 1.49p compared to earnings per share of 1.26p.
For the second half, while costs are expected to increase for the retail business due to the Erith opening, the trends in Retail EBITDA are expected to "improve significantly" over the course of half due to lower engineering costs per order and as the new capacity is utilised at both sites at increasing efficiencies. Solutions EBITDA is expected to decline as a further £4m investment is made and as recognition of upfront fees is deferred over multiple years.
Full year revenue growth and capex guidance was reiterated, but guidance was for a larger pre-tax loss than current market consensus, which the company has compiled at £16m, but Bloomberg currently has at £12m.
Chief executive Tim Steiner said it was a "transformational period" for Ocado, having attracted a host of global grocers to sign up to its proprietary technology.
"In the past six months we have partnered with some of the world's, biggest, best and most innovative retailers to help them redefine the shopping experience for their own customers. As a result, we are beginning to fulfil our ambition to change the way the world shops," he said.
He added that once at full capacity, the Erith robotic warehouse "will be the largest automated warehouse for online grocery retail in the world and will showcase the scalability, adaptability and efficiency of our platform".
Shares in Ocado, which have soared more than 300% since the overseas Solutions deals began to flow in November, were down 2.5% on the day to 986.56p on Tuesday.
Analysts at Societe Generale said they thought 2018 consensus EBITDA could be cut by "5-10% at least" and noted that the Kroger contract in the US has yet to be signed to cover development of 20 CFCs across the States. "Ocado has a lot to do in the coming years, with 23 CFCs already planned for international partners. Although the story is promising, valuation looks excessive to us with the market implicitly pricing 25 CFCs in addition to the 23 already booked."
RBC Capital Markets said revenue was broadly in line with expectations but EBITDA was below.
"Ocado's best-in-class proposition, built upon years of developed know-how and technological expertise, positions it well for further outperformance in the UK and monetisation overseas," RBC said. "Ocado is the only global provider of an end-to-end platform solution for online grocery retailing, which we view as the most robust and profitable fulfilment solution. We believe this will become increasingly recognised by retailers globally, leading to a number of deals being signed with Ocado over time. However, we believe the shares are fundamentally fairly valued on the basis of one international deal being signed per year over the next 10 years."