Ocado hit by cost comments but sales and order numbers surge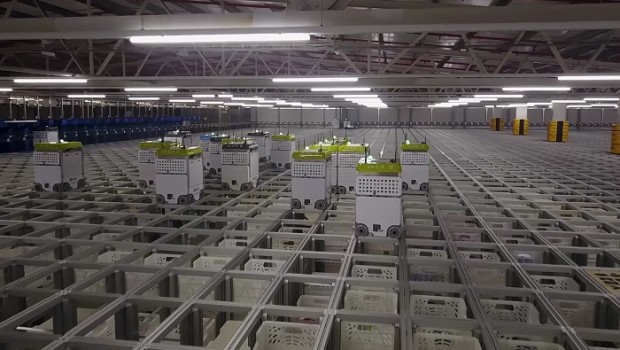 Online grocery specialist Ocado reported a slight acceleration of growth in the third quarter of the year but comments about a short-term spike in costs hit the shares on Tuesday.
In the 13 weeks to 27 August, the FTSE 250 group generated 13.1% growth in retail sales from its own websites to £312.7m, up from the 12.5% increase in the first half of the year.
Along with contracts for other companies, such as Morrison's, this helped lift group revenue 14.3% to £344.5m.
Average order size shrank 1.2% to £106.25, this was less than the 1.4% decline in basket size the first half of the year amid renewed grocery price inflation.
But on the upside basket size was smaller as the number of average orders per week surged 16% to 254,000 as Ocado said it was continuing to acquire and retain customers.
There was £149m of cash in the bank as of 27 August, while external borrowings stood at £284m.
Chief executive Tim Steiner, who in June was able to trumpet a first deal with an overseas retailer, hailed another strong quarter of growth and said the company's technology was generating strong customer service and satisfaction levels.
"We continue to grow sales at a rate significantly in excess of the average for our industry. Recent innovations include Ocado becoming the first UK grocer to offer its customers Amazon's Alexa voice-activated tool, meaning they can verbally modify their online grocery orders.
"As channel shift gathers pace we need to take advantage of our industry leadership and so we are scaling up our capacity in our revolutionary new customer fulfilment centre in Andover with the performance of the facility improving week by week."
Investment is also continuing for Ocado's fourth and biggest CFC, in Erith, East London, which is set to open next year.
"These investments, while increasing some costs in the short term, will allow us to meet the rapidly growing demand for our services from UK consumers while allowing us to offer the very latest technology to current and future customers of our Ocado Smart Platform."
Ocado shares fell more than 5% on Tuesday morning as low at 280p, before coming back to 286.3p after 0900 BST.
Broker Shore Capital said the acceleration in average orders as the business ramped up capacity at its Andover fulfilment centre "should be reflected in full year numbers as the company incurs incremental cost stemming from the additional scale it now has in place at its third CFC".
ShoreCap analyst George Mensah noted that "management indicated during an analyst call earlier today that the trading gross margin was broadly flat. There was no additional commentary from the company on any possible developments with its licensing agreement with the as yet unnamed European food retailer."
Neil Wilson at ETX Capital said Steiner's comments that costs will rise in the short-term, "may be taken as an indicator of negative profit growth in the second half of 2017. Profits have not been great as Ocado keeps ploughing money into its technology."
Wilson said Ocado "is more of a technology firm than a retailer", with its value in the automated warehousing technology which it hopes to roll out globally with retailers, with shares trading at 166 times earnings not based on UK sales growth but hopes of further tie-ups with overseas retailers.
"No further news of tie-ups will leave investors a touch disappointed, although the headline sales growth is pleasing," Wilson said.