Ocado sales surge but profits held back amid further investment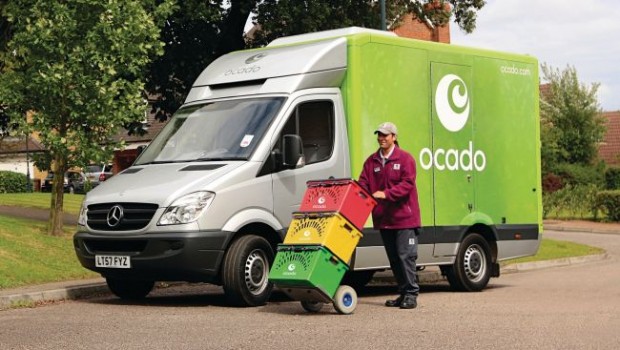 Ocado, the online grocery specialist, increased orders volumes and revenues in the first half of the year but saw profits shrink and debt grow due to investments in its third 'customer fulfilment centre', in Andover.
Having last month announced the signing of its first overseas client for its Ocado Smart Platform technology and services, the FTSE 250 group said it was having other conversations with "multiple retailers" about contracts using OSP.
The company believes that recent industry developments such as the announced acquisition of Whole Foods by Amazon "will be a positive catalyst in advancing these discussions".
Ocado's interim results also confirmed it had begun testing a first store-pick solution with Morrisons and was continuing to build new facilities in the UK "in order to meet the increasing demand we see", which included signing a partnership with garden centre group Dobbies to launch their online business next year.
Chief executive Tim Steiner hailed the easing of price deflation in the market during the first half of 2017, which he said would help the FTSE 250 group continue the profitable growth of the retail business.
However, profits during the 26 weeks to 28 May fell 9.4% to £7.7m due to "continuing inflationary pressure", as well as higher costs associated with the opening of the Andover CFC, the investment in "strategic initiatives" to aid future growth as part of capital expenditure of £175m planned for the whole financial year.
More positively the top line was on the up, with retail revenue growing 22% to £659.6m, leading to adjusted operating profits increasing 12% to £45.2m as gross margin increased on the back of a reduction in promotional activity and improved operating efficiencies, which more than offset cost inflation, the Andover CFC opening and investment, which also saw net debt swell to £102.4m by the period end before a £250m bond issuance and new £100m revolving credit facility were negotiated at the start of the second half.
Performance metrics were mostly positive, with order volumes growing 15.6% to an average of 260,000 orders per week.
The fit out and development of a fourth CFC in Erith, south-east London is scheduled to open in 2018 and should increase potential capacity by 200,000 orders per week, supporting internal growth and Morrison's.
Despite the wider return to inflation in the grocery market, the average Ocado.com basket size declined 1.4% in value to £108.45 though this was somewhat expected due to the continued uptake of the 'Smart Pass' loyalty scheme and reduced multi-buy promotions, but on the upside, active customers increased 12.7% year-on-year to over 600,000.
"As the channel shift to online advances we continue to gain share in a competitive UK market. We expect the trend for grocery shopping online to continue as consumers become more tech savvy and gain confidence in the online services available," said Steiner.
"Ocado will be a natural beneficiary of that trend thanks to its industry-leading customer offer. We continue to build new facilities in the UK in order to meet the increasing demand we see."
Meanwhile, he said the further investment in the platform and technology and engineering teams, the scaling of the Andover CFC and the store pick capabilities developed for Morrisons are enabling Ocado to better sell its services to current and future international customers.
"Grocery retailing is changing and we are ideally positioned to enable other retailers to achieve their online aspirations. We expect our recently announced international partnership to be the first of many and look forward to helping more retailers provide a high quality service to their customers in this rapidly evolving market."
REACTION AND ANALYSIS
Ocado shares rose 1.5% to 294p in early trade on Wednesday.
Broker Shore Capital said sales and EBITDA were in line with its forecast but PBT was £1m below its expectations.
In light of the bond issue and new bank facility, analyst Clive Black, who's recommendation on the stock remains under review, said "if there was a path to material and sustained profit, earnings and maybe even, dare we say it, dividends for shareholders after seventeen years of project development then we may be more sanguine about the business model".
John Ibbotson, director of the retail consultancy Retail Vision, wondered "how do you solve a problem like Ocado?", a company at the front of the grocery starting grid but "its future is not guaranteed".
"The Ocado narrative rolls on, namely its revenues from selling groceries aren't growing fast enough to recoup its astronomical set-up costs," he said.
"Tim Steiner's purported deal with a regional European retailer, signing it up to use its Smart Platform, isn't the blockbuster deal that is needed. And while conversations with multiple retailers are welcome, shareholders want to see something more concrete.
"Faced with gargantuan debts, Ocado's greatest hope lies in finding a buyer for its technology. But this seems unlikely as it's simply too expensive. It's far harder to make online grocery pay when you pit hi-spec customer fulfilment centres and self-driving delivery vans against low-cost warehouses and low-paid humans.
"Arguably Ocado's greatest weakness has been to be too far ahead of the tech curve. Ocado needs a retail giant to buy up its tech or take it over, and soon. No wonder shareholders are demanding a shake-up."