Next provides festive boost as it sees industry headwinds easing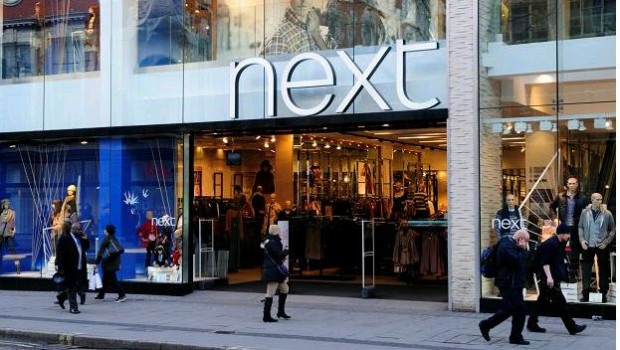 Next has nudged up its full-year profit target after a better online sales performance in the run up to Christmas, but the clothing retailer said it expects profits to fall in the coming year.
Full price sales in the 54 days up to and including Christmas Eve were 1.5% higher than in the same period last year, much better November's guidance for a continuation of the 0.3% decline seen in the first eight months of the financial year. Part of the improvement as being due to the colder weather leading up to Christmas.
The sales split between shops and online was notable, with retail down 6.1% or down 8% on a like-for-like basis, while online and catalogue sales under the Directory unit were up 13.6%. Online sales were likely to have benefited from the company running a Black Friday promotion for the first time last year.
As a result, and with clearance sales since Christmas in line with expectations, full year profit guidance has been lifted by £8m to £725m as the midpoint in a £718-732m range that will be determined by the January performance in sales in January. The consensus forecast had been for £718m.
"Many of the challenges we faced last year look set to continue into the year ahead," the FTSE 100 group said, pointing to the affect of inflation on cost prices and household incomes as well as the ongoing increase in spending on 'experiences' at the expense of clothing.
"However, we believe that some of these headwinds will ease as we move through the year; we already know that cost price inflation will reduce to 2% in the first half and believe it will disappear in the second half."
Next is budgeting for full price sales next year to grow by between -2% and +4%, with the mid-point of +1% versus the +0.3% expected this year.
While admitting it was "very early to be issuing profit guidance" for the next financial year, to January 2019, the company estimated that if sales grow 1% then profit would fall to around £705m "as we expect operational costs to continue to grow faster than sales".
This profit would be expected to generate around £300m of surplus cash, which management intend to distribute to shareholders by way of share buybacks, which at the 1 January share price of 4,525p would gobble up 4.7% of the company's shares and boost full year earnings per share by a similar amount, helping lift EPS 1.1%.
Next shares climbed 9% on Wednesday morning above 4,900p but by early afternoon had settled to 4,814p, a rise of almost 7% on the day.
Independent retail analyst Nick Bubb said the numbers were a "bit better than expected" and that the promise of share buybacks was a "useful sign of confidence".
Investec's Alistair Davies noted that the consensus forecast was for a fall of 0.5% in the festive period, with a range from -2.4% to +1.3%, with the consensus for a 8% retail decline and 9% Directory gain. He said 2019 guidance was just slightly above the City consensus estimate of £703m.
"Expect some share price relief that Christmas wasn't as bad as expected and no further downgrades. However, we would caution against reading too much across to other retail stocks – the reality is that even though Next's Christmas numbers are better than expected, the company has still had a tough Christmas."
In terms of readacross for the sector, analysts at RBC Capital Markets suggested the statement "should be a positive read for the UK general retail sector and online retailers such as ASOS", with Primark sales to be affected by its relatively high exposure to mainland Europe.
"Next speaks to a continued challenging out look but some moderation in 2018 of inflation pressures on consumers and also an easing of price inflation pressures. Next should now have a sourcing tailwind in 2018, which will help it to hold gross margins and improve the quality of its offer."
Given the outperformance of Directory, RBC expects Next to consider trialling brands in-store in 2018 and may look to shift £20-30m of EBIT from Directory to Retail to account for the cost of picking product in store for click-and-collect orders and also some recruitment cost for Directory.
George Salmon at Hargreaves Lansdown said the results were good news for investors across the retail sector.
"Colder weather may have boosted sales in the run-up to Christmas, but the real positive is the more optimistic outlook from Next's CEO Simon Wolfson. The long-serving CEO has an excellent reputation in the industry, so for him to say that one or two of the headwinds facing the UK's retailers should ease in the year ahead represents a significant fillip to the sector.
"He's putting his money where his mouth is too. The decision to use the expected £300m of surplus cash generated next year to fund share buybacks rather than special dividends implies management believe the shares represent good value at the moment."