Next profits dip but guidance hiked after 'encouraging' upturn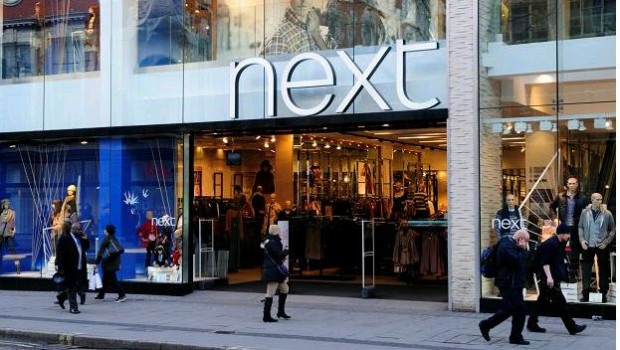 Next has reported a 10% plunge in first-half profits but after an upturn in recent months the clothing retailer has nudged up sales and profits targets for the full year.
On total sales down 2.2% to £1.9bn in the six months to July, operating profits fell 9.8% to £352.2m and profit before tax shrank 9.5% to £309.4m, which was well ahead of consensus City forecasts for £301m.
Retail sales were more than 8% lower with negative operational gearing driving a 33% decline in retail operating profit to £89.5m as margins shrank 340 basis points to 9%, creating a greater reliance on the Directory business, where sales rose 5.7% and operating profit was 6.3% higher at £217m.
Although earnings per share dropped 6.2% to 176.9p, cash generation remained strong and on top of an interim dividend held at 53p and another of the four promised special dividends of 45p due on 1 November, further cash flow has led to a surplus that will fund £53m of share buybacks.
After a first-half where sales and profits were in line with his "cautious expectations", chief executive Simon Wolfson said the performance in the last three months "has been encouraging on a number of fronts and whilst the retail environment remains tough, our prospects going forward appear somewhat less challenging than they did six months ago".
"As a result, we are taking the opportunity to modestly upgrade our sales and profit guidance for the full year."
Having set itself a fairly low hurdle at the end of last year, full price sales guidance was edged up last month and was again lifted to a range of -2.0% to +1.5% from the previous -3% to +0.5%.
The recent sales improvements combined and additional unbudgeted cost savings partially offset by poorer clearance rates in the summer sale and anticipated poorer clearance rates in the winter sale, profit guidance was lifted to £687-747m from £680-740m, with the mid-point moved up by £7m to £717m.
"The wider economic environment, clothing market and High Street look as challenging as ever, and we do not underestimate the task of managing our stores through a period of prolonged negative like-for-like sales. Nonetheless, we believe our stores will remain cash generative for many years to come and represent an important asset for the group," Wolfson said.
"While the external environment looks set to remain difficult, from where we stand today our prospects going forward appear somewhat less challenging than they did six months ago.
"We have seen the benefits of product improvements begin to work their way through into our Autumn ranges and the medium-term outlook for pricing looks more benign, with price inflation set to moderate to just +2% in the first half of next year and to 0% in the second half."
Improvement programmes to the Directory business were "beginning to bear fruit" and two new and developing businesses, LABEL and Directory overseas, continue to deliver "healthy levels" of growth.
REACTION AND ANALYSIS
Next shares surged almost 11% to 4,900p, the highest level since its early January profit warning, lifting sector peers Debenhams and Marks & Spencer on the read-across.
"An improved assessment of NEXT's longer-term outlook should in our view reassure: guidance has been nudged up and a likely return to a buyback is a signal of management's confidence in the business' long-term prospects," said analyst Alistair Davies at Investec.
After negative operational gearing hit retail margins, he said this "raises questions as to why Next continues to open new space. However, we retain the view that the economics of opening profitable new space/churning underperforming stores remains attractive and we note detail within the announcement around store economics in a negative LFL world".
Davies felt the stock's valuation, as 11.1 times forecast calendar 2018 earnings, looks "highly attractive" given 8%-plus free cash flow yield, the well-invested estate and ability to deal with cost pressures posed by online.
Following an update from homewares retailer Dunelm a day earlier, RBC Capital Markets said Next's second half "should have got off to a good start owing to more Autumnal weather than last year".
RBC added that it viewed the statement "as a positive short term read to the UK General Retail sector given Next views its prospects as less challenging than it did 6 months ago, with price inflation now expected at +2% for H1 next year and to 0% by the second half".
Neil Wilson at ETX Capital stressed that while the guidance upgrade was another encouraging improvement, it does not signal a high street revival, with retail sales and operating profit down 33%, with retail profits now less than half of those generated online.
"Can Next return to sales growth this year? As unlikely as it seems, the direction of travel over the last few months is certainly encouraging," Wilson said. "Another decent couple of quarters and who, knows the online business might just keep Next growing sales year on year after all."
But given the falling profitability in the high street arm, investors will be keen to know when the company will start to properly rethink its store footprint, he added, with store numbers lower but square footage higher and Wolfson saying in March that it is "legitimate to question the long term viability of retail stores and whether the possession of a retail portfolio is an asset or a liability".
Wilson noted that within ten years 72% of the group's leases by value will have expired. "This gives it flexibility to start managing down store volume as required and rationalise the footprint so it better complements Directory. Currently over 50% of online orders and 80% of returns are fulfilled through stores. But Next should be doing more here - fewer, smaller and leaner stores might be where the future lies."
Lifting the lid on an unspoken practice, Mike van Dulken at Accendo Markets said shareholders "may even be wondering whether today's upgraded guidance figures are conservative, destined for a beat to ensure a 2016-17 run of downgrades is water under the bridge...especially with an earlier than usual arrival of cooler weather that could kick-start the run-in to the key Christmas period via increased sales of bigger ticket heavier Autumn/Winter items".