Morrisons bags first profits growth in five years, but shares mauled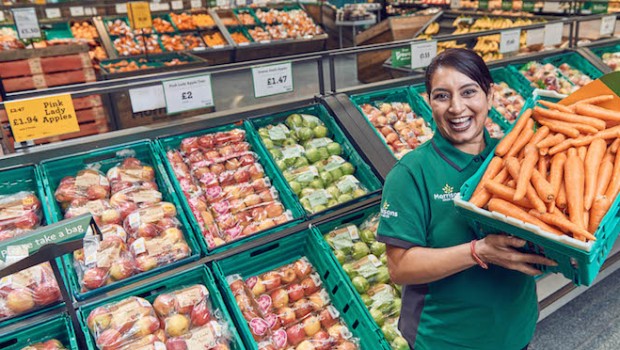 Helped by a strong fourth quarter, Morrisons grew annual like-for-like sales and underlying profits before tax for the first time in five years and declared a 3.85p final dividend to celebrate.
LFL sales jumped 2.5% in the three months to 29 January, lifting the year's total to 1.7% and turnover up 1.2% to £16.3bn.
Having achieved more than £1bn cost savings, and identifying even more for the current year, underlying PBT rose 12% to £337m, at the upper end of the £330m-£340m range guided by management and beating the £326m consensus forecast from the start of the year.
Underlying earnings per share were 40% higher at 10.86p.
"Our turnaround has just started, and we have more plans and important work ahead," said chief executive David Potts of his 'Fix, Rebuild and Grow' strategy, which has also seen link-ups with Amazon, Timpson, and Rontec.
"If we keep improving the customer shopping trip, I am confident that Morrisons will continue to grow."
Looking forward he conceded that there were uncertainties ahead, "especially around the impact on imported food prices if sterling stays at lower levels", rising depreciation and pension costs, and further invest in staff pay - though this is all incorporated into the plan.
Having achieved £18m of incremental profit from improvements to wholesale, services, interest and online, Potts said he remained confident of the £50m-£100m medium-term target.
"We have identified further cost saving opportunities beyond the £1bn already achieved, in: ordering, distribution between manufacturing and retail, in-store administration, and procurement of goods not for resale," he added, with the medium-term targets of £1bn improvement in working capital and at least £1.1bn of disposal proceeds remaining unchanged.
After free cash flow for the period of £670m net debt was reduced by £552m to £1.19bn at the year end and is expected to continue to fall to less than £1bn by the end of 2017/18.
The triennial pension valuation complete, with funding surplus of £111m
In the first year of the new dividend policy, where the annual payout will be covered around two times by underlying earnings per share, the total for the year was 5.43p, giving full year dividend growth of 8.6%.
The latest industry data from Kantar earlier in the week also showed Morrisons was growing ahead of the market, with a sales increase of 2.6% in the 12 weeks to the end of February, its fastest growth in five years.
But shares in Morrisons fell more than 5% in early trade on Thursday despite the five straight quarters of LFL sales growth.
Analyst Neil Wilson at ETX Capital said there are clearly headwinds for the sector and in its results it noted the pressures from a weak pound on imported goods but was not alone in seeing Morrisons as well placed to weather that as it sources more from the UK than its chief rivals.
"Investors think this could be the top of the cycle. Shares slid 5% on the open – worries about declining basket sizes, fading consumer spending health and margin pressure from a still bitter supermarket price war are weighing heavily.
"But if the latest figures from Kantar are anything to judge, Morrisons looks very well placed to cope and continue to grow sales in the face of all these headwinds."
Independent analyst Nick Bubb noted that Q4 LFL sales of 2.5% were a tad lower than the 2.9% growth seen in the nine weeks of Christmas.
John Ibbotson at industry consultancy Retail Vision said it was encouraging that Potts accepts that the Morrisons turnaround has only just begun, as he saw a long way to go.
"It's still the smallest of the Big Four, lacks scale and its market share is a fraction of that of Tesco. And the discounters, Aldi and Lidl, remain a genuine threat. There's also the small matter of food inflation, although the falling Pound may hurt Morrisons less than its rivals, as a high proportion of its food is produced in the UK.
"However, cost cutting and the faster supply chain have raised efficiency significantly, while the "capital light" wholesale deal with Amazon is a low-risk way to make greater inroads into the online grocery market. The deal to install Amazon lockers in 400 stores will also be a particularly cost-effective way to increase customer traffic flow."