Morrisons and Tesco lead supermarket sally but discounters still bite - Kantar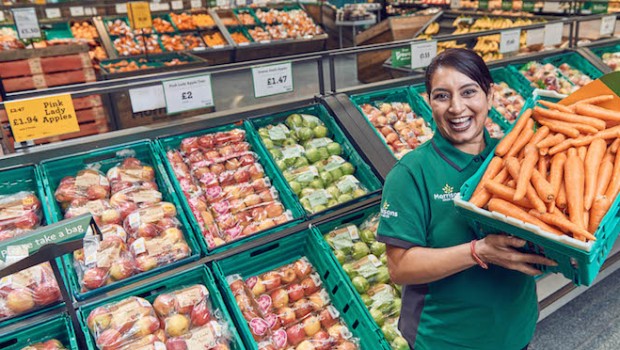 Boosted by an acceleration in grocery price inflation, Morrisons and Tesco led the charge as supermarkets enjoyed their strongest period of trading in over three and a half years but still saw market share dented by the discounters.
Established groups and emerging discounters both made hay as the sun shone in the 12 weeks ending 21 May 2017, with Kantar Worldpanel data showing inflation rose 2.9% and overall sector sales by 3.8% year on year, the best performance since September 2013.
Sales at Tesco climbed 1.8% year on year, Sainsbury's by 1.7%, Asda's by 0.9% and Morrisons by 1.9%.
But the market share of of the 'big four' fell, as limited assortment discounters Aldi and Lidl continued to expand at pace, growing at their combined fastest rate since January 2015.
The German LADs grew sales 19.2% year on year to achieve a record market share of 12.0%, with Kantar saying an eye-popping 62% of the UK population shopped in an Aldi or Lidl during the past 12 weeks.
This saw Tesco's though its market share fell by five percentage points to 27.8% from 28.3%, Sainsbury's by three to 15.9%, Asda by four to 15.4% and Morrison by two to 10.5%.
"Consumers are starting to feel the pinch as prices continue to rise, with the average household spending an additional £27 on groceries during the past 12 weeks," said Chris Hayward, Kantar's consumer specialist.
He said own-label brands were a major source of growth for all of the retailers, with sales up an impressive 6.0% year on year in contrast to branded products which grew by just 0.6% during the same period.
More broadly, he pointed to a drive for health, with volume sales of mineral water up 7.4%, eggs up by 5.1%, fresh produce up 2.1% and sugar down 5.6% year on year as shoppers filled their baskets with healthier options.
Growing well ahead of the market, Iceland increased sales by 8.6%, attracting 380,000 more shoppers and boosting its market share by 0.1 percentage points to 2.2%. Ocado held share steady at 1.3%, with sales growth of 9.4%.
A rival food retail survey by Nielsen also released on Wednesday found Tesco recorded the fastest growing sales of the big four during the 12 weeks ending 20 May, with sales up 2.2%, ahead of the 1.4% for Morrisons, 1.2% for Sainsbury's and a -0.1% decline for Asda.
"Tesco's re-focus on the customer and their changing needs, such as simplifying ranges and promotions, has meant they've not only attracted new shoppers but encouraged them to visit more often," said Mike Watkins, Nielsen's UK head of retailer and business insight.
"These incremental improvements are helping reverse the declining spend per visit which was an ongoing challenge for Tesco last year. The growth is also now being supported by initiatives which revisit some wider consumer trends such as tackling food waste and supporting healthier eating and living."