Oliver Haill Sharecast | 24 May, 2017
08:17

- Updated: 13:38
Kingfisher sales slow as corporate DIY work continues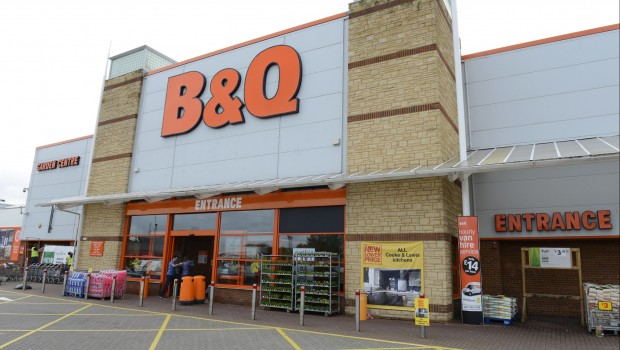 DIY retailer Kingfisher reported solid UK growth for the first quarter of its financial year, but total like-for-like sales were dragged down by continued weaker sales in France and disruption from its own restructuring plans.
Total group sales in the three months to 30 April of £2.86bn were up 5% on the same period last year but down 0.6% on a LFL basis at constant currency rates.
This compared to a fourth quarter that saw 0.7% group LFL growth and a first quarter last year where LFL sales jumped 2.3%.
UK and Irish sales were up 1.5% to £1.27bn and up 3.5% on a LFL basis, with B&Q up 0.5% and Screwfix up 12.6%.
French sales from the Castorama and Brico Depot chains rose 3.8% on a reported basis to £1.09bn, but LFL constant currency sales were down 5.5%.
Other European operations saw sales leap 18.4% to £0.51bn, up 0.7% LFL at constant currencies, entirely from growth in Poland, with Russia and Spain still negative.
Transformation disruption
Chief executive Véronique Laury, architect of the the One Kingfisher transformation plan, said the business remained on track amid her sizeable piece of corporate DIY.
"We are experiencing some business disruption given the volume of change, as we clear old ranges, remerchandise new ranges and continue the roll out of our unified IT platform.
"However, we are on track to deliver our Year 2 strategic milestones. Early customer reaction to our new ranges is encouraging, especially in France where our new unique bathroom ranges are launching first."
A step-change in activity had been flagged for the current, 2018 financial year compared to last year, with Laury planning to unify 20% of product ranges compared to the 4% last year, before gearing up for unifying 55% next year.
Around a quarter of space in-store is expected to be disrupted this year, up from 3% in FY 2017 from range changes.
Online sales should benefit from adoption of a new IT platform, which is now live in nearly a third of Castorama France stores, which Laury said will enable the building of a much stronger digital offer.
"We remain confident in the size of the prize and our ability to deliver our long term plan, both the financial benefits of the transformation and the benefits to customers, supported by the continued expertise and energy of our colleagues," she added.
Disappointed reaction
Shares in Kingfisher dropped 7% to 334.5p in early trading on Wednesday and by midday were still close to that level.
Analysts at IG said: "Improving eurozone economic figures would suggest that this problem is more related to Kingfisher itself than any problem with the broader French market, and this is perhaps why the shares have taken such a battering this morning."
Investec analyst Kate Calvert said the results showed the execution risks in making major changes to a business model, adding that "it is early days and this business disruption could increase in our view".
She nudged down her FY 2018 and 2019 forecasts for profit before tax by 1.5% and 3% respectively to reflect weaker sales trend, and reiterated her 'sell' rating' as the valuation is "not compelling enough given short-term execution risk and our belief the inflection point/visibility on whether ONE Kingfisher will work is likely to be FY19/20".
Analyst Neil Wilson at ETX Capital suggested there could be pressure to give up on the Castorama and Brico Depot if they continue to considerably underperform.
"As previously stated Kingfisher may consider offloading its French business if it continues to degrade shareholder value and act as a drag on the strong UK business much longer," he said.