JD Sports sets eyes on USA with $558m Finish Line acquisition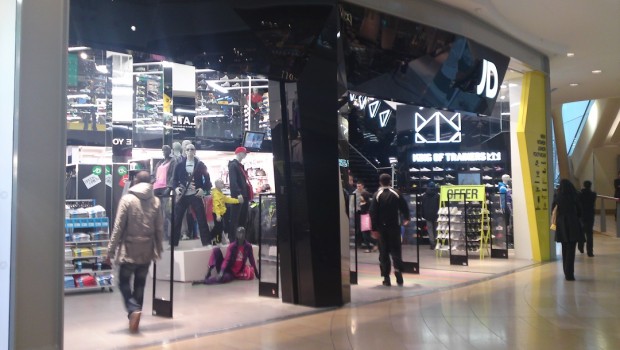 JD Sports has agreed the "transformational" acquisition of Nasdaq-listed retailer The Finish Line for $558m (£396m) in a deal that would add a 556-store estate across 44 US states of the largest sportswear market in the world.
FTSE 250-listed JD has agreed to pay $13.50 per share for 100% of the Indianapolis-headquartered footwear, apparel and accessories retailer, which will be funded by new dollar-denominated bank loans.
The deal, which will need to be approved by both sets of shareholders, is expected to complete no earlier than June and make a small incremental positive contribution to the results for the 2018/9 financial year.
The Finish Line made revenues of $1.84bn and profit before tax of $54m in the year to end-February in a US market that JD has long identified as "key expansion target" to maintain its growth strategy. As well as its 556 stores, Finish Line is also the exclusive retailer to Macy's, operating 375 branded and 188 unbranded concessions within Macy stores.
Executive chairman Peter Cowgill said: "We are extremely excited to be joining up with Finish Line, a well-established US operator. The acquisition represents an excellent opportunity for JD to establish its market leading multi-brand proposition in the world's largest athleisure market.
"It immediately offers a major presence in the US, a clear next step to further increase our global scale. Finish Line has many similarities to JD with a strong bricks and mortar offering complemented by an advanced and well-invested digital platform."
He added: "This is a landmark day for JD and will be transformational for the business."
JD said by significantly increasing the global scale of the company and therefore its importance to its major international brand partners, the deal is expected to bring greater purchasing power and "strategic alignment" in North America with the major international sportswear brands.
The UK company, which is retaining the US management and most of the store branding, believe that they will be able to bring "new and differentiated product" to the US market through the opening of a number of JD branded stores and accelerated refurbishments, as well as working with existing management to continue to consolidate Finish Line's retail estate and improve its retail offer. JD has used similar tactics in Europe and Australia.
JD has been expanding overseas organically through openings in Singapore and Australia and acquisitions in Spain and Portugal, with its past financial year to 3 February expected to see profit of £300m, which will be confirmed in preliminary results on 17 April.
Shares in JD jumped almost 3% to 366p in early trading on Monday.
"This US acquisition allows the company to enter the largest sportswear market in the world with a leading player with both a significant physical store footprint, together with an online presence," said analyst Clive Black at Shore Capital. "At a stroke it brings JD multi-channel proposition to the US market for the first time."
He noted that in recent years JD has established a presence in Europe through organic and acquisitive moves "but this is a significant bolt-on opportunity".
Analysts at Peel Hunt said the Finish Line is "a very well regarded name in the space but, in common with a number of its peers, has found the last few years tough, as footfall to malls has reduced and innovation in footwear has waxed and waned", adding that its stores are in "good condition...but lack theatre and the range has lacked exclusives and the real cutting edge product, both of which are issues with which JD can help".
"A sensible deal at a sensible price: JD is purchasing Finish Line in cash, the deal leaving it with roughly £50m of net debt (FINL has $30m of cash)," Peel Hunt said, calculating JD is paying about 0.3x sales, or an EV/EBITDA multiple of about 6x, it's only 4x peak EBITDA.
"Not every shareholder will be thrilled about the notion of taking on the US, but it is a key move in JD's desire to be a global player, and on a decent multiple for such a large footprint, it strikes us as eminently sensible."