Regulator proposes energy price cap, new price comparison switching rules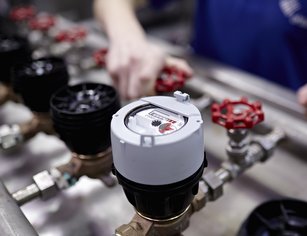 More UK household energy bills could be trimmed under energy price cap proposals from regulator Ofgem, which has also confirmed new rules to enable consumers to switch energy supplier direct from price comparison sites and access previously hidden cheap deals.
A new 'safeguard tariff' has been proposed by Ofgem to prevent what it calls vulnerable consumers from overpaying for their gas and electricity, forming a price cap that could protect a potential two million people, on top of the near-four million currently benefiting from limited energy costs via pre-payment meters.
Later in the day, energy secretary Greg Clark told parliament he was prepared to legislate if Ofgem's price cap plans do not eradicate what the government calculates is a £1.4bn-a-year overpayment, while Downing Street said a wider price cap was still part of its plans.
Ofgem's safeguard proposal, plus a raft of new changes and trials, follows a two-year investigation by the Competition and Markets Authority that was reported in June 2016.
As price comparison websites currently do not show consumers all the cheapest deals available from energy companies, Ofgem will now require consumers to be able to switch provider directly from these sites and also see other deals that they cannot switch to directly by clicking a button on the comparison website, or by visiting the Citizens Advice website.
Ofgem will also trial a 'check your energy deal' online switching service to help customers on the worst deals for three years or more - usually the standard variable tariffs - to find cheaper deals.
This new trial service will quickly and easily show how much households can save just by entering their home address and name of their current supplier, while also enable easy switching of suppliers.
A separate trial will see Ofgem write to groups of customers including those not online and vulnerable consumers to tell them about cheaper offers from alternative suppliers and prompting them to shop around and switch tariff.
The regulator also announced proposals to impose a £150 cap on the amount energy companies can charge customers for forcibly installing pre-payment meters when customers do not pay their energy bills and to ban these charges altogether for vulnerable consumers.
"Suppliers must also do more to get all their consumers, particularly those on poor value standard variable tariffs, a better deal," said Ofgem chief executive Dermot Nolan.
"We are pressing ahead with a raft of reforms to make it even easier for people to switch no matter how they choose to shop around."
GOVERNMENT PRESSURE
The CMA report was launched in 2014 to see if British Gas's owner Centrica, SSE, Iberdrola's Scottish Power, RWE npower, E.ON and EDF Energy were abusing their control of the market.
Since price controls were lifted, energy companies have been able to charge what they like, making bumper profits and attracting criticism that the so-called liberalised market was not working in the best interests of consumers, largely because many of them were not making full use of their power to switch.
However, while the CMA report concluded that consumers were overpaying for their energy bills by up to £1.2bn a year, its proposed shake-up of the industry stopped short of recommending price controls on expensive standard tariffs.
Following a similar proposal by Labour four years ago, the Conservative party proposed an energy price cap in its manifesto for last month's snap election, which would affect 17m energy customers.
While the price cap was not included in the Queen's Speech, business secretary Greg Clark has since written to Nolan to ask the regulator address "unfair practices" in the energy market.
Clark's letter said: "Ofgem has powers available that would allow it to address the problems in the market that we now see.
"I am writing to you as the independent regulator… to ask you to advise me on what action you intend to take in three respects: safeguarding customers on the poorest value tariffs, ensuring that micro businesses are fairly treated and considering the future of standard variable tariffs.
"I understand that you may be required to consult formally on any proposed changes to licence conditions. I would be surprised and disappointed if the major energy companies did not acknowledge the need for such changes and be supportive of them and for them to be made quickly so there is common treatment across the industry."
Asked by reporters at Monday's 10 Downing Street briefing whether the government still planned to implement its more extensive price cap, a spokesman said: "Ofgem's response is a step in the right direction.
"We've said we need a better energy market and are committed to extending price protection currently in place to some vulnerable energy consumers to more people on the poorest-value tariffs. We are not ruling anything out, whether that is action by the regulator or legislation."