Dunelm profits fall 7% but underlying margins improve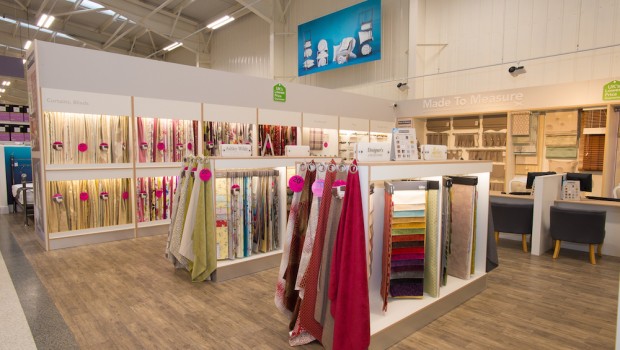 Dunelm reported flat like-for-like revenues and a large pile of unsold clearance stock in the fourth quarter, meaning the homewares retailer expects full year underlying profit to fall almost 7%.
In a year-end trading update, the company said total revenues in the final 13 weeks to 30 June fell 1.4% year on year to £236.5m after it sold one online business and opened no new stores, with LFL sales up 0.1% and online sales growing 41.8%.
For the full year, this means revenues will come in at £1.05bn, up 9.9% on the previous year, with LFL sales up 4.2% and online sales growing 38%.
Having in May said it believed profits will be "moderately below" the £109.3m delivered last year, management confirmed that disappointing store footfall in the summer forced it to take a £3m charge for future losses on clearance of a large volume of unsold stock. This meant gross profit margin, which otherwise would have been up 40 basis points, ended up down 50bps for the final quarter and down 90bps for the full year, though that is still a big improvement from the 180bps decline in the first half.
This will result in profit before tax and exceptional items falling 6.7% to £102m, which is a bit more than "moderately" and is below the consensus City forecast of £106m but is an improvement on the 8% drop in the first half. There will be an exceptional charge of £8.9m.
Chief executive Nick Wilkinson, who joined from fellow retailer Evans Cycles in February, said Dunelm was gathering pace on its transformation into a multi-channel business. "I firmly believe that our homewares authority, combined with our increasing ability to adapt to evolving consumer trends, means that there is very significant potential for growth of the Dunelm brand. We have expanded our customer reach and digital capabilities significantly over the last twelve months and will continue to do so as we exploit the technology assets which we acquired with Worldstores."
Worldstores, which was acquired in the previous financial year, is undergoing further development on its technology platform before the dunelm.com website is moved onto it in the new financial year. Wilkinson and his team believe this will enable "rapid improvements" in Dunelm's online proposition, including a new click & collect functionality and allow for continual improvement as time goes by.
The Kiddicare brand has been used to grow participation in the baby and kids market, which is expected to remain a core category but it will be moved under the Dunelm brand. Transfer of Worldstores and Kiddicare lines to dunelm.com is expect to be completed in the coming weeks, bringing the total on-line assortment to over 60,000 lines.
Wilkinson said he would expand on his plans for the future alongside full year results in September.
Shares in Dunelm tumbled initially on Thursday but after an hour's trading were almost flat again at 481p.
Broker Peel Hunt said Q4 trading proved to be broadly in line with May's profit warning, though forecasts will need to be downgraded to £102m from £107m, meaning EPS will be 39.4p. For 2019 the PBT forecast is cut to £111m from £120.7m, producing an EPS of 42.9p.
"The scale of downgrades remain disappointing, although much of this is a function of external conditions and unfavourable weather in Q4 rather than Dunelm specific concerns."
Analysts at RBC Capital Markets noted there was a slowdown in store openings but that there was a commitment to two new stores in the new financial year, one of which will be a relocation, which is a small slowdown compared to the five store openings in FY18.
"We think the outlook for the UK homewares market remains tough - a combination of challenging consumer environment and housing market will continue to pressurise discretionary spending on homewares," RBC said. "The need to adapt its model for online growth is currently margin dilutive. While there are opportunities going forward, we think in the short term, Dunelm needs to rebalance its promotional offers that are currently driving its LFL sales and its gross margins, and in the medium term, we think Dunelm's £2bn sales and market share target look ambitious."