Discounter B&M grows sales 22% over festive period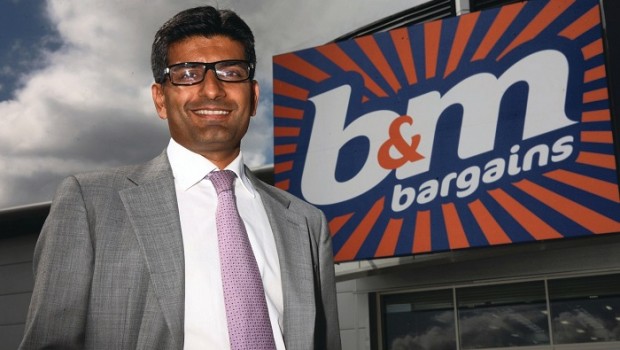 Discount retailer B&M European Value reported a strong quarter of growth in the pre-Christmas period, helped by 22 new store openings and keeping prices low in the UK and Germany via its far-eastern supply chain.
For the 13 weeks to Saturday 23 December, the FTSE 250 company generated £969.8m of revenues, up 22.7 % at constant currency as the Blackpool-based group began to build its presence in the south of England.
UK business sales of £837.3m were up 12.9% on the prior year thanks to 19 new shops being opened and the acquisition of Heron stores, or 3.9% increase on a like-for-like basis even against a strong comparative period of 7.2% growth the year before. The analysts consensus was for around 4% LFL sales.
Heron Stores, the 251-store convenience chain acquired for £152m in August, contributed £79.8m of revenues in the quarter, including "strong" like-for-like revenue growth with B&M extending product ranges but retaining its limited assortment discipline.
German arm Jawoll, where there were two new openings, increased sales by 8.2% in the quarter on a euro basis, down from 11.6% in the first half, up 10.4% when converted to sterling at £52.7m. Although growth rates were down, Germany was said to have had a stronger trading performance than in the first half of the financial year, with the Christmas range said to perform particularly well.
Chief executive Simon Arora said the group, which by the end of the quarter had 579 stores operating, was going "from strength to strength" and was confident it will meet full year market expectations for earnings before interest, tax, depreciation and amortisation.
He added: "Despite the demanding comparatives from the very strong Christmas in 2016, our buying, supply chain and retail teams achieved another outstanding performance this year by doing what we do best, which is delivering great value for customers week-in, week-out."
The strong like-for-like performance in the quarter was put down to the continued robust performance of grocery and fast-moving consumer goods, improvements to stores for customers and "the recognition of our value offer by consumers generally".
On 1 March, chairman Sir Terry Leahy will step down after a five-year stint, with fellow board guru Peter Bamford, ex of WH Smith, Kingfisher, Vodafone and currently at Superdry, taking over.
BME shares were up 3.1% to 409.2p after half an hour of trading on Friday morning.
Analyst Tony Shiret at Whitman Howard, who maintained his 'sell' rating on the shares, observed that growth has come "in lower margin food and FMCG which we believe continues to be vulnerable to price competition for food retailer own brands and in any event dilutes the benefit of sales growth at the bottom line", while the decline in the Jawoll sales rate was "perhaps indicating negative LFL getting worse in short term".
He added: "We surveyed price differentials against value led food retailers before Christmas and found that BME's prices remained 15% below the equivalent branded products in food retailers but that the gap with own brand prices had widened over the previous 12 months (BME only sells branded products).
"Our findings showed in particular a widening of the price differentials with Aldi and Lidl own brands – where we found BME's cheapest offer was over 50% more expensive. BME does not have the ability to initiate an own brand programme in this area and therefore remains vulnerable to consumer switching from brands to own label as pressure on discretionary spend tightens. Thus far though the squeeze has had the opposite effect."
Shore Capital's Clive Black said are "few store based retailers in the UK producing such impressive growth numbers" and that B&M plays to his team's theme about "good value based discounters winning market share".
He describes B&M as the "Aldi of general merchandise", with its limited line range of 300 lines in each of the 20 categories it stocks.
"The company direct-sources and wants to be the Dollar General of Europe (in the US Dollar General has 10,000 stores). Plenty of growth to come in the UK with a rollout plan to 950 stores with 263 regional stores under Heron, which it plans to turn national," Black added.
Neil Wilson at ETX Capital called it a "blockbuster" quarter that he noted was ahead of Lidl and Aldi's growth in a similar period, as all three discounters growth through store expansion.
"There are ambitious expansion plans in place and the outlook appears very positive, although like other discounters margins may come under pressure and there is probably a ceiling to growth. Profit guidance is unchanged, which given the robust performance and store expansion could produce an upgrade later on."