B&M sees continued revenue improvement as estate expands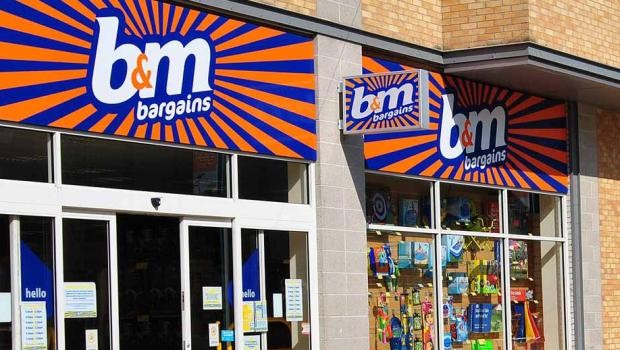 B&M European Value Retail reported a 21.7% improvement in group revenues to £1.35bn in its half-year results on Tuesday - a 21% rise at constant currencies.
The FTSE 250 multi-price retailer said UK like-for-like revenues increased 7.5% for the 26 weeks to 23 September, including growth of 7.7% in the second quarter.
Group adjusted EBITDA was ahead 19.8% at £116.1m, while profit before tax rose 17.8% to £86.8m.
Adjusted diluted earnings per share reached 7.0p, a rise of 18.6% on the same period last year, while earnings per share were 6.8p, an increase of 17.2%.
"B&M has delivered an excellent performance in the first half of the financial year with strong growth in revenues, EBITDA and profit before tax," said chairman Sir Terry Leahy.
"Our trading momentum in the UK has been maintained, driven by more shoppers seeking out value at B&M, combined with further improvements to our offer for customers particularly in ranging, pricing and store standards.
"We are well placed for the approaching Christmas season and we look forward to the remainder of the financial year with confidence."
On the operational front, the company opened 20 new B&M UK stored - including three relocations - and was on track to open a gross of 50 new B&M stores in the full year, of which seven will be relocations.
Its German business, Jawoll, opened seven new stores in the period, and was on track to open 11 new stores by the end of the financial year.
Cash flow from operations was £44.2m in the period, from £77.7m in the 2017 full year, which the board said reflected earlier-than-usual seasonal stock building ahead of Christmas to improve on-shelf product availability for customers.
The board increased the interim dividend by 26.3% to 2.4p, to be paid on 22 December.
During the period, B&M acquired discount convenience retailer Heron Foods with 251 stores, which the board said provided a "complementary" brand, format and additional profitable growth opportunity.
Contracts were also exchanged on the purchase of land in Bedford for a large new UK B&M Southern distribution centre, to be operational late in the calendar year 2019.
"B&M continues to prosper in a challenging retail environment and our teams remain wholly focused on helping our customers spend less during uncertain times," commented chief executive Simon Arora.
"Our UK business continues to go from strength to strength, with new and like-for-like stores performing exceptionally well and the acquisition of Heron has added another leg of growth to the group.
"We have also taken steps to enable us to push on with expanding our Jawoll business."
Boardroom veteran Peter Bamford to take chair at B&M
In a separate announcement, B&M confirmed the appointment of Peter Bamford as non-executive chairman on Tuesday, with effect from 1 March.
The company said Bamford would succeed Sir Terry Leahy, who will retire from the board on that date after five "very successful" years in the role.
Before taking up the role as chairman on 1 March, Bamford will be appointed initially as a non-executive director of one of the company's subsidiaries from 1 January.
B&M said Bamford would bring "extensive" senior and board-level experience in public companies, particularly in consumer and retail businesses.
He is currently chairman of SuperGroup and also deputy chairman and senior independent director of Spire Healthcare Group.
Previously, Bamford was chairman of Six Degrees Holdings from 2011 to 2015, and a non-executive director of Rentokil Initial from 2006 until 2016.
He was also a director of Vodafone Group from 1998 to 2006, where he held senior executive roles including chief marketing officer, chief executive of Northern Europe, Middle East and Africa and chief executive of Vodafone UK.
Prior to that, Bamford held senior positions with WH Smith - including as a director between 1995 and 1997 - Tesco and Kingfisher.
"I'm delighted that Peter, with his strong track record and relevant experience, including in the retailing sector, is to be the next chairman of B&M," said Sir Terry Leahy.
"It has been a great privilege to have been part of one of the most exciting emerging retail growth stories of the past decade in an industry undergoing profound structural change.
"The business is very well-positioned for continued growth and success in the future."
Over the last five years, B&M said it has seen "continued" strong growth with revenues rising from £993m to £2.67bn, profit before tax rising from £83m to £204m and the number of stores increasing from 331 to 893.
During the period, the group also took its "first significant step" toward becoming an international retailer with the acquisition it made in Germany in 2014, completed its successful IPO in the same year and in 2017 it entered the convenience retail market with the acquisition of Heron Foods.
"I'm looking forward to taking on the chairmanship role at B&M, working alongside the strong board and executive team and continuing with the growth strategy which has delivered significant shareholder value since IPO," said Peter Bamford.
"I believe the business has a long runway of further growth ahead for its unique, disruptive model and I'm delighted that I will be so closely involved in the next stage of B&M's development."