BAE Systems takes off after Typhoon deal signed with Qatar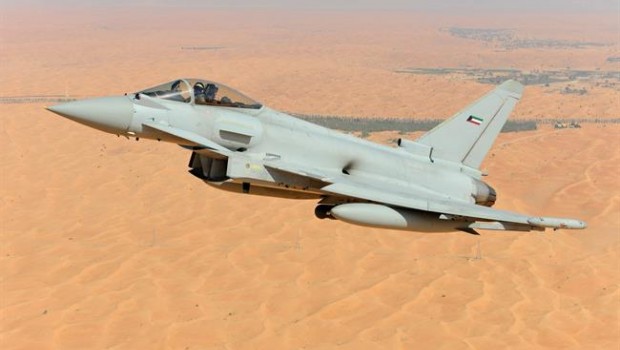 BAE Systems will assemble 24 Typhoon fighter jets to be supplied to Qatar after Defence Secretary Michael Fallon signed a first major arms deal with the Gulf state.
The Typhoon deal is estimated to be worth at least £2bn across the four-nation consortium behind the Eurofighter and shares in BAE flew almost 3% higher to 612.5p on Monday morning.
Fallon, who flew to Doha where counterpart Khalid bin Mohammed al Attiyah signed an agreement to purchase the aircraft, said negotiations had taken a number of years.
"This will be the first major defence contract with Qatar, one of the UK's strategic partners," he said.
Qatar has been somewhat of a Gulf pariah since a spat blew up in June when Saudi Arabia led other neighbouring states including United Arab Emirates and Egypt in cutting diplomatic ties, purportedly over protecting themselves from terrorism and extremism.
So far there, eight countries have bought Eurofighter jets, the Ministry of Defence said, including 72 supplied to Saudi Arabia, 18 to Oman and 28 agreed for Kuwait, which will be assembled in Italy as the order was won by Italy's Leonardo.
BAE produces close to 38% of the components in each Typhoon aircraft, the largest share of the consortium between the UK, Germany, Italy and Spain.
In a Sunday announcement Fallon said: "This is an important moment in our defence relationship and the basis for even closer defence co-operation between our two countries.
"We also hope that this will help enhance security within the region across all Gulf allies and enhance Typhoon interoperability across the GCC."
Saudi Arabia closed the border and halted air and sea traffic with Qatar in June, urging "all brotherly countries and companies to do the same".
Bahrain, UAE and Egypt joined Saudi in giving the oil and gas-rich nation a deadline comply with a list of 13 demands based around allegations that it had been funding terrorism.
In August the crisis deepened further when Qatar subbed Saudi by restoring full diplomatic relations with Iran after a 20-month hiatus sparked when two Saudi diplomatic buildings were attacked.