Anglo American on target as diamonds and iron balance copper drop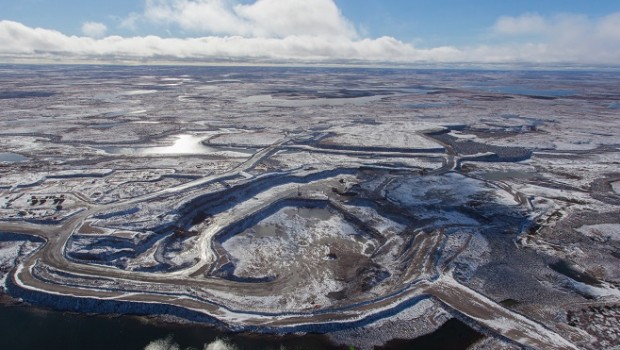 Copper production fell in the first quarter at Anglo American, but full year guidance was kept unchanged almost entirely across the board as amounts of iron ore, coal and diamonds unearthed all rose strongly.
Chief executive Mark Cutifani said it was "a strong operational performance" helped by the continued ramp-up of Gahcho Kué diamond mine, Minas-Rio copper mine and Grosvenor coal project, which together delivered the group a 9% increase in production on a copper equivalent basis.
Copper production of 142,600 tonnes for the three months to 31 March slipped 3% compared to the same period last year as continued strong performance at the 44%-owned Collahuasi mine in Chile was offset by increased ore hardness further south at Los Bronces and the temporary suspension of mining operations at nearby El Soldado after a mine plan was rejected by regulators, which resulted in around 3,000 tonnes of lost production.
Full year production guidance remained unchanged at 570,000-600,000 tonnes, of which El Soldado represents 50,000-60,000 tonnes.
Iron ore production rose 21% to 14.8m tonnes, with full year guidance from South Africa's Kumba unchanged at 40-42mt and 16-18mt from Minas-Rio in Brazil.
Diamond production was up 8% to 7.4m carats thanks to the contribution of Gahcho Kué in Canada and increases in response to improved demand for lower value goods in stock.
Platinum production was broadly flat at 572,000 ounces, as, following the sale of Rustenburg, production there has been treated as purchase of concentrate (which increased by 93%) rather than own mined production (which decreased by 26%).
Nickel production decreased by 12% to 9,900 tonnes due to unplanned maintenance of Barro Alto's electric furnaces, impacting throughput, so full year production guidance has been revised down to 43,000-45,000 tonnes from 45,000 tonnes.
Metallurgical coal increased by 28% to 5.2 million tonnes and, with mining having resumed at all Queensland coal operations post Cyclone Debbie but rail impact on shipments still being assessed, potential guidance downgrades could emerge in Q2 2017, analysts guessed.
Investec said the first-quarter report was generally in line with expectations, with the company running at 23-26% of mid-range of its full year targets, as would be expected this time of the year.
Analysts at Deutsche Bank had forecast Anglo would maintain copper volume flat, platinum production to be down 5%, iron ore down 14%, diamond production to remain flat and metallic coal production to be down 7%.