UK wage growth flatters to deceive as jobless claims hit five-month high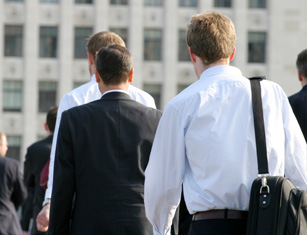 UK wage growth is picking up slightly but still remains well short of inflation, while the number of people claiming unemployment benefit reached a five-month high.
Moreover, there were 56,000 fewer people in work between August and October, the largest drop since spring 2015 and larger than the consensus expectation, while the net outflow from employment of 44,000 from July to September was the worst since 2011.
The headline ILO unemployment rate for the three months to October remained at 4.3%, due to a rise in inactivity, while the market had been expecting it to fall to 4.2%.
While more timely data from November showed that 5,900 more people made jobless claims, with a claimant count of 2.3%.
On the upside, average weekly earnings for the three months to October were 2.5% higher than the same period last year, which economists had expected, while figures from a month earlier were revised up to 2.3% from 2.2%.
Stripping out bonuses, weekly earnings were up 2.3%, which was better than the 2.2% at which the market had expected it to remain. However, for the single month of October, annualised month-to-month wage growth declined to just 1.1%, below the 2.7% average of the previous nine months.
Wage growth continues to lag inflation, with consumer price inflation revealed a day earlier to have risen to 3.1% in November from the 3.0% in October, continuing the long run of negative real income growth that has squeezed UK households all year.
ONS statistician Matt Hughes said: "There has been a slight pick-up in pay growth in cash terms, which means that although earnings are still growing less than inflation, the gap has narrowed."
The number of vacancies reached a new record high of 798,000 for September to November, which was 14,000 more than for June to August.
Economist Sam Tombs at Pantheon Macroeconomics said: "This is a weak report that will strengthen the hands of the doves on the MPC seeking a long pause before the next rate hike. Employment was 56K, or 0.2%, lower in the three months to October than in the three months to July.
"The unemployment rate was stable only because the workforce also contracted by 0.2%. In addition, temporary employment rose by 3K, and the proportion of temporary workers that could not find a permanent role jumped to 28.0% in the three months to October, from 26.7% in the previous three months."
Excluding the surge in bonus payments in the financial sector, he said there was little evidence that the tight labour market is fuelling faster wage growth, with 1.1% month-to-month growth in private-sector wages excluding bonuses — a measure that some MPC members have placed weight on recently.
Tombs sees little reason to expect wage growth to strengthen materially soon, expecting average weekly wages to rise only to 2.5% in 2018 from 2.2% this year, "enabling the MPC to hold back from raising interest rates again for another 12 months".
Andrew Wishart at Capital Economics said he doubted the weakness in employment will persist for too much longer, "given that all of the hiring surveys that we track point to annual employment growth accelerating significantly from the current 1%, while unfilled vacancies are at a record high".
Wishart felt the wage growth figures should "provide a bit of reassurance to the MPC", with ex-bonus pay growth recording a single month of growth of 2.4%. "That leaves annual wage growth on track to reach 2.5% in H1 next year as the MPC expects."