UK unemployment rate falls to forty-year low but wages remain stuck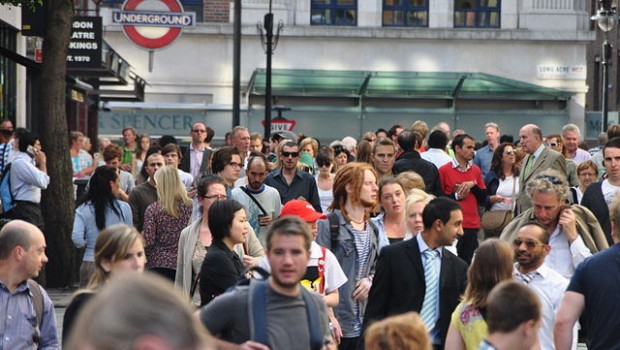 The UK unemployment rate has shrunk to the lowest since 1975, it was confirmed on Wednesday, though this failed to boost wages and relieve the squeeze on households.
UK unemployment fell to a 42-year low of 4.5% for the three months to May, down from the 4.6% the month before, where it was expected to remain.
Data from the Office for National Statistics showed the jobless total fell by 64,000 in the three months to May, with the number of people in work rising 175,000 to push the employment rate to an all-time high of 74.9%.
But total average wage growth for the three-month period softened to 1.8% from 2.1%, though this was expected.
A bright spot was that weekly average earnings excluding bonuses rose to 2.0% from 1.8% a month before, better than the consensus estimate of 1.9%.
With pay growth still well below average CPI inflation of 2.6% over the same period, households continue to be squeezed, which alongside the individual discomforts, puts the brakes on the UK's key growth engine in recent years and has led to GDP forecasts being cut.
Real wage growth is expected to remain in negative territory" as 2017 progresses, with the Bank of England's agents report that expected nominal pay settlements are likely to average 2.2% in 2017 after 2.7% in 2016.
IMPACT ON MPC THINKING
With consumer price inflation having risen to 2.9% in May and expected to remain not far from this level for some months, this implies negative real wage growth of 0.4% in 2017, Barclays said, meaning "households will be forced to tighten their belts, only amplified by the expected tightening in unsecured consumer credit as reported by the latest Bank of England credit conditions review, all in all leading to a consumption driven slow down in overall activity".
The Bank of England Monetary Policy Committee is even more pessimistic, forecasting real core wage growth of -0.8% for 2017.
But MPC has been increasingly hawkishness due to the low level of unemployment, which saw a 5-3 split of the vote in favour of holding interest rates in the last policy meeting.
Unemployment's fall to 4.5% takes it to what the MPC said is the natural rate of unemployment -- two years earlier than it forecast in May -- and so is likely to embolden the hawks seeking to raise interest rates this year, said economist Samuel Tombs at Pantheon Macroeconomics.
It would be a more clear cut picture were it not for what Governor Mark Carney called the "anaemic" wage growth, which Tombs agreed cast doubt over whether the economy really is close to full employment.
"Admittedly, year-over-year growth excluding bonuses picked up to a five-month high of 2.3% in May, from 1.8% in April. But with pay settlements still anchored at 2% and the public sector wage cap still in force, the pickup likely isn't the start of a rising trend."
Chris Williamson at IHS Markit said the pay data showing wage growth falling further behind inflation added to the "conundrum" of why earnings growth is so anaemic given the low level of joblessness.
"The data certainly fuel suspicions that the Bank of England will be in no hurry to raise interest rates; there's a strong argument that hiking borrowing costs at a time of falling real pay and heightened uncertainty regarding the economic and political outlooks would merely introduce another headwind to an already-struggling economy," Williamson said.
Given the emphasis that some members of the MPC, including Carney, have put on wanting to see a clear "firming" in wage growth before they join others in voting to hike interest rates, Paul Hollingsworth at Capital Economics said he still thinks "it is more likely than not that the MPC will hold off for a while longer, rather than raise interest rates imminently".