UK services activity weaker than expected, though prices soar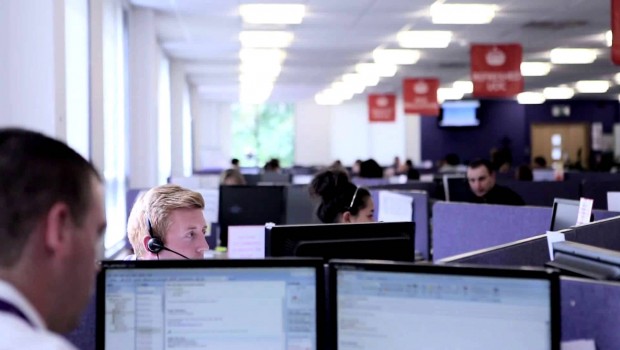 Services sector activity last month was even weaker than expected, according to a survey of Britain's dominant sector published on Tuesday, giving further indications that the economy will continue to grow slowly in the final quarter of the year.
The UK Markit/CIPS services purchasing managers' index for November fell to 53.8 from 55.6 a month earlier, which was worse than the fall to 55.0 that the market had forecast.
A PMI reading above 50 indicates growth in these widely followed surveys, though economists differ on how reliable this soft data is in predicting the official outcomes.
There was also some disagreement also over whether Tuesday's services PMI pointed to gross domestic product growth remaining at 0.4% in the fourth quarter or slowing to 0.3%.
According to the survey, services growth in November was led by financial services and the hotels and restaurants sectors, while growth waned for business services and transport and communications, with the worst performing sub-sector being IT and computing, which in recent months has endured its worst performance for over five years.
Even after stronger readings from the manufacturing and construction surveys, the UK composite PMI for November fell to 54.9 when the previous month's six-month high of 55.8 had been expected to hold steady.
Service providers' optimism for activity for the year ahead picked up slightly in November, but remained weaker than the trend seen through the first half of 2017.
There was also a sign that UK inflation may rise further in coming months, with the largest majority of services firms raising their prices since February 2008 and the second-fastest recorded since the survey began in 1996. The price hikes were in response to increases in energy prices, import prices and salary costs.
"Rising oil prices were again to blame in November, with firms also reporting the need to pass higher costs of a wide variety of other inputs on to customers as a result of the weak pound having driven up import prices," said IHS Markit economist Chris Williamson, suggesting this meant inflationary pressures have yet to peak.
Overall, the data indicates that the economy is on course to sustain the low level of growth in the closing months of 2017.
"Slower service sector growth came as a particular disappointment after improved performances of both manufacturing and construction in November," Williamson added, noting that recent months have seen very varied performances between the sub-sectors of the services economy.
He added: "Uncertainty about the economic outlook, linked commonly to Brexit worries, continued to permeate the business mood. However, for now, the survey data indicate that a sufficient degree of optimism in pockets of the economy, notably financial services, tourism, manufacturing and house building, is helping the economy as a whole to sustain steady growth."
Ruth Gregory at Capital Economics said the fall in the main services activity balance "simply reversed October's sharp rise and still left the balance a little higher than Q3's average of 53.5" and on the basis of past form indicated GDP growth would remain at 0.4% as in the third quarter or even be higher as the strengthening in Markit's future activity index suggested that November's dip in services sector activity "should just be temporary".
Taken together with the improvements in November's manufacturing and construction surveys, the economy-wide PMI suggested, Gregory said, that quarterly GDP growth "may be running at 0.4% or 0.5% or so", though the Markit/CIPS services survey does not include the embattled retail sector.
"But it shouldn't be too long before the inflationary effect of sterling's fall fades, putting consumer spending on a firmer footing. Overall, then, we still think that the economy should be able to hold onto its recent momentum in Q4 and post decent growth of 2% or so next year, rather than slow as the consensus expects."
Samuel Tombs at Pantheon Macroeconomics, on the other hand, felt November's PMI "tentatively supports" the Bank of England's forecast "that even modest rates of growth in activity are now consistent with elevated inflation" and that this is consistent with quarter-on-quarter growth in services output slowing to just 0.3% in Q4.
He cautioned against placing too much weight on the survey's prices charged balance.
"It used to be a good guide to services inflation, but in the last five years it has decoupled, for not entirely clear reasons. We still see little risk of a material upswing in wage growth next year. Firms' demand for labour has petered out—the services survey's employment balance held steady in November at its lowest level since March—while low levels of consumer confidence should keep job-to-job flows depressed," Tombs said.
"Pay settlements recently have remained anchored at 2%, while slack in the labour market remains hidden among the part-time employed and self-employed. Accordingly, it's too soon to panic that the MPC will be forced into a series of rate hikes next year due to persistently high inflation."