UK new car sales fall and 'could be headed for deep recession'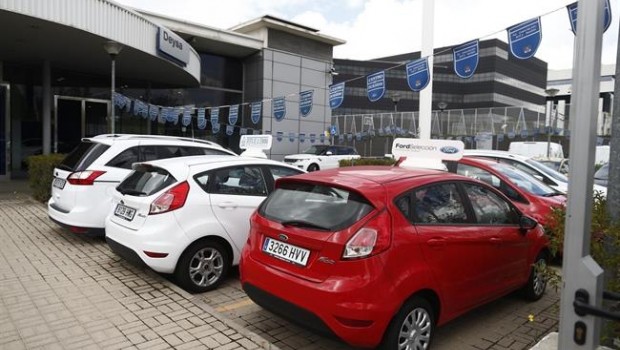 The number of new cars purchases continues to fall as consumers hold back from major purchases amid increased worries about the economic and political climate and a possible motor finance bubble.
Total new car registrations of 161,997 were recorded in July, a 9.3% fall on the same period last year and the fourth monthly fall in a row.
Private new car registrations fell 6.8% year-over-year in July, according to data from the industry, down from the 5.1% average decline over the previous twelve months.
The auto sector is seeing an increasingly challenging environment due to the squeeze on consumers with inflation in a high gear, stalling wages and concerns about easy credit fuelling the previous acceleration in demand for cars.
Car sales in coming months could take an extra hit as lenders begin to restrict the supply of unsecured credit under pressure from the Bank of England and with regulators eyeing a possible crackdown.
The fall from business car registrations dropped by 23.8% and by fleet buyers by 10.1%, the Society of Motor Manufacturers and Traders (SMMT) said.
One sign of encouragement was in electric cars and other alternatively powered vehicles, where demand surged 64.9% as 8,871 registrations were made to give a 5new record market share of 5.5% as nearly 70,000 new AFVs have joined UK roads this year.
"The fall in consumer and business confidence is having a knock on effect on demand in the new car market and government must act quickly to provide concrete plans regarding Brexit," said SMMT chief executive Mike Hawes.
"While it's encouraging to see record achievements for alternatively fuelled vehicles, consumers considering other fuel types will have undoubtedly been affected by the uncertainty surrounding the government's clean air plans.
"It is important to remember that there are no plans to charge drivers using the latest Euro 6 models and no proposed bans for conventional petrol and diesel vehicles for some 23 years."
Economist Sam Tombs at Pantheon Macroeconomics said the further decline in private car sales in June signalled that consumers increasingly lack the confidence to make big-ticket purchases.
"Four months have passed since April's Vehicle Excise Duty changes, suggesting that the downturn reflects more than just a shift in the timing of purchases," he said, with future car sales likely to be hit if traditional lenders begin to restrict the supply of unsecured credit, as they warned they would in the latest BoE's latest Credit Conditions Survey.
"Concerns about the resale value of cars at the end of PCP deals also likely will prompt manufacturers' finance arms to increase required monthly payments, hitting affordability. In addition, sterling's recent further depreciation against the euro suggests that car prices likely will increase by about 3% in both 2018 and 2019, building on the 2.5% rise seen over the last year.
Tombs also noted that as car sales tend to lag consumer confidence by about six months, the recent post-election slump in consumer sentiment could presage further legs to the auto downturn.
Alex Buttle, director of comparison website Motorway.co.uk, said 2017 was starting to feel like the auto industry's annus horribilis.
"This could be the beginning of a deep recession for the new car industry, the likes of which we haven't seen since the credit crunch," he said.
"And the Government seems to enjoy kicking diesel while it's down, by announcing that new diesel and petrol cars will be banned from 2040.
"'Diesel D-day' might be over 20 years away, but we could see new car sales continuing to fall by 10-20% a month in the near term. After all, who is going to want to buy a diesel car now - especially with the prospect of paying a hefty toxin tax in the future and falling resale values."