UK manufacturing PMI hits highest level since August 2013 in November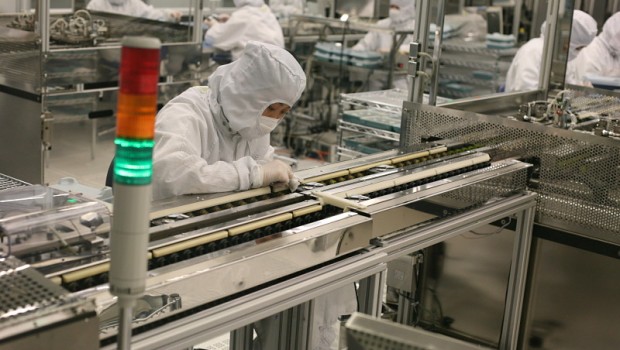 Activity in the UK manufacturing sector picked up in November, hitting its highest level since August 2013, according to data released on Friday.
The Markit/CIPS manufacturing purchasing managers' index rose to 58.2 from October's 56.6, which was revised up from 56.3. This marked a 51-month high and was ahead of analysts' expectations for a reading of 56.5.
A reading above 50.0 indicates expansion, while a reading below signals contraction.
Manufacturing production expanded at the fastest pace since September 2016 and to one of the greatest extents during the past four years. This was attributed to stronger inflows of new orders, reflecting solid domestic demand and steeper gains in new export business
Rob Dobson, senior economist at survey compilers Markit, said: "UK manufacturing shifted up a gear in November, with growth of output, new orders and employment all gathering pace. On its current course, manufacturing production is rising at a quarterly rate approaching 2%, providing a real boost to the pace of broader economic expansion.
"The breadth of the rebound is also positive, with growth strengthening across the consumer, intermediate and investment goods industries. Of real note was a surge in demand for UK investment goods, such as plant and machinery, with new orders for these products rising to the greatest extent in over two decades. This suggests that capital spending, especially in the domestic market, is showing signs of renewed vigour."
Samuel Tombs, chief UK economist at Pantheon Macroeconomics, said: "UK manufacturers are being swept along by the Eurozone's resurgence - the single currency area's PMI increased to 60.1, from 58.5 in October - but remain cautious about the outlook. The rise in the PMI primarily was driven by a leap in the output balance to 60.4, from 56.6 in October. On past form, the output balance now is consistent with quarter-on-quarter growth in manufacturing output of about 1.2%. The rise in the total orders balance to 60.9 -its highest level since November 2013 - from 57.7, suggests that growth in output will remain strong in coming months too.
"That said, manufacturers remain very cautious about the outlook and likely won't invest enough to enable the current period of strong output growth to continue for long. The future output balance remained below its 5-year average of 72.9, despite rising to 72.3 in November from 71.2 in October. We fear, therefore, as the CBI's Industrial Trends Survey has indicated that manufacturers might soon run in to capacity constraints. "