UK manufacturing output continues to improve, trade deficit narrows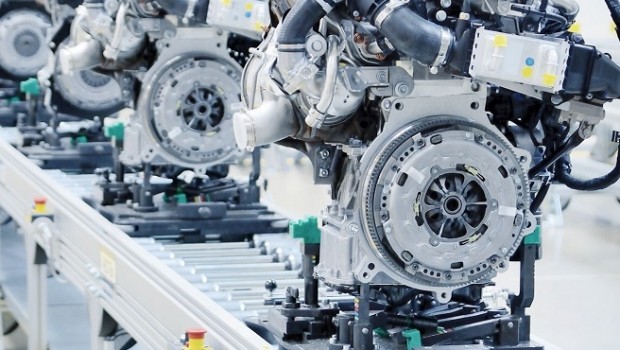 UK industrial production is increasing more than expected and the trade deficit is narrowing, a deluge of official figures showed on Friday, with manufacturing activity continues to grow but the construction sector entered a technical recession.
Industrial production rose by 0.7% month-on-month in September, the Office for National Statistics revealed, up from 0.4% a month earlier and above the consensus forecast of 0.3%.
Production for the third quarter was also now estimated to have increased by 1.1% quarter-on-quarter, up from 1.0% as September's production was revised up from the 0.3% expansion pencilled in by the ONS in its preliminary estimate of GDP.
This the sixth monthly increase in a row and was thanks to a 0.7% increase in manufacturing production, similarly beating a 0.3% consensus and up from 0.4% last time.
A 2.2% rebound in mining and quarrying output, following a two month lull, also contributed, offsetting flat output in the energy supply sector and a 0.1% fall in water.
Meanwhile, UK construction output slumped 1.6% in September, way worse that the 0.3% expected after an August that was revised up to 0.8% growth and larger than the 1.0% drop the ONS had initially pencilled in its quarterly estimate.
On last year, construction output rose 1.1%, short of the 2.2% forecast and down from a revised 3.9% rise for August.
In trade data, export volumes fell by 1.8% on the quarter, compared with a 1.9% quarterly rise in imports.
The visible deficit narrowed to £11.25bn in September from £12.35bn, albeit with net trade still looking to have acted as a drag on the economy over the third quarter as a whole, while the total trade balance narrowed to £2.75bn from a revised £3.46bn, better than the widening to £4.3bn that had been forecast.
Exports of goods to EU countries increased by £0.9bn or 2.2% in the third quarter, but exports to non-EU countries fell by £1.7bn or 3.8%.
Industrial production six consecutive monthly rises is a feat last achieved 23 years ago, noted economist Samuel Tombs at Pantheon Macroeconomics.
With third-quarter production now estimated to have increased by 1.1%, Tombs pointed out that production accounts for just 14% of GDP, "so this amendment is too small to suggest that GDP growth likely will be revised up later this month".
"Looking ahead, however, the recovery in manufacturing output likely will weaken in response to the recent surge in the oil price. In addition, output in the energy supply sector likely plunged by about 4% month-to-month in October, due to unseasonably warm weather.
"Accordingly, it's unlikely that industry can be counted on to support GDP growth again in Q4."
Chris Williamson, chief business economist at IHS Markit, said official data was now confirming the UK was a multi-speed economy, with manufacturing enjoying strong growth and construction in the doldrums, entering a new technical recession.
"It's encouraging to see sectors such as machinery and equipment recording strong growth in the third quarter, where output was up 3.0%, as this is a good indicator of rising business investment. It remains unclear, however, as to how much of this was exported or intended for domestic customers," he said.
For Ruth Gregory at Capital Economics, the data suggested the industrial sector was helping to offset the consumer slowdown, adding 0.2pp to GDP growth in the third quarter relative to the second but with the weaker construction contribution resulting in a minimal impact on the overall GDP numbers for Q3.
She said the trade figures "made for pretty disappointing reading", with a fall in export volumes, "which is what matters for GDP growth", compared to a rise in imports.
"This suggests that net trade probably subtracted 0.5pp or so from GDP in Q3. Nonetheless, annual growth in export volumes was still a punchy 15% in September.
"And surveys suggest this strength should continue, while import growth should slow in line with weakening consumer spending growth. So we remain optimistic that net trade will provide more support to growth in the quarters ahead."