UK manufacturing growth slows more than expected in December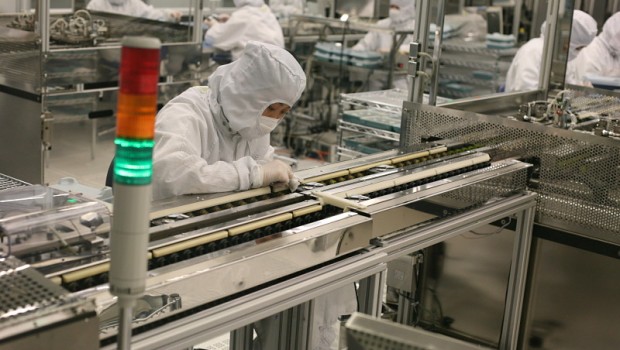 Growth in the UK manufacturing sector slowed more than expected in December, according to data released on Tuesday.
The IHS/Markit CIPS manufacturing purchasing managers' index fell to 56.3 last month from a 51-month high of 58.2 in November, missing expectations for a much smaller drop to 58.0.
Still, the average reading of 57.0 over the final quarter of 2017 was the best since the second quarter of 2014.
A reading above 50 indicates expansion while a reading below signals contraction.
Although December saw rates of expansion in output, new orders and employment slow from November's highs, growth in all three remained solid and well above long-run trends.
Rob Dobson, director at IHS Markit, said: "UK manufacturing ended 2017 on a positive footing. Although growth of output and new orders moderated during December, rates of expansion remained comfortably above long-term trend rates. The sector has therefore broadly maintained its solid boost to broader economic expansion in the fourth quarter.
The outlook is also reasonably bright, with over 50% of companies expecting production to be higher one year from now. The main growth engines were the intermediate and investment goods sectors during December, suggesting resilient business-to-business demand and capital spending trends, albeit in part due to rising exports. Growth in the consumer goods sector remained weak in comparison and was the only sub-industry to see output expand at a slower pace than November."
Pantheon Macroeconomics economist Samuel Tombs said strong growth will be hard to sustain in 2018.
He said British manufacturers are failing to make the most of the rebound in global trade.
"Note that the UK's PMI now is four points below the eurozone's, the biggest underperformance since June 2008. UK manufacturers have cut investment since the Brexit vote and are struggling to find skilled workers. As result, work backlogs are increasing quickly and supply chain delays are worsening. These constraints will only worsen as the recovery continues, unless manufacturers suddenly ramp up investment.
"Meanwhile, the recent rally in oil prices - to $67, from just $50 six months ago - which has been driven by OPEC supply curbs and tensions in Iran, has darkened the outlook for low value-added production. Accordingly, we expect the recovery in the manufacturing sector to lose its current vitality soon."
Russ Mould, investment director at AJ Bell, said the reading "was still very solid", even if it came in below the consensus forecast.
"Nevertheless, it may be no coincidence that the reading has dipped a little after the gains made by the pound in the fourth quarter of last year, ahead of November's first interest rate increase in a decade from the Bank of England."