UK inflation stalls to weaken case for August rate rise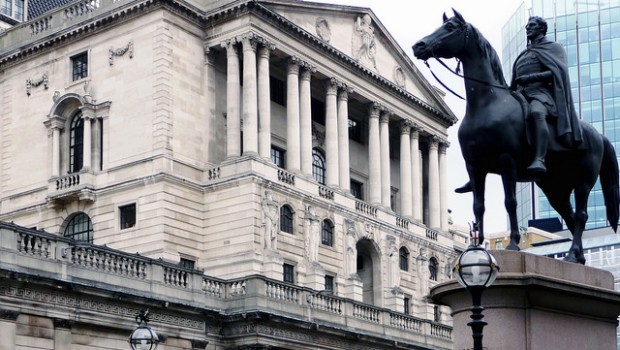 Inflation was unchanged at 2.4% in May, further weakening the case for the Bank of England to increase interest rates in August.
The annual rise in the consumer price index was in line with economists' average forecast. The rate of increase, reported by the Office for National Statistics, remained above the BoE's 2% target but followed a series of mixed signals about the state of the UK economy.
The BoE's monetary policy committee is weighing up whether to increase interest rates at its August meeting after holding off from an expected rise in May. The pound fell in response to the inflation figures, suggesting markets believe the chances of a rate rise have weakened.
At 10:22 BST the pound was down 0.4% against both the dollar and the euro to stand at at $1.3319 and €1.1339 respectively – a fourth straight day of declines prompted by weak economic data and confusion over Brexit negotiations.
Tom Stevenson, investment director for personal investing at Fidelity International, said: "Today's stalled inflation rate suggests the Bank of England may have missed the opportunity to raise interest rates this year."
Inflation has fallen from 3.1% at the end of 2017 but the BoE has said it expects rising wages to add to price rises as the effect of the pound's post-Brexit decline drop out of the figures. Yet labour market figures on 12 June showed wage growth slowing even as employment levels rose.
Surveys of business activity have also remained weak, suggesting the BoE may have been too optimistic in believing the sharp slowdown in growth in the first quarter was mainly due to bad weather.
Prices in May were supported by the rising cost of motor fuel and air and sea fares, which were affected by the timing of Easter. These upward pressures were partly offset by lower prices for games, domestic energy, food, non-alcoholic drink and furniture.
Samuel Tombs, chief UK economist at Pantheon Macroeconomics, said the figures showed underlying inflation was weak. Though CPI will probably rise in June, boosted by energy tariff increases, the downward trend is likely to return in the third quarter, he argued.
"With GDP growth looking sluggish, wages still failing to gather momentum and Brexit negotiations set to reach a climax towards the end of this year, the MPC now looks set to wait until 2019 before raising interest rates again," Tombs said.
Capital Economics took a different view, arguing May's inflation figure was in line with the BoE's own predictions. "There were no surprises here for the committee," Ruth Gregory, Capital's senior UK economist, said. "The inflation figures have not altered our view that the MPC will probably press ahead and raise interest rates in August."