UK high streets enjoy bumper Christmas week as crucial updates eyed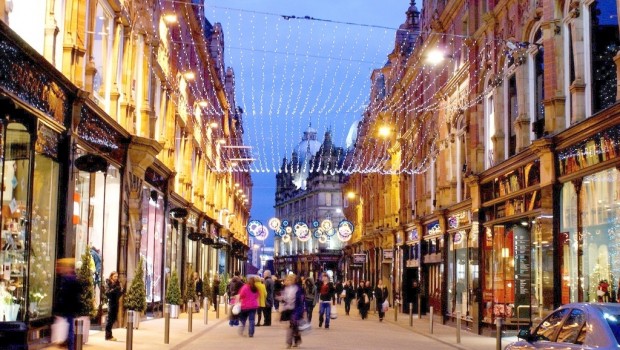 Shopping in the week before Christmas was better for high street retailers than in the same period last year, according to data released on Friday.
Like-for-like store sales in the week ending Sunday 24 December 2017 were 5.3% higher this year than a strong equivalent week last year, the BDO High Street Sales Tracker revealed. Overall footfall rocketed 10% in the week.
The tracker found small and medium-sized non-food chains saw fashion store sales rose by 3.9% on a LFL basis, with the inclusion of homewares and lifestyle chains taking the total up to 5.3%.
Online sales were notably strong, up nearly 40%, with online fashion sales rising 32.5% compared to last year, making it the second best week of 2017 with only one week remaining.
The news bodes well for retailers, BDO said, with companies also expecting to make up further ground as the traditional discounting period gets under way.
However, in some cases in the last week, BDO said last minute discounting may have boosted sales, particularly on 'super Saturday', the last Saturday before Christmas Day, while footfall was boosted as a break in the weather "finally coincided with consumers loosening the purse strings and hitting the shops in earnest".
Footfall on the high street was up 9.2%, retail parks a rise of 13.7%, while shopping centre footfall increased 8.4%.
FESTIVE TRADING UPDATE FRENZY
Independent retail analyst Nick Bubb said the subsequent week will be hit as the calendar shift unwinds, so for a true picture of the retail landscape over the festive period, the two Christmas and New Year weeks will need to be viewed together.
The festive weeks are crucial for Britain's shopkeepers, who generally take as much as a quarter of their total turnover in the run up to and just after Christmas, then provide investors an update on trading in January.
Next Wednesday's trading statement from Next will kick off this key period for the retail sector, with the following Monday 8 January seeing AO World, then Morrisons and Majestic Wine on Tuesday; Wednesday will feature Sainsbury, Ted Baker, Shoe Zone and Gear4music; then a busy Thursday is due to see updates from Tesco, Marks & Spencer, Boohoo, Moss Bros, Mothercare, Debenhams and Dunelm; before Booker and B&M European Value report on Friday.
The following Tuesday 16 January an update is expected from Greggs; Wednesday features JD Sports and Shop Direct; Thursday Pets at Home, Halfords, Primark owner AB Foods; then on Friday a statement from Bonmarché and UK-wide retail sales data from the Office for National Statistics.
Carpetright and N Brown are scheduled for the Tuesday after that, followed the next day by Dixons Carphone, then ASOS on the Thursday, with the week after seeing wholesaler Conviviality, then Joules and ScS.
Looking ahead to this frenzy of festive updates, analyst Clive Black and his retail team at broker Shore Capital noted that many retailers expected flattish sales, "and while there while there was some evidence of early discounting there has been limited evidence of panic activity".
"We also point out that most retailers have been preparing for a tougher trading environment manifested in lower stock commitments and adjusted operating schedules. Going into the January reporting season we expect upgrades and downgrades and some in-between," he said, planning to reflect upon what this means for individual company forecasts, recommendations plus the wider 2018 outlook when the dust has settled.