UK construction survey disappoints, growth outlook gloomy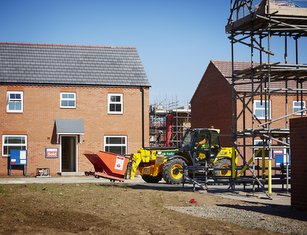 UK construction firms reported a worse month of December than the market had expected and expectations for the year ahead were the worst for four and a half years.
Growth in the last month of the year came as housebuilders slightly slowed their pace of growth and commercial building continued to decline.
The Markit/CIPS construction purchasing managers' index fell to 52.2 in December from 53.1 in November, below the consensus forecast of 53.0. A PMI reading above 50 indicates growth in output.
While residential building expanded for the sixteenth consecutive month, responses to the survey indicated a slight moderation from the preceding month. Commercial construction extended the slump seen since July, while civil construction was reported to have stabilised after a most of the second half of the year negative territory.
Positives for building firms were that new order growth hit a seven-month high and job creation was the strongest since June. Supply chain pressures were reported, with input cost inflation picking up from November and firms noting higher prices for blocks, bricks, insulation and roof tiles, alongside continued rises in the cost of imported products.
"However, construction firms indicated that longer term business confidence is still relatively subdued, largely reflecting concerns about the domestic economic outlook," said Tim Moore, an associate director at IHS Markit.
He said that 37% of the surveyed construction companies forecast a rise in activity over the course of 2018, while around 11% anticipate a reduction.
"As a result, the balance of UK construction companies expecting growth in the year ahead remains among the weakest recorded by the survey since mid-2013."
Economists at Pantheon Economics said the construction sector ended 2017 on a weak note, probably depressed by the heavy snowfall in December, with the average level of the PMI in the fourth quarter of 52.0 suggesting construction output held steady, following two consecutive quarter-on-quarter declines.
"The rise in the new orders index to 53.1, from 52.9 in November, suggests that activity might edge up in Q1," Pantheon said, but predicted construction output would flatline until a Brexit transition deal is agreed, with the planned 4.5% decline in public sector investment also dampening the sector.