Trade deficit worsens as exporters 'hoard cash due to Brexit risks'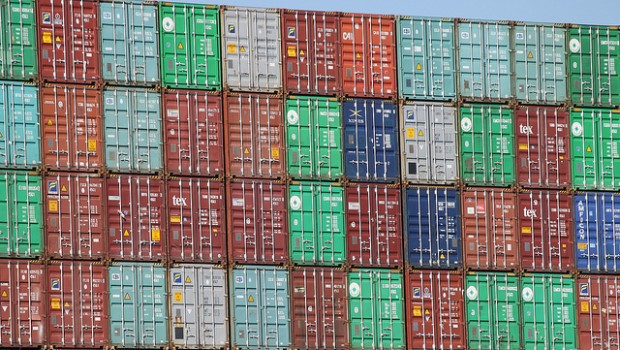 UK exports improved slightly but the trade deficit widened to almost its highest in a year, the Office for National Statistics revealed on Tuesday, which is likely to have dragged on national growth in the third quarter.
The trade deficit stretched to £5.6bn in August, much larger than the consensus forecast of £2.8bn and an 11-month high as exports inched up but imports leapt.
July's trade deficit also was revised larger to £4.2bn, from £2.9bn.
The deficit excluding erratic items widened to £4.6bn from £2.9bn in July, showing erratics were a small part of the cause.
However, the trade in goods volumes data, excluding erratic items and oil, saw a 0.1% quarterly fall in exports in the three months to August, compared with a 1% rise in imports.
Including erratics, goods exports including erratics were 3.2% lower than in the previous three months, while import volumes were up by 3.1%.
As a result, said economist Sam Tombs at Pantheon Macroeconomics, net trade is likely to have subtracted "a colossal 1.7 percentage points from quarter-on quarter GDP growth in Q3, assuming that both export and import volumes were unchanged in September".
He said August's trade figures demonstrate that sterling's depreciation has not had a silver lining and pointed out that the performance of net trade since sterling began to depreciate in late 2015 is worse than after any other depreciation in Britain's post-war history.
"The UK isn't benefiting from a trade boost because exporters have increased their sterling prices by 15% since the pound's peak in November 2015. As a result, the price of goods exports in foreign currency terms is only 4% lower than in November 2015.
"Exporters, meanwhile, are hoarding cash, not investing to ramp up production, due to hard Brexit risk. High profit margins eventually will attract domestic firms to export and undercut incumbents, but this rebalancing will be tentative because Britain's future trade links are uncertain. Net trade, therefore, will continue to make only a small positive contribution to GDP growth over coming quarters," Tombs said.
While, the trade figures made for disappointing reading, Paul Hollingsworth at Capital Economics said he "wouldn't read too much" into the monthly widening in the overall trade deficit, as the data are very volatile and prone to revision.
He said the 0.1% quarterly fall in exports in the three months to August, compared with a 1% rise in imports, suggested that net trade is "unlikely to provide a boost to growth in the third quarter".
"Overall, the latest data indicate that the economy has maintained its momentum in Q3, and if anything, the risks to the MPC's 0.3% quarterly growth forecast lie slightly to the upside."