Property market slows amid political and economic worries, RICS says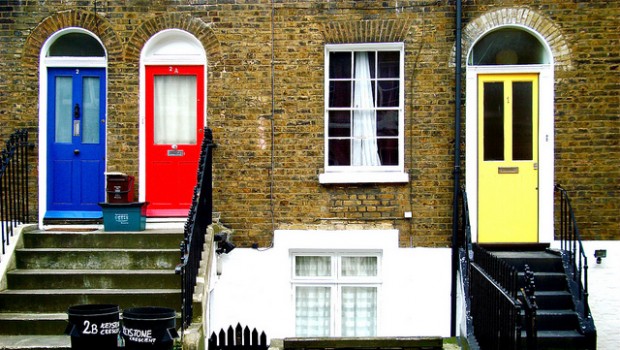 Britain's property market is slowing as political and economic uncertainty take their toll on sales, buyer demand and prices, a closely watched survey has shown.
Most UK regions showed flat or falling sales volumes in October, according to the Royal Institution for Chartered Surveyors' (Rics) residential market survey.
The national picture showed agreed sales falling 20% from a month earlier and only Wales, Scotland and the North East of England had growth.
Expectations for sales are flat over the next three months and have turned slightly negative for the next year.
Interest from buyers fell as 20% more chartered surveyors in the survey reported a drop in enquiries from the previous month.
Just 1% more of respondents reported prices rising rather than falling, down from 6% in September. Rics said this indicates prices are flat at a national level but with large variations.
In London, 63% more respondents reported prices falling than rising – the worst reading since 2009 when Britain was in recession.
Prices fell in the South East, East Anglia and the North East but in the North West, Scotland, Wales and Northern Ireland results suggested rising prices.
The UK property market defied expectations by remaining active after the vote to leave the EU. But with Brexit talks stalled and questions hanging over the economy the market has slowed – driven also by lack of supply and high transaction costs.
The Bank of England's decision to increase interest rates for the first time in more than a decade has added to wariness about where the economy is heading, Rics said.
Simon Rubinsohn, RICS chief economist, said: "The combination of the increased cost of moving, a lack of fresh stock coming to the market, uncertainly over the political climate and now an interest rate hike appears to be taking its toll on activity in the housing market. With both buyer enquiries slipping and sales expectations also subdued, the sense is that home owners are staying put."
Rics said first-time buyers are focused on newly built houses that are supported by the government's Help to Buy scheme. Persimmon, one of Britain's biggest housebuilders, has reported strong trading based partly on Help to Buy, which subsidises mortgages and has received an extra £10bn of funding.
Rubinsohn suggested the market was out of balance if it relied too much on newly built homes. "A stagnant second-hand market is bad news for the wider economy, not just in terms of spending but also because it restricts mobility."
Rics called on the chancellor to act on Britain's housing shortage in his 22 November budget by releasing all local authorities to borrow for housebuilding.
Lewis Johnton, Rics parliamentary affairs manager, said: "The last time the UK managed to build 250,000 homes a year was in 1978 – when councils built 44% of all new homes."