Pound could be crunched 'much further', though dollar fall could support cable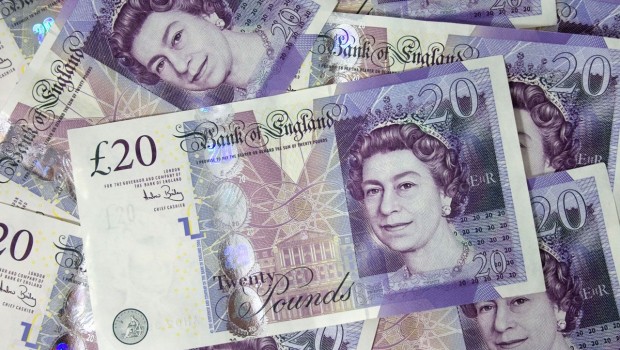 Sterling's slump is far from over, currency strategists have warned, though a looming dollar retreat would support cable in the medium term.
Deutsche Bank macro strategist Oliver Harvey has set a target for GBPUSD of $1.14 for the second half of 2017, despite plenty of push-back that Brexit has already been priced into the market.
Rabobank's Jane Foley agreed that the pound was very vulnerable, but felt that as a lot of good news is already priced into the dollar, GBPUSD will be supported by a weakening of the greenback, so the EURGBP will see the true effect of sterling's further slide.
Is the pound historically cheap?
Since last June's UK referendum on EU membership, the pound has dropped almost 22% versus the dollar and nearly 14% on the euro, with the weakness of UK wage growth on Wednesday morning giving the pound another knock lower.
There is a widespread thought that the pound appears cheap on a historical basis, when measured against fair value metrics.
Harvey argued, however, that two-year government bond spreads, which he finds have the tightest correlation to GBP/USD, point to sub-1.10 sterling, while a regression of the same spreads over the last five years points to 1.14.
He also said sterling was not cheap on a purchasing power parity basis, and, even more importantly, faced pressure from the negative UK current account, while inflows of foreign purchases of gilts and M&A are drying up again.
While the market was pricing some effects of Brexit, it has not priced a hard Brexit, Harvey said, citing consensus GDP estimates for GDP to only slow slightly in 2017 to 1.6%, up from a nadir of 0.5% shortly after the referendum.
"But recent weakness in retail sales shows household spending is responding to slowing employment and rising shop prices. Much has been made of robust UK PMIs, but this is due to stronger global growth. Indeed, the UK's manufacturing PMI is turning lower even as global PMIs make new highs," he said.
And some of the future political risks have not yet materialised, Harvey said, highlighting the "completely unrealistic" target of agreeing a new relationship with the EU by the expected March 2019 deadline with events such as Germany's autumn election likely to leave less than a year before Brexit is ratified by the EU Parliament.
"Until a transitional deal is agreed, the market will be forced to increasingly price a cliff-edge Brexit," he said, also ruling out any Bank of England rate hikes this year given the recent slowdown in economic momentum.
GBPUSD support
Despite the hefty losses in the pound since the referendum, Rabobank's Foley said sterling's rocky ride this week has gone to prove just how vulnerable it is to any political uncertainty.
"The pressure on GBP earlier this week strengthens our long held view that GBP will be vulnerable at the start of Brexit talks give the risk of a hard push back from EU officials and/or a delay to the start of trade negotiations," she said, adding that how far GBP could fall in the coming months depends on a plethora of factors.
But while both see sterling as vulnerable, she may differ from Harvey due to their views on the dollar.
"We hold the view that the dollar will struggle for further upside," she told DigitalLook, with a USDEUR target of 1.10 for the end of the year and EURGBP of 0.89 - though she is considering raising this to 0.9.
She stressed that the forecasts included "big assumptions" including that Marine Le Pen doesn't win the French election, and that liberal governments remain in power in the Netherlands and France, which combine to give the euro a bit of a lift.
The euro-pound rising to 0.9 would send cable modestly lower "not much".
"A lot of good news is priced in", she said, but suggesting delays in pushing through fiscal policy in the US, the debt ceiling were far from impossible, not to mention other potential political hitches, that could limit the potential for a big cable crunch.