Improving manufacturing sector boosts pound, though sceptics remain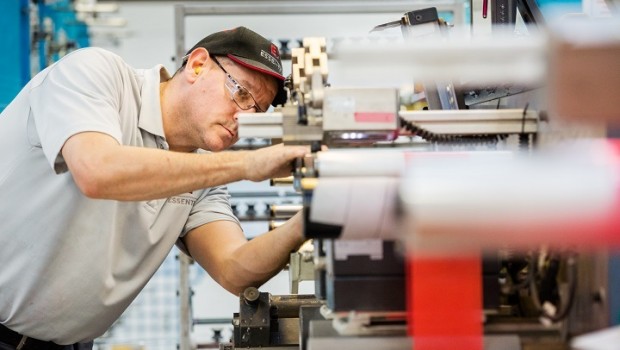 UK industrial and manufacturing data has improved more than expected, giving a slight lift to the pound on Tuesday as Bank of England watchers were sceptical over the likely impact on national growth and interest rates.
Total UK industrial production output in August grew 0.2% compared to the previous month, which was in line with the consensus forecast but compared to the same month last year rose 1.6% versus a consensus of 0.9%.
UK manufacturing production output increased 0.4% in August, the Office for National Statistics reported, beating the market's expectation of a 0.2% gain.
Manufacturing rose 2.8% on the year, well ahead of the 1.9% City consensus.
Construction was also better than expected, with output up 0.6% on the previous month versus a forecast flat month, and with output surging 3.5% on the year versus a consensus estimate of 0.2%.
However, over the past three months construction was down 0.8% compared the preceding three months.
ONS senior statistician Kate Davies said these economic indicators presented a "mixed picture", with signs of improvement in UK manufacturing, offset by the continuing sluggishness of the construction sector and a widening of the underlying trade deficit in recent months.
"Manufacturing had a weak start to the year but the recent months have shown signs of a revival in output," she said, with August's growth coming principally from manufacture of metal products and pharmaceuticals, partially offset by a dip in car production.
Oil and gas production fell in August after a strong few months, with companies engaging in long-delayed summer maintenance of their North Sea rigs.
The pound extended early gains, edging up 0.3% to 1.3181 against the dollar and regaining a steady level with the euro at 1.1191.
"The deluge of official data for August provided reassurance that the economy has not lost pace in the third quarter and suggested that growth could even nudge up a touch," said economist Paul Hollingsworth at Capital Economics.
If overall industrial production held steady in September, then the sector would expand by 0.8% over the third quarter as a whole, more than reversing the second quarter's 0.3% contraction.
Taken together, the industrial production and construction sectors might boost GDP's quarter-on-quarter growth by close to 0.1 percentage point in the third quarter, after dragging on growth by a similar amount in the second.
Sam Tombs at Pantheon Macroeconomics said industrial production "is growing too modestly to offset the hit to GDP growth from the slowdowns in the construction and services sectors".
He predicted the positive contribution from IP is likely to be "largely offset by a slump in construction output" as that looks set to subtract about 0.08pp from GDP growth.
As services output in July was only 0.1% above its second quarter average, Tombs said quarter-on-quarter GDP growth looks set to only match the Bank of England's 0.3% forecast.
Noting that the hawkish shift of the Bank's Monetary Policy Committee last month was driven by its judgement that there was upside risk to its GDP forecast, he said "this no longer appears significant" and as a result, "we still think that investors are wrong to think that a November rate hike is a done deal; we continue to think that the MPC will wait until next year".